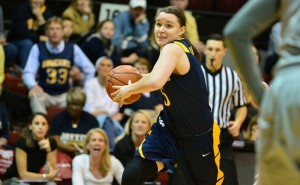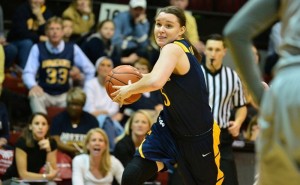 "I can celebrate self awards later," Sarah Curran said, who was more focused on getting ready for the Colonial Athletic Association tournament than anything else.
Curran didn't even realize that she had been selected for the All-CAA First Team March 11 until she received a text message.
When she found out she was being interviewed, Curran asked, "Why?" Shortly later, teammate Rachel Pearson, who has also received All-CAA honors as member of the Second Team, informed her of the honors the two had received.
"It's a huge honor, but I'm more focused on the tournament. … It's great and all, but it's not going to mean a whole lot unless we get the championship," Curran continued.
Curran is the only sophomore on the First Team, joining three seniors and James Madison University junior Precious Hall, who is the CAA Player of the Year.
Pearson, a very goal-oriented player, was thrilled to receive the honor as well. When asked if she was excited about the honor, she replied without question and with a smile, "Definitely."
"At the beginning of the season you set goals for yourself and I think that's something I've been working towards," Pearson said.
Head coach Denise Dillon is impressed with each of the player's work this season."I was really excited that the other coaches recognized them," she said.
"Rachel has matured the most within her role of understanding 'I always have to look for my shot'… and she certainly bought into that role and thrived in it.
"[With] Sarah Curran, it's just a pleasure to work with her. … Her willingness to develop her game. We moved her out of a natural position as a [forward] to a [wing] … so I'm just excited for her future and what's to come," Dillon said.
Curran and Pearson, both local natives of Archbishop Carroll High School, have more than just being long-time teammates in common: What keeps them going until the end of a long season is a love for the game.
"I just love basketball, and I remember last year we didn't make it to postseason," Curran said. "You prepare all year long … having all those long hours and track workouts and everything you hate, you want it to be worth something, you want it to mean something."
"It's really just you love playing basketball," Pearson said similarly. "You do it for your seniors, [Jamila Thompson] and Jackie [Schluth], we don't want see the end for them, because we love playing together."
Both Dragons just want to keep their season going.
"It's win, keep going and keep fighting for each other," Pearson concluded.