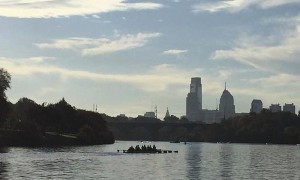 While the Dragons might have changed locations for their racing endeavor this weekend, it does not mean that their success rate has changed—well, not too drastically, at least.
On Oct. 24, the Drexel crew teams once again took home three top-three finishes and seven top-10 finishes while returning to their home course on the Schuylkill River.
The regatta this week, fittingly named the Head of the Schuylkill, has been coined "America's Favorite Regatta." The race was founded in 1971 by three members of the University Barge Club, which is located on Philadelphia Boathouse Row. It's estimated that the race drew anywhere between 40,000 and 50,000 spectators this year, not counting the athletes themselves. But the race isn't just for college students: it also draws a range of both world-class and high school athletes. One notable competitor this year was Vespers, a university in Sydney, Australia.
While the event itself is pretty large-scale, as the Dragon's second to last showing of the fall season, a good showing by the Drexel team was absolutely imperative.
The first event that Drexel took on was the second men's varsity eight race. The Dragons sent three boats to compete—an A, B and C boat. Boat A earned them one of their three top finishes, coming in at 13:15.53, which was good enough to earn them third place. They were only bested by local competition from the University of Delaware and the University of Pennsylvania. The B boat wasn't far behind, coming in at 13:36.04.
One of the other two top-three finishes came in the first men's varsity eight race, in which the varsity eight A earned third place, behind Vesper University and again, Penn. They came in at a time of 12:59.07.
The final top-three finish for the weekend came from the women's varsity eight squad. They beat fourth place, Delaware, by just over two seconds, as they crossed the finish line with a time of 14:56.14, coming in behind Penn and Fordham University.
But the Dragons raced in many more events than just these three—strong performances from the team also came in the women's freshman four race, and the women's second varsity eight race. The Drexel boats in these races tallied to give the team another three finishes within the top ten positions respectively.
While the showing overall for the Dragons looked pretty solid, it wasn't their best performance in the regatta. Rival, Penn, got the title for the event on the whole, which was a bitter pill to swallow for Drexel, who had won the overall team title ever year since 2010, until this one.
Next weekend, the Dragons will partake in their last regatta of the fall season. They'll travel to Princeton's Lake Carnegie on Nov. 1 for the Princeton Chase.