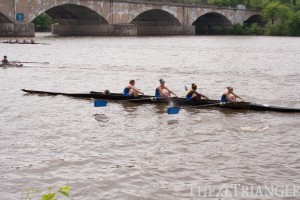 Drexel's men's and women's crew teams are making their final preparations and exercises for their biggest regatta of the season. The teams will compete on a national scale at the Aberdeen Dad Vail Regatta May 11-12 on Philadelphia's Schuylkill River.
The Dad Vail is the largest collegiate regatta in the world with 132 competing colleges. The Dragons have been hard at work, putting in long training hours in preparation of the contest. They hope to take advantage of the nationally televised event by building on their accomplishments and the strides they have made since the start of the season.
"Dad Vail is the culmination of a year's worth of work," head coach Paul Savell said. "From September through the second Saturday of May, the team uses Dad Vail as driving motivation. Everyone wants to be on the starting line Saturday afternoon for the grand finals."
Using Dad Vail as a motivation appears to have led this team to great achievements thus far this season. The Dragons will have not one but two teams in the immediate spotlight as No. 1 seeds as a result of their success this year.  Holding top seeds are the men's freshman eight and the women's freshman eight.
The goal will be to match or top last year's performance, according to Savell. That will not be the easiest task to achieve given Drexel's high standards. Last year Drexel advanced a record-tying five boats to the grand finals, with the men's varsity pair earning gold and the men's novice eight earning silver. This time around, Savell will look for a few rowers to have a big weekend.
"We are hoping that Drexel rowers [will bring] home some hardware," Savell said.
With strong individual performances, hopefully team success will follow. As a unit, Drexel will look to stand out and be recognized for a strong showing among the many colleges competing.  Team success would be a strong way to end a dominating season for the Dragons.
"We have had a very successful season," Savell said. "Our team has developed physiologically and psychologically as we have gained race experience through the season."
It was just two years ago that the women's varsity eight shattered the competition and finished with gold en route to their invitation to the Henley Royal Regatta in England, one of the most internationally heralded regattas, where they finished as the top collegiate boat in the world.
Hopefully all their hard work this season will pay off this weekend, earning Drexel the spotlight as it did just a couple of years ago.