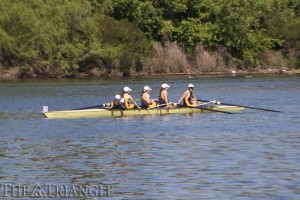 Organized by the Eastern College Athletic Conference, the IRA Regatta was established in 1895. The regatta is a national championship for Division I collegiate men's varsity rowing. Although the first regatta held only 18 teams, 110 programs are currently granted a bid to participate.

This weekend marks the 111th IRA Championships in Sacramento, Calif., but the location of this event is always different. Last year it was in Camden, N.J., so it was very convenient for the Drexel crew teams. This year, however, the trip is a bit of a hike.

With extremely high travel costs, the men's team was not quite sure if it would be attending by the end of the season. After winning their last race at the Dad Vail Regatta on the Schuylkill River, the men's varsity eight put up a fight to go cross-country. They also looked to bring two other successful men's boats with them, the varsity four and the freshman eight.

Last year the men's varsity eight placed 17th overall, the freshman eight was 15th, the second varsity eight placed 14th, and the varsity four took 12th place. This year, however, the Dragons are making long strides for the history of the program.

The varsity eight will take the water May 31 at 8:30 a.m. against Boston University, the University of Washington, Yale University and Dartmouth University. Marc Smith will coxswain a team of Kurt Linton, Vanja Busic, Aleksandar Radovic, Lorenzo Albala, Sebastian Ryan, John Pieper, Michael Faust and Casimir Czworkowski. The top two teams will advance to the semifinal, which will take place June 1 at noon.

The men's freshman eight races May 31 at 10:30 a.m. against the U.S. Naval Academy, Harvard University and Cornell University. Coxed by Christopher Henderson, from stroke to bow are Daniel Dollin, Mikulas Sum, Nicholas Capaldi, Michael DiLucca, Dave Hanrahan, Daniel Palombo, Daniel Pyle and Lawrence Lindawan. The top three boats from that heat will advance to the semifinal, which is scheduled for 11 a.m. June 1.

At 11 a.m. May 31, the varsity four will face Jacksonville University, Northeastern University, Cornell and Yale. Victoria Kenion will cox Marko Durica, Cameron Staines, Ian Luetzow and Ryan Mallgrave. The top two boats will advance and race June 1 at 9:45 a.m.

Speculation of the favorable weather has many rowing gurus saying that anybody could win gold. Even though Drexel may not be favored to win, head coach Paul Savell and the Dragons are highly determined and just might shock a few people along the way.