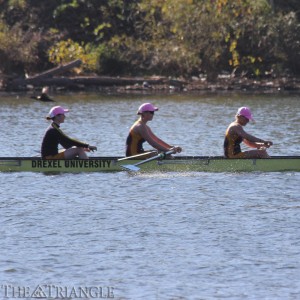 The Drexel crew teams will finish out the fall season Nov. 9 on the Cooper River in Camden County, N.J., at the Frostbite Regatta.
In the 2012 Frostbite Regatta, Drexel had a stellar performance, earning six gold medals. However, with a new year comes new challenges, and the teams will need to be at the top of their games to match their success from last year.
The Dragons go into this competition at the end of an outstanding autumn campaign, which included the program's best-ever finish at the Head of the Charles Regatta and fourth straight overall points title at the Head of the Schuylkill Regatta.
Director of Rowing and head coach Paul Savell said he believes that the upcoming races will give a clear indication of his team's improvement since the beginning of the season.
"With this last race of the season, the team switches gears from the longer time-trial races to 2,000 meter sprint racing," he said. "This is our first shot at six-lane racing this year, and [it] should give a gauge as to how we stack up to the competition."
Drexel's freshman rowers will also be in the spotlight at the Frostbite Regatta, as they will be competing in their first 2,000-meter sprint of the season.
"It will be good to see how the freshmen approach the races this Saturday," Savell said. "I have not seen them in this race format yet, and we will be watching to see how they handle the pressure."
Finishing out a successful fall campaign with a strong performance is the main priority for Savell and his teams as they head into the Frostbite Regatta.
"We want to have a strong showing at this race to help propel us into our winter training segment through the next few weeks of training without a race in sight until March," Savell said.