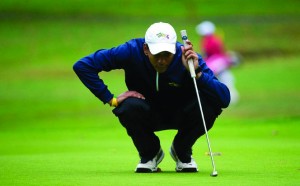 The Drexel University golf team has had a productive spring season, which will come to an end after the Colonial Athletic Association Championship, held April 24-26. The Dragons have placed in at least the top 11 in each of their three spring tournaments.
Junior Chris Crawford is the star of the show. The veteran standout has placed in the top 10 or higher in each of the three tournaments the Dragons have played this spring. He was ranked No. 1 in the CAA rankings by Golfstat before the spring season began and has recently received a national ranking for the first time in his collegiate career. Crawford has also won a school-record of six tournaments throughout his career at Drexel and has finished in the top 10 over a dozen times.
Although Crawford has been a dominant golfer and has led the team to many high standings in matches, it is the young members of the team that have golfed well to keep Drexel afloat this season.
Sophomore Yoseph Dance has put forth some sturdy performances. In the last two tournaments he has finished in the top 15 and the top 40, giving him the second-best ranking and scores for the team in both outings. Dance's strong performances bode well for him as the CAA Championship quickly arrives.
Brian Fischer is also a sophomore and has had some very nice outings of his own. He has improved his game over the course of the season, and during the spring we've seen this improvement. The CAA Championship will give Fischer some more experience and another platform where he can improve his game.
Freshmen Adam Mistretta and Avery Schneider have had standout rookie campaigns throughout this season, if slightly inconsistent ones. During the spring season both Mistretta and Schneider have proven they belong on the collegiate level. The tournament is going to give these young bloods experience, which will be vital as they continue to develop and play in more high-pressure situations.
"We are a young team," head coach Mike Dynda said. "And we've seen some development in getting a little more consistent scoring form the underclassmen during the spring."
The best way for youth to grow and expand on skills is by practicing and experiencing new situations through tournaments and dual matches.
The Dragons played a dual match against University of North Carolina at Wilmington April 22.
According to Dynda, the match was a friendly one, geared more toward giving the team a look and feel of the different types of grass in the South. He wanted his players to experience certain textures and to gain an understanding of how different grasses play.
This experience will be used during the CAA Championship. Coach Dynda wants his guys to play their games, make the right decisions and most of all have fun.
"Golf, like life, is really about the law of averages," Dynda explained. "And if our calculations are correct, we are trending in the right direction and it should be a fun week of competition."