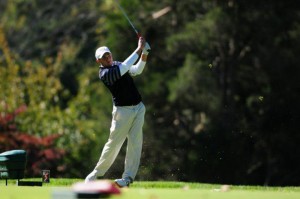 Two members of the Drexel men's golf team were honored for their contributions to the team this season. Head coach Mike Dynda was voted the Colonial Athletic Association Coach of the Year, and freshman Christopher Crawford was voted CAA Rookie of the Year. Crawford was also named Second Team All-CAA.
Their awards reflect the success achieved by the Dragons as they capped a successful season with a fourth-place finish at the CAA Championship. It was the highest finish for Drexel in the Championship since joining the CAA in 2002.
In his 10th season as head coach, Dynda led the team to five top-five finishes, including a victory Sept. 24 in the Swarthmore Open in Wilmington, Del. The team was in first place at the end of the first day of competition at the CAA Championship before falling to fourth by Sunday.
"Personally, it means a great deal, but obviously nothing can be accomplished without the unity of a team," Dynda said of receiving the award. "At the CAAs, the Delaware coach came to me and said, 'Your kids have made the greatest improvements,' which is true. They continually strive to improve in all facets, including school and golf."
The standout performer for the Dragons' season was Crawford, who had one of the best first-year campaigns in Drexel history. Crawford's 74-stroke average was the best by a Dragon in four years, and he claimed two individual victories this season. He finished first out of 60 golfers in the Swarthmore Invitational and first in the Lafayette Invitational out of 105 golfers. Crawford had seven individual top-10 finishes.
"This award is truly tremendous for him," Dynda said of his freshman golfer. "He will keep getting better. … There are many more victories to come."
Crawford had three rounds of scoring 70 or fewer this season, including a career-best 67 at the George Mason Invitational. The 67 is the best one-round score by a Dragon in the last four years. Crawford finished an outstanding rookie season by placing 13th at the CAA Championship. The Bensalem, Pa. native, who attended Holy Ghost Preparatory School, fired an opening-round 72 and was in second place after his first round.
This was by far the Dragons' most successful season in Dynda's 10 years as head coach. With Crawford returning only as a sophomore, Dynda will look to improve on his team's performances and take his players to new heights in upcoming years.