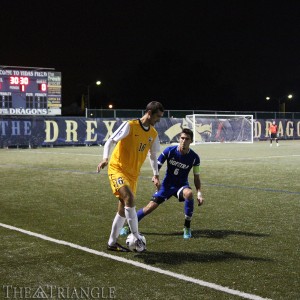 Hopes were high as the Drexel men's soccer team took the field in the first round of the NCAA College Cup. The Blue and Gold stood between the lines Nov. 21 just after the clock struck 6 p.m. and stood face to face with the Monarchs of Old Dominion University.
On this night, the Dragons looked to come out on top and advance to the second round of the NCAA Tournament, something they failed to do last season when they suffered a 2-0 loss to Brown University on their home turf at Vidas Field.
17 minutes later, they were stunned.
Old Dominion had cashed in three goals on four shots and led Drexel 3-0 before either team really even worked up a sweat. The first two goals came off the foot of senior Tim Hopkinson, the Conference USA Offensive Player of the Year. If Ron Burgundy were there, he could have summed it up perfectly: "That escalated quickly. I mean, that really got out of hand fast."
"We ran into a team that was well-rested; we ran into a good team," head coach Doug Hess said. "It's soccer. Sometimes there's days where everything goes right for one team and everything goes wrong for the other team."
As Hess went on to explain, as a patient team, it was difficult for his players to adjust their style of play so early in the contest. Basically, a Drexel team that had not scored more than three goals in a game all season was now forced to score four in order to advance. The Dragons were unable to accomplish this feat, and the Monarchs ousted them by a score of 5-1.
After the initial onslaught of three Old Dominion goals, things settled down on the Drexel defensive end for the rest of the half. However, the Dragons were unable to get a crucial score before halftime to bring the deficit to two. Then, just 1:42 into the second half, the Monarchs struck again with a goal from freshman forward Jesse Miralrio.
"If we had pulled a goal before the half, it might have changed some things for sure," Hess said. "We reorganized at halftime and encouraged the group … [but] two minutes in you're down four, and you're like, 'Oh my goodness.'"
To their testament, the Dragons kept on pushing. They recorded 11 shots in the second half, but Old Dominion redshirt senior goalkeeper Sean Stowe kept out five of their six attempts on goal. Senior midfielder Jared Girard managed to score the lone goal, as he pushed in a rebound with 22 minutes left in the match. That marked the program's first score in NCAA Tournament play since 1963.
"At the end of the day, I don't think they're four goals better than us. … They scored [the second and third] goals on pinpoint finishing," Hess said. "They didn't undo our back four; it was kind of in front of our backs. They didn't get behind us until the fifth goal, when we were wide open and just trying to bomb forward."
One of the players involved in the desperation and "bombing forward" late in the match was senior midfielder Ken Tribbett, who had five attempted shots against Old Dominion. He — along with midfielder and 2013 Colonial Athletic Association Preseason Player of the Year Nathan Page, defender and team captain Tal Bublil, defender Skylar Olson, and Girard — is part of a special senior class for the Dragons.
In an up-and-down span of time at Drexel, the team finished last in the CAA in 2009 and 2010 but has since won two straight regular-season conference titles as well as this year's conference tournament. Over the past five years, the program has been through a lot, and it is obvious to see that the eight graduating student-athletes were instrumental in getting the Dragons back on top.
"You can never say enough about them. There's only one group that comes through for the first time," Hess said. "You talk about a group that came on hope … it was barren. They came on the hope of something."
He continued, "I'm proud of that group. They will always hold a special place in my heart and a special place in Drexel soccer [because] they made history."
Hess reflected on both the character of this senior class and also the quality of the season as a whole. His Dragons finished with a 9-8-4 overall record, which included a 4-1-2 mark in CAA play. Their regular-season title culminated with the program's first-ever CAA Tournament victory at Vidas Field Nov. 16, when Drexel defeated The College of William & Mary 1-0.
While the conference success was great to see, Hess admitted that he thought the entire season of work was less than satisfactory. Considering that the Dragons finished with an out-of-conference record of 4-6-2, there is certainly something to focus on for next season.
"I've had a lot of people be like, 'Oh, great season!' and I get that, but I also think that it wasn't a great season," Hess said. "We were great in conference … [and] that's fantastic. But when you're 9-8-4 and you lose your last game 5-1, as the guy in charge of that, it's kind of a bittersweet pill to swallow."
But after swallowing that pill, Hess has already moved on to offseason activity. Following what he called a "two-day sleep and recovery," the head coach has been actively recruiting and is already looking forward to the prospects of next season.
"My wife will attest that there's no such thing as an offseason," he joked. "We lost on a Thursday night, and on Saturday I was watching youth soccer. … You [have to] get over it and get on with the job."
As for the players, they are currently recovering as well — physically and mentally — following four months of strenuous in-season training and competition. Following winter break, there will be preliminary fitness testing and they will start to prepare for next year. The spring season from January to May, or the "build," as Hess calls it, will be especially instrumental to the team's performance in the 2014 season.
It might be difficult to repeat the success of the past two seasons without those eight graduating seniors — five of whom were among Drexel's starting 11 — but Hess is ready and excited for the challenge.
"A lot of people are like, 'Oh, you're losing all those guys, now what?'" he asked himself rhetorically. "I still think, we lose all those guys, but I still believe we will be better. Part of that is the optimism of a coach — you have to believe that — but I feel like there's going to be a new group that takes us to that next point."
That next point is the second round of the NCAA Tournament, and only the top 32 teams in the nation make it there. Following a heartbreaking end to the 2013 campaign and the end of an era for the trailblazing senior class, the remaining players on the roster and the incoming freshman class will have big shoes to fill.
Four years ago, a second-round appearance in the College Cup was nearly unfathomable. But with the success — and hopefully sustained success — that the Dragons have had in the past two seasons, that goal is as possible as ever.