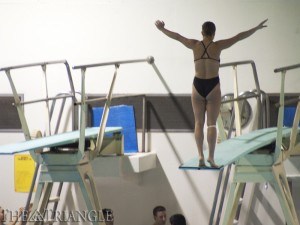 With the Drexel University swimming anddivingseason winding down,thereis only one meet remaining. Thisdiving-only meetwilltake placeFeb.11 at 11a.m.against the University ofMaryland-BaltimoreCounty.
Juniorstandoutdiver Stephen Cal is the only member of the Drexel men's swimming and diving team that competed last week in meets against Navy and Columbia University. In the meet, Cal scored 247.55 in the 1-meter board for seventh place against Navy and Columbia. Cal also posted a score of 239.10 for a fourth-place finish in the 3-meter event in Navy's Lejeune Hall. Despite the positive results, it was a rough meet for Cal, who felt that he didn't perform to his full potential.
"One of thegoodthings I took away from the meet wasthatI have a lot to work on, and I'm lookingforwardto it," Cal said of his performance. "I didn't do as well as I wanted to, but it motivates me even more to get to practice and come back strongerinthe next meet."
Headingintothe finaldivingmeet before theColonialAthleticAssociationChampionships, Calwillbe looking to work on the mental aspects of his gamethathelp him performinthe pool.
"Iwillwork to be more consistent with mydivelist and to mentally prepare myself for the meet," Cal said. "Divingis extremely mental, and lately I've had a problem with focusing on what I need to do in order to do well."
After the meet against UMBC, Cal has his sights set on the CAA championships. It has been a long season where Cal has had some ups and downs. However, he has been working hard and hopes to finish the season strong.
"I'm lookingforwardto CAA's because it's really a culmination of all the work I've been doing during the season," Cal said about the opportunity to dive at the CAA Championships.