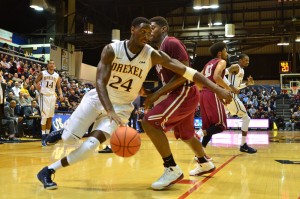 The big men of Drexel men's basketball team couldn't shake the team's streak of bad luck last season.
In April, it was a torn anterior cruciate ligament injury. In November, it was a foot sprain. In December, a torn meniscus and a stress fracture. In February, it was the flu.
The Dragons' forwards were decimated, and it showed. The team's offense stalled in the second half of the conference slate. Opposing defenses knew that Drexel was a shooting team, and they weren't terribly afraid of what happened near the rim.
This season, there's a chance for the recent narrative surrounding Drexel's big men to finally change.
Without a truly dominant guard — or a collection of dominant guards — the team's offense should look to find a more well-rounded attack, which might just involve throwing it in to the low post for the big men to work.
The Dragons' inside game will revolve largely around its two supposed starters, graduate student Kazembe Abif and junior forward Rodney Williams, as well as junior Mohamed Bah and sophomore Tyshawn Myles.
But the big focal point will the starters, Abif and Williams, and the potential for two forwards who can actually score on their own terms as opposed to just serving as rebounding machines.
Abif missed the entire 2014-15 season with a torn ACL he suffered in April, in addition to sitting out the final eight games of the 2013-14 season with a broken hand.
However, before the deluge of injuries, Abif was playing excellent basketball in his third season with the team, averaging 7.2 points per game, 6.6 rebounds per game.
Abif plays with a physical edge to his game, which makes his slightly-undersized 6-foot-7-inch frame sufficient against players with a couple of inches to their advantage. He mixes it up in the paint and can out-muscle those taller players for offensive rebounds.
Most importantly, Abif can score at the rim. In that 2013-14 season, cut short by injury, he was attempting 51.9 percent of his shots at the rim, according to Hoop-Math.com, and converting 60 percent of those shots into two points.
In 2011-12, when he was a force in the CAA, Samme Givens shot 50.5 percent of his shots at the rim and made 62.5 percent.
With their shooting splits almost identical and both averaging just a smidgen over 30 minutes per game, the difference comes down to shot frequency. Abif averaged 4.8 field goal attempts per game in 2013-14, while Givens averaged 8.4 field goal attempts per game in 2011-12.
Whether that can be chalked up to decision making when Abif has the ball or the general flow of the offense looking for guards more than forwards, it's something that head coach James "Bruiser" Flint should take note of.
With more shots, Abif could potentially produce at the level of Givens, a similarly undersized but physical forward.
Taking a different approach to the starting frontcourt, Williams has the athleticism and strong, lean frame to average double-digits.
In the 2014-15 season, when he wasn't sidelined by a stress fracture, Williams was far and away the most athletic-minded big man at Drexel's disposal.
He averaged 8.2 points per game, 7.0 rebounds per game and an eye-popping 1.5 blocks per game. Williams will begin his junior season 12 on Drexel's career blocked shots list with 69, and needs just seven to move into the top 10.
But one game last season showed what he can really accomplish on the offensive end.
In Dragons' regular season finale against the College of William & Mary, with just seven players at their disposal, Williams dropped 18 points on five-of-10 shooting and added nine rebounds in the upset win.
He knocked down eight of 11 free throws and dominated the Tribe in the paint, flashing back-down prowess and smooth shimmies.
And, in a similar vein to what Abif brought in the 2013-14 season, Williams attempted 53 percent of his shots at the rim and converted 58.9 percent into buckets.
His athleticism and 6-foot-9-inch frame make him a player primed for a breakout season in 2015-16.
When it comes to reserves, the Dragons will make use of junior Mohamed Bah and sophomore Tyshawn Myles in relief roles.
Bah spent the entirety of the 2014-15 season as the team's starting center, starting all 30 games throughout the season.
The Mali native was not the team's most prominent offensive power, averaging just 3.9 points per game last season, but he shot 54.5 percent from the field, the best mark on the entire team.
His offensive game consists largely of putbacks from offensive rebounds and slamdunks off assists. Bah doesn't create a whole lot of offense for himself, but that's not what Flint and his coaching staff are demanding of him.
On this team, with two offensively gifted forwards in front of him, Bah's role will be simple: continue to improve on defense and grab as many rebounds as possible.
His offensive rebounds are especially valuable. Bah grabbed at least one offensive board in 22 games last season, and when he can get a look close to the rim, he often comes away with points.
Bah shot 80.5 percent from the free throw line last season, capitalizing on drawing fouls on the opponent's big men.
He'll be a good third option for the Dragons, when foul trouble strikes or one of the two starters needs a breather.
In Myles' case, his freshman season was an up-and-down affair.
He showed flashes of potential, like his breakout game against the University of Delaware when he scored 11 points and grabbed 11 rebounds.
He also looked lost at times, and was largely inconsistent when finishing at the rim. According to Hoop-Math.com, he shot just 38.9 percent on shots at the rim, a startlingly low number for a 6-foot-8-inch forward.
But his rebounding is where he truly stood out. Adjusting Myles' statistics for an average of 30 minutes per game, he averaged 8.8 rebounds per 30 minutes, the highest mark of any Dragon.
He won't be called upon to do anything near 30 minutes per game this season, but Myles is a good, reliable backup at the power forward.
If he can work on improving his offense, which is no doubt what the coaching staff will have him focus on this summer, he can be a force in the final two years of his career at Drexel.
This season, he'll be a good depth option.
Meanwhile, sophomore Austin Williams had a largely uneventful freshman season after missing a month early in the season with a leg injury.
He averaged 10.5 minutes per game, and scored less than one point per game in his time on the floor. Williams saw time in the second half of the season because of the team's perilously short bench, but he wasn't very productive.
Even though there are no incoming forward recruits, the return of Abif is essentially worse for Williams' potential playtime. He will be the No. 5 big man option, which means he'll play the role Goran Pantovic did during his time at Drexel: he will be called upon only in the most dire situations. Don't expect to see too much of Williams this season.