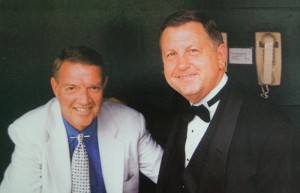 Baker has graced Philadelphia sports for over four decades. His commitment to athletics has earned him a spot in the Philadelphia Sports Hall of Fame.
Stepping up to the plate is Dan Baker — star public address announcer, Big Five Hall of Famer and soon-to-be Philadelphia Sports Hall of Fame inductee. As the longest-tenured PA announcer for Major League Baseball with 41 years under his belt, there's no denying that Drexel was more than fortunate to have this talented individual announce the Dragons' men's basketball games for 15 years.
Baker's quest to develop a successful sports announcing career was probably rather roundabout to the average observer. After graduating from Glassboro State College (now Rowan University), Baker was a teacher for over a decade and announced games on the side.
As a game statistician, his paycheck would at times only consist of $10-$15 per day, but that didn't deter Baker from pursuing his dreams.
"Even though I didn't have enough athletic ability to play at a professional level, I asked myself, 'How could I remain close [to athletics]?'" Baker explained. "And I thought, 'You know what? I know the game well, I am a pretty good talker, maybe that will be a vehicle,' and sure enough for me, it was."
Soon Baker's part-time gigs here and there spiraled into a full-time position doing what he loved. The rest is history.
Since his entry into the wide world of broadcasting, Baker has served as the PA announcer for the Philadelphia Phillies since 1972 and the Eagles since 1985. He also broadcasted Philadelphia Big Five basketball games for 21 years while serving as the executive director from 1981 to 1996.
After more than two decades with the Big Five, Baker took a "lateral" movement away from the large organization to become the PA announcer for Drexel basketball. He held the position as Drexel's PA announcer and radio commentator for 15 years until he retired this past June.
"I really enjoyed my time at Drexel," Baker said. "I cherished working with [head men's basketball coach] Bruiser Flint. He is a terrific coach and role model for the student athletes and I really enjoyed the road trips, being able to talk with the coaches and the players."
Despite being on the sidelines, Baker has had a positive influence on the athletes and the Drexel community. Always taking time to answer questions and give advice to young hopefuls, Baker encouraged many students to follow their aspirations. A word of advice: "Anybody who is looking to have a long, successful and happy career, you need to choose a job based on your enjoyment," Baker said.
Baker clearly followed his own advice, landing one of the top jobs in the business. Needless to say, Drexel will sorely miss this outstanding talent and mentor.
"My departure is a very amicable one," Baker said. "I am leaving only because I have such a full plate.
At 66 he has no sign of slowing down his professional career any time soon. As he begins to wrap up this subpar Phillies season, Baker prepares for the first game of the Eagles preseason Aug. 9 and the upcoming Army-Navy Game at Lincoln Financial Field. He will continue to host a show at Chickie's and Pete's during the Phillies' away games where he announces as if the game were live to create the ballpark environment for the restaurant patrons.
All of his hard work and running around has earned him a spot in the 2012 Philadelphia Sports Hall of Fame class. Baker is in the presence of 16 memorable and well-established individuals. Among others, this year's inductees include current Philadelphia 76ers head coach Doug Collins, former defensive lineman for Temple University and the New York Jets Joe Klecko, and former MLB catcher Mike Piazza.
"I am extremely honored to [be inducted]," Baker said. "Especially in the presence of such illustrious individuals."
The award ceremony will take place Nov. 8 at the Society Hill Sheraton in Center City Philadelphia.
There's no doubt that Baker will continue to make strides in the Philadelphia and national broadcasting spectrum. One can only hope that he stops by from time to time and says hello to his old pals in blue and gold.