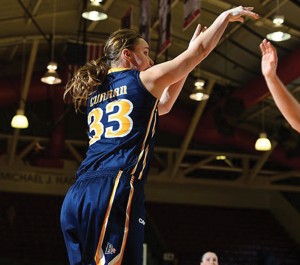 Entering week 5 of winter term 2016, Drexel University's athletes have seen another busy weekend. Wrestler Zack Fuentes and basketball player Sarah Curran were both named "Athlete of the Week" for the Jan. 20–26 week.
Redshirt sophomore Zack Fuentes, with an overall record of 13-11, helped the Dragons beat Army West Point 25-7. He also scored the first three points of the team's match against Binghamton University, though that match was an unfortunate loss 15-16.
"I know my strengths and weaknesses," Fuentes said.
"I recognize what I am good at and I capitalize on it during matches and practices," he continued.
Whether improving upon his high-crotch shots or conditioning, Fuentes uses every practice to advance his wrestling skill and speed.
"If I work on something specific every single day, I will be where I want to be at the end of the season," Fuentes said.
As a business administration major, Fuentes believes the values he has gained through the seasons will help him accomplish his career goal of finding his passion and making money from it.
"Once you have wrestled, everything else in life is easy," Fuentes said.
Fuentes does not remember how he and his older brother became interested in wrestling. For him, the sport has been a constant part of his life since age four.
Fuentes has a younger brother who also wrestles. He is in his sophomore year at Norristown High School, only 45 minutes away from Philadelphia.
Fuentes chose to attend Drexel both for its proximity to his home and for its location within the city.
"I just love Philadelphia," he said.
Sarah Curran is also from the Philadelphia area. Her hometown is Media, Pennsylvania, only 25 minutes outside of the city.
Although Curran does not go home often, her parents always support her and the basketball team at their games.
Even though he is in the army, Curran's older brother is also a big supporter.
"My biggest motivator would have to be my Pop," Curran said.
"He knows more about our conference [Colonial Athletic Association] than I do," she elaborated.
After the close win 67-64 against Hofstra University last week, Curran said the team won by operating as a unit rather than as individuals.
"To keep winning, we have to continue learning what pieces of the puzzle we have and how to put them all together as one," Curran said.
Curran's character is shown through her commitment to the team, as she works on improving herself as a player every chance she gets. She averages 15.8 points per game.
Even during the off-season, Curran can be found shooting and conditioning, even when it is not mandatory.
Since the second grade, Curran has played numerous sports. However, basketball has always been number one for her.
After Curran graduates with her major in hospitality and management and a minor in culinary arts, she hopes to play basketball abroad and open her own bar/restaurant called "The Fuzzy Duck."
Both athletes are sure to see success as they set out to as the accomplish both their athletic goals and professional dreams.