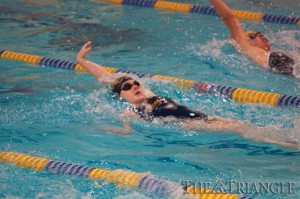 In sports, teams always want to be at their best when it matters most and the Drexel University men's and women's swimming and diving teams are no exception. The Colonial Athletic Association Championships are a little over a month away, and the Drexel teams only have one dual meet left between now and then. They face Lehigh University Jan. 28 at 1 p.m. at the Drexel Pool. The meet is also Senior Day and Alumni Day. Heading into the meet, the Dragons are in high spirits from their performances in their last two meets.
The women's swimming and diving team suffered a loss to Army Jan. 20 with a score of 182-112. Junior Lauren Faykes achieved a hat trick of victories at the meet. She won the 200 freestyle, 200 butterfly and 500 freestyle events. Senior Devina Tyagi had a strong showing in the 100-meter backstroke by posting a time of 58.30 seconds. Freshman Rebecca Heffernan captured a victory in the 200 individual medley for the Dragons. She posted a time of 2:12.94.
Coming off a defeat to Army, the women's team was eager to get back into the pool and grab a victory. They accomplished just that against Howard University. In front of a packed crowed at the Drexel Pool, the women's team defeated Howard 135-98. Victoria Mayer earned her first collegiate victory in the 1000-yard freestyle. Freshman Brianna Bentz captured victories in the 200-yard freestyle and 100-yard freestyle. Faykes continued her standout season by winning the 200-yard butterfly with a time of 2:20.79. With Senior Day coming up, the seniors are looking forward to their last collegiate home meet.
"It makes the meet that much [more] exciting," Tyagi said. "We all want to swim really fast in dual meets, and this meet will help us finish strong."
The men's swimming and diving team also suffered a loss against Army.
"We posted fast times, but we lost points in the half, which was key," head coach Shawn Markey acknowledged.
Markey was quick to point out the outstanding efforts of freshmen Andrew Reimon and Alex Galinskiy. Reimon captured first-place finishes in the 100 and 200 breaststroke events as well as the 200 individual medley. Galinskiy had four victories on the day. He secured first-place wins in the 100 freestyle, 200 freestyle and 500 freestyle events, as well as participating in the 200 freestyle relay win.
"Alex [Galinskiy] was really a force the entire meet," Markey said of his young swimmer. "Every time he steps up he is a force. He is really focused, and it's really exciting watching him in meets."
While the men's team lost to Army, they bounced back with a dominating victory over Howard with a score of 164-98. It was an all-around effort for the men. Freshman Zac Wister recorded a top time of 9:55.30 in the 1000-yard freestyle while fellow freshman Mike Krohn stopped the clock first in the 200-yard freestyle. Junior Daniel Zalkind earned first place in both the 100-yard backstroke and the 200-yard backstroke. Galinskiy and freshmen Mike Shaeffer and Alex Chialastri had the top three times in the 50-yard freestyle. Chialastri also stopped the clock at 47.77 for first place in the 100-yard freestyle. Reimon registered first place in the 200-yard breaststroke.
In diving events, junior Stephen Cal scored 266.62 for first place in the one-meter and 264.82 in the three-meter event. Sophomore Ian Preschel took second with 140.47 in the one-meter event and 122.32 in the three-meter.
On Senior and Alumni Day both the men's and women's swimming and diving teams will look to finish the dual-meet season on a high note. It will also be a special day for the seniors who have worked very hard over their careers here at Drexel. Therefore, there is added motivation to beat a tough Lehigh team.