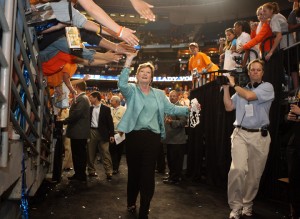 This article is dedicated to the ever-inspiring head coach (emeritus) of the University of Tennessee women's basketball program, Pat Summitt.
Some of you may be wondering why I am writing about a coach from Tennessee. She is nowhere near Philadelphia on the map, but in our hearts she couldn't get any closer. Summitt encompasses what it means to be a leader, a coach, a mother and a hero. She teaches the most important lesson of all — never give up.
At the annual ESPY Awards July 11, Peyton Manning and Reese Witherspoon presented Summitt with the Arthur Ashe Courage Award for her toughest battle to date. Nearly two years ago, Summitt was diagnosed with early-onset dementia, Alzheimer's type. Instead of taking time away from the Vols' program to evaluate her situation, she kept on coaching through the 2011-12 season, in which her team won the 2012 SEC Tournament. After an incredible run, Summitt decided this would be her last season, stepping down as the winningest NCAA coach (either male or female) of all time.
With nearly four decades under her belt as head Lady Vols coach, Summitt has acquired a host of accolades. So many, in fact, that I don't believe I can do her justice by only naming a few, but I will do my best.
She finished her career with a record of 1,098-208, and that's just the tip of the iceberg. Summitt has won eight NCAA titles along with 32 SEC Tournament and regular-season championships.
Those are the titles she earned with her team; as an individual she earned enough awards to take up a whole article. In 2008 she became the first female to earn the John R. Wooden Legends of Coaching lifetime achievement award.
In the summer of 2009, Sporting News ranked Summitt No. 11 among the 50 Greatest Coaches of All Time — she was the only female on that list. Earlier that year she received the WNBA Inspiring Coach Award and an honorary doctorate from the United States Sports Academy. Not surprisingly, she has also been inducted into the Coaching Hall of Fame.
All of these awards add up to a hefty salary. Smashing the record as the first-ever female coach to earn over $1 million, Summitt can recall when she was barely making $9,000 as an annual salary back in 1974. My, how far she's come. This woman has singlehandedly made strides not only for basketball coaches but for women in the workforce.
Her support for the program doesn't end on the court. In August of 2008, Summitt donated $600,000 to the university, split between the University of Tennessee-Knoxville and UT Martin, to support the women's basketball programs, with $100,000 set aside to offer opportunities to young, aspiring coaches.
Even with her donations and personal successes, the focus has always been on her players and their success on and off the court. The ESPY awards shared the mind-blowing statistic that Summitt has a 100 percent graduation rate from all of her players who have completed their eligibility. In addition, among her graduates are 12 Olympians, 20 Kodak All-Americans (named to 34 teams) and 77 All-SEC performers.
It's easy to get wrapped up in statistics and rankings, but in the grand scheme of things, they are just numbers. Records are broken and rankings are usurped, but heroes live forever. Summitt has made a difference on and off the court, and I can guarantee she will "keep on keepin' on" as long as she can.
Through her journey we should reflect on our own. What are we doing in our daily lives that makes a difference to others? Are we being the best people that we can be? This is beyond college athletics; it's about character — how do you want to be remembered? That is something you have to answer for yourself. It is my hope that individuals like Summitt will not only inspire you but will push you to become the person whom you're scared to become yet know you can be.
So Pat: Keep on fighting, and all of your supporters will be there on the sidelines cheering you along the way.