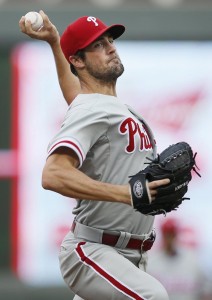 The 2013 Philadelphia Phillies' roster, with an Opening Day payroll of $159 million, was built to compete and win now. With many of the core pieces in the final year of their contracts, it is perhaps the final year for these players to make a run together.
Among the impending free agents are Chase Utley, Roy Halladay and Carlos Ruiz. The three combined have appeared in 23 postseason series since joining the Phillies, with four of those 23 being World Series appearances. And to get there, more often than not, they needed to make a late charge just to reach the postseason.
Since 2008, the Phillies have posted a second-half record of 269-168. No other team in Major League Baseball has a higher post-All-Star Game record than Philadelphia the past five seasons.
So when staked with a challenge of overcoming an eight-game deficit (as of July 25) in the National League East, especially when chasing a team that has been very mediocre since mid-April, the Atlanta Braves, it should not be viewed as impossible. The Phillies have previously overcome much worse circumstances, such as larger deficits later in the season.
Historically, the first half is not confirmation of how a team will finish or what its postseason fate will be. Just last season, four of the six division leaders at the All-Star break failed to make the postseason. The Baltimore Orioles managed to erase a seven-game deficit from the New York Yankees and eventually tie them late in September. The Oakland Athletics overcame a nine-game deficit from third place to win the American League West.
The 2012 American League champion Detroit Tigers once stood in third place behind the Chicago White Sox and Cleveland Indians. Finally, the World Series champion San Francisco Giants not only trailed in their divisional race but also stood in fifth place for the Wild Card at the time of the Midsummer Classic.
An eight-game deficit should not be viewed as impossible to overcome with roughly half a season to play, nor should it be viewed as grounds to blow up the team. This is especially the case for the Phillies, a team built to win now. Not later, not looking toward the future, but now.
Last season, General Manager Ruben Amaro Jr. traded away Hunter Pence and Shane Victorino at the deadline. Still, the Phillies were able to make things interesting and get within three games of a postseason spot in late September. The seven-game deficit at season's end was spent experimenting with Darin Ruf in left field and starting B.J. Rosenberg, due to Roy Halladay's injury.
But if they had not quit too early, it is likely that Victorino's defense could have made up for some games lost due to misplays by Laynce Nix, Domonic Brown and John Mayberry Jr. in the outfield. Perhaps Pence could have come through with a clutch hit in the spots in which Brown failed to do so. The Phillies were left wondering "what if" they had not packed it in so early. The last week of the regular season certainly would have been much more interesting.
Amaro should avoid giving up on this season for a few reasons. You do not want to have two straight seasons of nearly $330 million in salary spent just trying to go for it for only a portion of the season. When your team salary is over $150 million, you go for it for the entirety of the season, not for a few months and then become a retail outlet for teams of higher aspirations and lower payrolls.
What would be the purpose of spending all that money and not really trying to compete? If you sell off, the organization clinches its fate of being pretenders, wasting ticket buyers' money on a deceiving product. That would make two straight years of spending money just to see how the team performs in half of a season and not in its entirety.
But would that be the way to end the run, two straight years of pretending to go for it but bailing out when it gets difficult? Maybe with another team that would make more sense, but with a team that annually rallies in the second half and has proven that it can overcome challenging deficits, it would be a total copout move by the organization.
What was the point of paying $159 million to players if Amaro was not serious about competing for the season? If he was not serious about competing the entire season, not to mention beyond, then why did he not let Cliff Lee go to the Los Angeles Dodgers and have them assume his massive contract? Why pick up Carlos Ruiz's option for this season? Why did they trade young players for Michael Young in a contract year? It would be a rather insane series of decisions by Amaro if he were to fold once again.
The Phillies decided they were all-in for this particular season long before now. They should stick to the plan and not lose sight of it just because they were not the most perfect team through a portion of the schedule, especially when the stakes are not impossible.
Ryan Howard often gets ripped for not taking that bat off his shoulders on the nasty 3-2 cutter when Brian Wilson retired him and the Phillies at the end of the 2010 season. You should always swing the bat and go for it, especially when you have a more-than-legitimate shot. In the same vein, Amaro should not want to go down looking while Chase Utley's, Roy Halladay's and other Phillies' careers come to an end because he did not lift that bat off his shoulder.