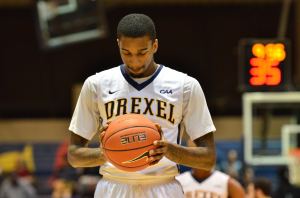 When Tavon Allen made it to the radio broadcast table after the Drexel men's basketball team topped the College of Charleston Feb. 7, 59-45, radio broadcaster Rob Brooks asked the junior guard how he was feeling.
"I'm feeling great right now; how are you feeling?" an exuberant Allen responded.
He had good reason to be so chipper: Allen scored a game-high 18 points on six-of-10 shooting, playing his best game of the season in leading the Dragons to their fifth straight win.
Allen poured in 12 of his 18 points in the second half, when he didn't miss a single shot. He made all four of his field goal attempts, including two from behind the three-point arc, and buried a pair of free throws. He also tacked on five assists for good measure, playing all 20 minutes in the second stanza.
The junior, who is averaging 16 points per game on 57.1 percent shooting in his last two outings, said his game against the Cougars was just a result of keeping the classic shooter's mentality — a short memory and a ton of confidence.
"I'm just getting my confidence back," Allen explained. "I know I can shoot the ball, so I'm just going to keep shooting. If I miss, I know the next one's going to go in. I'm just playing with more confidence now."
The Dragons stormed to an early 11-3 lead in the first half on the back of a cold streak from the Cougars. Charleston went more than eight and a half minutes without converting a field goal after taking a 3-0 lead, missing 12 straight, and the Dragons scored 11 straight points. Allen scored six of those 11 points on two three-pointers.
And Allen's teammates looked good in the win as well, both on offense and defense.
Just two games after beating the University of North Carolina-Wilmington in a high-flying shootout, the Dragons returned to their slow, methodical brand of basketball.
They limited the Cougars to just 18 first-half points on six-of-30 shooting, an encouraging sign for head coach James "Bruiser" Flint, who prides himself on his teams' stifling defensive tendencies.
"I thought we played great defensively. In the first half they only had 18 points, and I thought they got a lot of their buckets on hustle plays," Flint explained.
He liked his team's defensive effort in the second half, too, giving up six fewer offensive rebounds and limiting the Cougars to 27 points.
"In the second half, I think we shut [their hustle plays] down a little bit," Flint continued. "We weren't always crisp out there, but I thought in terms of the second half, we did a great job defensively and we kept them off the glass."
And the smothering defensive performance gave the Dragons more than enough room on the offensive end of the floor.
A 10-3 Drexel run late in the first half on four straight made field goals — from three different players — turned a five-point Dragons lead into a 12-point gap with 1:34 to play in the first half. Guards Rashann London, Sammy Mojica and Freddie Wilson all scored in that stretch, a sign of how diverse the Dragons' scoring was in the win.
"I thought [Mojica] made some tough plays for us late in the game," Flint said. "[London], in the first half, when we got a little stagnant, [took] a good three and then drove and got to the basket a little bit.
"I thought everybody contributed today."
There were still 21 minutes to play after that 10-3 run. But with Drexel's defense swarming and Charleston's shooters pocked with icicles, it was all a formality from there.
When the two teams met earlier this season, the Dragons beat the Cougars, 53-51, in a squeaker. It was the first win of their now-five-game win streak.
In that contest, the Cougars shot the ball much better. They hit 43.2 percent of their field goal attempts, including nine of 13 shots from deep. Guard Canyon Barry led the team with 16 points on 14 shots, including three triples. In the rematch, Barry scored just four points on 11 shots. He didn't make a single three-pointer.
With a fifth straight win in tow, the Dragons are 7-5 in conference play, good for fifth in the standings, an unthinkable idea just two weeks ago.
Allen certainly didn't see it coming.
"I'm not going to lie, I didn't see it [coming]," he admitted. "But it's here now, so we're just going to make the most of it and keep it rolling."
Drexel (9-14, 7-5) returns to action Feb. 10 at the Daskalakis Athletic Center against Towson University (11-14, 4-8) at 7 p.m.