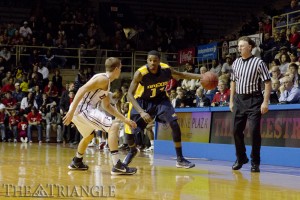 A recruit from New Haven, Conn., Tavon Allen missed his entire first year of Drexel basketball after suffering a stress fracture in the preseason. The injury, which Allen described as a "freak thing," pushed back his debut to the court, as he was redshirted. Considering the excitement that comes with one's first collegiate season, it was a disappointing beginning to his new career.
"It was difficult sitting out the whole year," Allen said.
Allen was fully healed by about the middle portion of last season but was already forced to miss the year as a redshirt. Head coach James "Bruiser" Flint already had his team and rotations set, as the team was in the midst of a 19-game winning streak. Allen had no choice but wait for the 2012-13 season, which he did.
"I just waited my turn and waited for this year," he said.
But then the season came, and Allen had to wait even longer. Drexel lost its first two games of the season by a combined margin of six points. Both games forced an overtime period, so a total of 90 minutes were played in those games. In those 90 minutes, not one second featured Tavon Allen on the court. He kept waiting.
"I knew I'd get my turn," Allen said.
He did get his turn, and his play made it well known. After Damion Lee suffered a neck and head injury Nov. 15 against Illinois State University, Drexel needed offensive depth from the guard position. That's where Allen came into the picture.
Allen stepped onto the court two and a half minutes into the game two days later at the Palestra, and he ran with the opportunity. In 24 total minutes of play, the 6-foot-7-inch forward dropped 15 points, tied for the team lead, and grabbed four steals on defense. His tall, long body that game proved that he would be a difficult matchup to stop.
He did not stop there. In his three games since, he reached double figures in scoring two more times, including 16 against a very good Saint Mary's College of California team. The freshman now appears comfortable, having been able to get his feet wet for four games now.
"It's been good. I finally feel comfortable playing in college now," he explained. "I'm just glad to be playing now, feels good to be here."
Since his debut, Allen's role has increased. A big part of that is due to sixth man Chris Fouch being lost for the season with a broken ankle. Allen has emerged as the best scoring option off of Flint's bench.
"Yeah I'm comfortable. I know what my role is," he said. "I know what to do, and if my number is called, I just got to do what he wants me to do."
Flint has been pleased with Allen's ability to score.
"I know he could score, he's got to do some of the other things," Flint explained. "Scoring has never been his problem"
With Fouch out, what is stopping Allen from getting even more minutes?
"Playing 'D' and getting rebounds have been his problem," Flint said.
In Flint's eyes, Allen remains a raw, limited player. In a sense, he is a one-trick pony, as his defense, much like the entire team's, can be improved.
The Colonial Athletic Association Coach of the Year from a year ago made it clear how to get more playing time and made it clear how one can get in the lineup consistently.
"Whoever plays the best defense is going to be out there," Flint said.
Allen knows this, and he is doing his best to shore up his defense. When asked whether Allen could maybe steal away a starting job from Lee, Flint did not close the door on that possibility, saying whoever is playing the best defensively would be out there. He talked to Allen about his defensive game, and Allen has gone to work to polish it up.
"I've been working on my defense," Allen said. "Coach told me I have to work on it, so I've just been listening to him, trying to focus on it and games."
With the extra pressure on him and his team, Allen knows he just has to go out and perform, and the lineup will take care of itself. He acknowledges the extra pressure that comes with the expanded role from the injuries. It's not a problem for him, however.
"I like pressure; you just [have] to perform," he explained. "I've been doing it all my life, so it's natural, and I just have fun with it."
Speaking to him, one can sense the fun and excitement he has after each game and each step along the way. Regardless of how much he plays, you have to believe he is having a lot more fun playing than sitting on the bench. His team appears to be better for it, too.