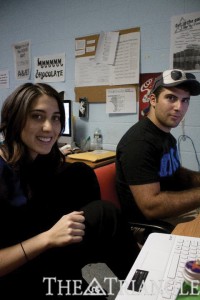 First, I'd just like to describe my first-ever assignment for The Triangle.
I will always remember the day I moved into Towers at the beginning of my freshman year. After all of the hard work and heavy lifting was done, my parents and I decided to roam the campus. We walked down 33rd from Arch toward Market. As we approached the intersection of 33rd and Market, home to the Mario the Dragon statue, my mother spotted two people driving a go-cart with The Triangle's logo on it. She flagged them down, shouting, "Wait! My son was on the school paper in high school!"
Once she had their attention, she asked them to take a picture of my parents and me in front of Mario. The two people, Mike Mazzeo and Brett Fischer, then the sports editors of the Triangle, took the picture, and then my mother proceeded to tell them both about how I was so involved in the paper in high school and how I worked on the school news show. She basically forced them to take down my number and promise to reach out to me with an assignment once the term started.
A few weeks later, I got a phone call from Brett asking me to go to the men's soccer game that week in order to cover the commemoration of the 1958 championship team. I personally believe that article was terribly written, but I also believe that I've improved at least a little since then. This past summer, when I was living with Mike in New York City, I found out that the plan was to call some other kid who was interested in writing, but they accidentally called me — fortunately, it worked out well. I worked as a diligent staff writer for the next month until I was promoted to assistant sports editor, eventually taking over the section as the sports editor.
So, from my first article to my last — this one.
I guess I should go back to the most memorable moments in my Drexel sports career. Let's start with when I was a wee freshman, training to be a rising Triangle writer under the tutelage of Brett, Mike and Denise Dillon, the Drexel women's basketball head coach who, I can honestly say, taught me everything I know about interviewing, and she was a hell of a quote machine as well.
As a freshman and sophomore, I had the chance to closely follow the women's team and its star talent, 2009 CAA Player of the Year Gabriela Marginean. What I got to see was a young team centered around a junior who had the ability to put the entire team on her shoulders and score close to 30 points per game. Marginean carried her team all the way to its first-ever Colonial Athletic Association championship and its first-ever NCAA Tournament berth. It was the greatest season in program history, and thanks to The Triangle, I had a chance to be a part of it.
In addition, this year was another unforgettable one thanks to men's basketball head coach Bruiser Flint and his team. The Dragons were one of the hottest teams in the country all season, winning 19 games in a row at one point, and they eventually earned the top seed in the CAA Tournament but lost to Virginia Commonwealth University in the final. As a Drexel student and viewer of the famous Drexel Shaft implosion YouTube video many times, I know how often the Drexel Shaft can rear its ugly head. But this time it was the NCAA Tournament Selection Committee that shafted the Dragons all the way out of the NCAA Tournament and into the No. 3 seed of the National Invitation Tournament. Unfortunately, the Dragons just fell short of a trip to Madison Square Garden, but I will never forget the events of this season. I will never forget Damion Lee's three-pointer surge against George Mason University and how he raised his hands high above his head, nearly enticing the DAC Pack to explode. I will never forget Samme Givens shedding a lone tear in the postgame press conference of his final collegiate game — a loss to the University of Massachusetts in the NIT.
Being here has given me the chance to embrace sports I never thought I would, such as field hockey and women's lacrosse — two sports that have blossomed into outstanding programs during my time as an undergraduate.
With all of these memories leading me into my future, I can say there are a few more things I will never forget. I will never forget the role I played as protege to Brett and Mike. I will never forget my own proteges, Julia Fisher and John Chagaris. I will never forget the humorous Bruiser press conferences or the interviews with Denise.
It's been an amazing four years here at Drexel, ones in which I've spent time living the dream here with the Philadelphia Daily News and the Philadelphia 76ers and in New York at NBC Sports. My future in sports media would most likely not have been possible without my experiences here. Thanks to everyone who helped me make these the most memorable and enjoyable four years of my life.