The Drexel University wrestling team has started their season hot, winning their first four matches. The Dragons' squad of mat men took their talents to West Point, New York to face off against the United States Military Academy on Nov. 13.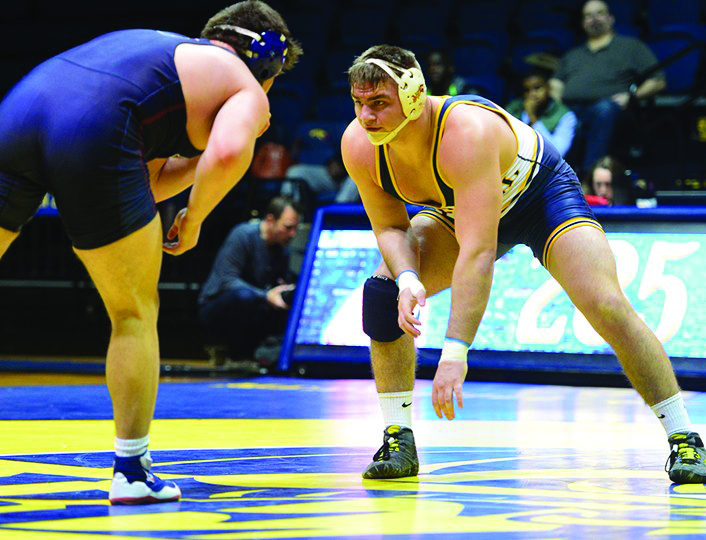 The team was coming off of a strong 36-9 win in their previous matchup and looked to continue their dominance this season.
In the 125, junior Tanner Shoap looked to get the team rolling early. Shoap won his match after scoring a takedown in sudden victory. Shoap scored nine points while his opponent scored just seven.
Senior Kevin Devoy Jr. was next at 133. Devoy Jr. dominated his opponent by scoring a major decision and winning the match 8-0. With wins for both Devoy and Shoap, the Dragons were up by a score of 7-0.
Senior David Pearce was next in the 141 weight class facing an opponent ranked No. 17 in the nation. Pearce fought with grit and toughness but he lost the match by a score of 9-5, giving West Point three points.
In the 149 weight class, senior Matthew Cimato took back momentum for the Dragons by beating his opponent in a 5-1 decision.
West Point came right back in the 157 division as Drexel sophomore Mike Comunale went up against No. 14 Russ Persons. Persons beat Comunale on a technical fall, putting the score at 9-8.
In the 165 division, junior Austin Rose battled in a tough match to give the Dragons a bigger lead. He beat his opponent in a 7-4 decision and increased the lead to 13-8.
In the 174 bout, junior Nick Elmer fought in another tough matchup, but he lost by a close 2-0 decision. 
Junior Alex DeCiantis wrestled in the 184 division. He scored three points in the decision but ultimately lost 8-3.
The match came down to the 197 and 285 weight classes. Junior Joshua Murphy had a tough task in the 197 division battling against No. 11 Rocco Caywood. Murphy showed true skill as he defeated his opponent by a 6-4 decision.
With the match now at 16-14 in favor of Drexel, the outcome was in the hands of junior Joey Goodhart. Goodhart secured the victory for the Dragons by a win-by-fall, making the matches final score 22-14.
The Dragons did a great job facing tough opponents in this match and captured the victory. They showed their toughness and their skill, needing both to edge out this victory. The next round of matches will come from the Keystone Classic in Philadelphia Nov. 20