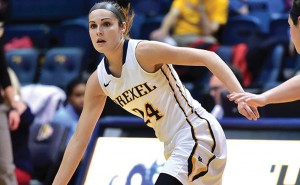 While the weather has finally gotten cold enough to be winter-like in Philadelphia, the Drexel University women's basketball team is off to a hot start in the new year, grabbing a win in the first game of their Colonial Athletic Association season. On Jan. 3, the Dragons defeated the College of Charleston at home in their CAA opener. The final score was 66-54.
But first, we have to rewind and see what the Dragons were up to while we were all home for break.
Over our term reprieve, including the win on Jan. 3, the women's basketball team went 3-3 in their contests. While .500 might not seem like the best percentage, what has to be considered is who the Dragons competed against—and the schedule was a stacked one, facing some of the best women's basketball programs around.
Throughout the break, Drexel saw the likes of some major basketball programs, tipping off with teams from Hampton University—who defeated the Dragons last year in Women's National Invitation Tournament play, Saint Joseph's University, University City rival—the University of Pennsylvania, Quinnipiac University, a top-25 ranked Syracuse University, and finally, most recently, the College of Charleston.
The Dragons grabbed their additional wins versus Hampton and Quinnipiac, and took their losses to their Philly rivals from Saint Joe's and Penn, and power-house, Syracuse, who is 11-3 on the season. The games against Saint Joe's and Penn were close, however, with Drexel only finishing the games seven and five points behind their opponents, respectively.
In addition, our winter break saw the CAA award two Dragons player of the week honors. The week of Dec. 28, junior Sarah Curran was the award winner, earning the accolade for posting a double-double against Quinnipiac. Curran had 22 points and 12 rebounds.
Most recently, at the beginning of this week, Rachel Pearson earned this honor for the Dragons.  Her award made the CAA player of the week a Drexel competitor for the second week in a row.  Pearson earned her award by scoring north of 20 points in two games back-to-back, with 22 versus Syracuse and 28 against Charleston. Against Charleston, she netted a notable eight three-pointers, which matches her with a previously set record for amount of three's in a single game.
Next up, the Dragons will engage in their second CAA game of the season against Northeastern University at the Daskalakis Athletic Center Jan. 8 at 7 pm.  At 1-0 in conference play, Drexel basketball fans will hope to see the team take another win on the home court and keep the conference streak going. Before the weekend closes Jan. 10, the team will travel to the College of William & Mary for their first away CAA game.