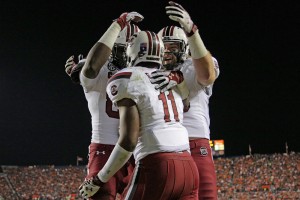 This week, the college football committee served up the second week of rankings that featured only one change. The University of Mississippi (Ole Miss) dropped out of the Top 10, falling all the way from the fourth spot, after their loss against Auburn University. The University of Oregon took their place. After that, it's the University of Alabama, Texas Christian University and everyone else that think they have a chance. There's a single glaring problem in the top four teams — Florida
State University.
Mississippi State is No. 1 by default basically. They're one of two undefeated teams and play in the toughest conference, the Southeastern Conference. Their defense is very suspect at times, as evidenced by their game against the University of Kentucky, but a playoff team nonetheless. The No. 2 team has absolutely no business in the Top 4. The reasoning for FSU in the playoff picture is very antiquated in the year 2014: they're undefeated and they're the defending national champions. It drives me crazy that those two factors are substantial instead of who they actually beat or the strength of schedule. They play in the Atlantic Coast Conference, which, quite possibly, could be the worst conference behind the American Athletic Conference. I don't see how beating certifiably bad teams such as Wake Forest University and Syracuse University matches up against what Auburn did against Kansas State University and Ole Miss.  Their two "notable" wins were against the University of Notre Dame and Oklahoma State University. The latter is currently 5-4 overall and 3-3 in the Big 12 and the former routinely ekes out close wins against horrendous
ACC teams.
The playoff committee then ranked Auburn at No. 3. I think Auburn is actually underrated because of the strength of their wins (and losses) compared to those of Florida State. An out of conference win against Kansas State coupled with SEC wins over Ole Miss and Louisiana State University are much more impressive than anything FSU has done all season. What's even more impressive is that the Las Vegas odds makers have Auburn favored by as much as four and one-half over Florida State.
Rounding out the playoff teams is the University of Oregon, which seems appropriate, as  it seems that Oregon has been hitting on all cylinders. In the end however, we'll probably see the SEC West beat each other up to the point where we'll only get one SEC team in the playoffs.
Ideal scenario: Alabama beats Mississippi State and Auburn en route to an SEC championship and playoff berth. This would force the committee's hand because both Auburn and Mississippi State have played incredible schedules. They'll have to weigh whether a two-loss Auburn is a better team than a one-loss Kansas State despite the fact that Auburn beat K-State earlier in
the season.
The rankings all go to show how close the teams are, with the exception of Florida State, and that there's no clear cut dominant team.
Drexel University political science major Shefit Koboci, when asked about the strength of this year's teams versus previous years, was succinct
in his judgment.
"You know, last year you had Florida State dominate everyone and was pretty much a runaway favorite for everyone. This year there's no Florida State type team that would blow out everyone."
In the end, the schedule will likely sort itself out and will make the playoff committee's job easier. No matter what happens however, at least one school will feel like they will have been stiffed out of a potential championship as they do every year.