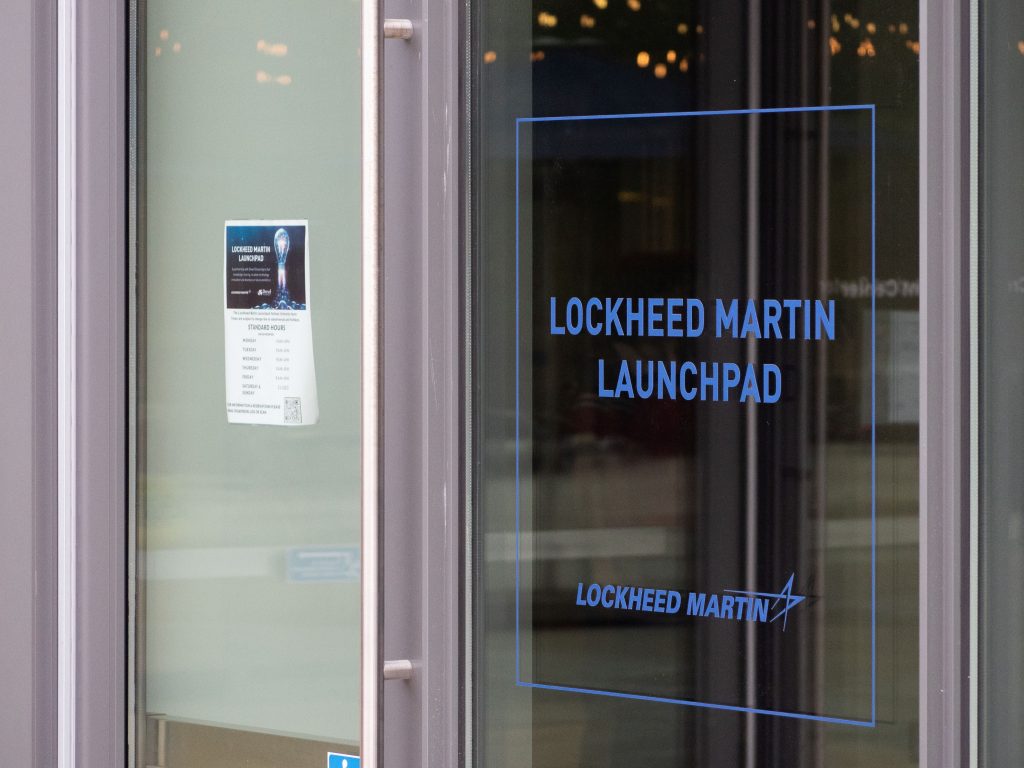 Those passing through Drexel University's campus have probably noticed the massive construction project on 32nd and Cuthbert St. that has taken over Buckley Field. A life sciences building is being constructed here for Drexel and the pride of the project is the expanding relationship between the university and company Lockheed Martin. Lockheed Martin, a weapons manufacturer, is known worldwide for death and destruction. From Apartheid Israel's war crimes against Gaza to the Saudi coalition's bombing of schoolchildren in Yemen, Lockheed Martin can be found doing business in over 50 countries, profiting off of the death of hundreds of thousands, including children. In recent years, the weapons company has focused its sights on a specific pool of recruitment: students at Drexel University.
Lockheed has a long history of recruiting university STEM majors, with over a dozen schools across the U.S. having a 'Lockheed Martin Day' on their campuses. Drexel is the most recent of many schools strengthening partnerships with Lockheed Martin, unveiling a new 'technology incubator' together, solidifying what the university calls an "enduring partnership over several decades." In addition to this incubator, Drexel offers co-op programs with the 'defense' contractor. Make no mistake; a shiny new room and internship opportunities do not change the fact that this company works in the killing business, has been accused of numerous human rights violations and has sold weapons to some of the most destructive military operations in recent history. The company tries to distract from these unsavory truths, going so far as to dissuade shareholders from voting to make the company more transparent in its operations. However, no matter how much the company is able to cover up, it has committed multiple crimes against humanity that are already well-documented.
Lockheed Martin could use Drexel labs, research, students, and faculty to further the "development and production of several Lockheed Martin mission portfolios in the Delaware Valley including the Aegis Combat System, Long Range Discrimination Radar and SPY-7 Radar". All three of these projects are used to kill soldiers and civilians alike. Lockheed Martin and Drexel try to frame their partnership goals as helpful to both the academic and career experience that students will receive with no mention of what the students will be working on: projects used to kill people, profiting both Lockheed Martin and the university. This move to partner with global killing machine Lockheed Martin is no surprise coming from Drexel University and John Fry. This university and our president have been systematically and violently pushing Black and working-class people out of their homes in West Philly to make way for new high-rises and life sciences buildings for decades.
Lockheed Martin recruits heavily on campuses to combat many employees leaving or retiring from the company. Because of this, Drexel students have a unique opportunity to reject, denounce and disrupt this war machine. An organized effort to boycott and drive Lockheed Martin out of Drexel could deal a serious blow to the war profiteer. Such a drive would not come from the hearts of the Drexel administration, however, as they have reiterated time and time again their commitment to the weapons manufacturer. We, as students, faculty, staff and residents of University City, must unite and demand the end of Drexel's business with Lockheed Martin. Our tuition money should not be used to support murder and our co-op labor should not be handed to a company that engineers weapons for genocide abroad!
If you work or learn in proximity to Lockheed Martin at Drexel, we urge you to start talking to your peers about the truth of what your labor is being used for. We urge you to ask your supervisors and professors how they feel about the weapons manufacturer's war crimes. Don't let Drexel suck you into the war machine; demand better from our school. Demand better for yourself, your classmates and the millions around the world affected by imperialist war.
This publication was submitted to the Triangle externally by Drexel Community for Justice.