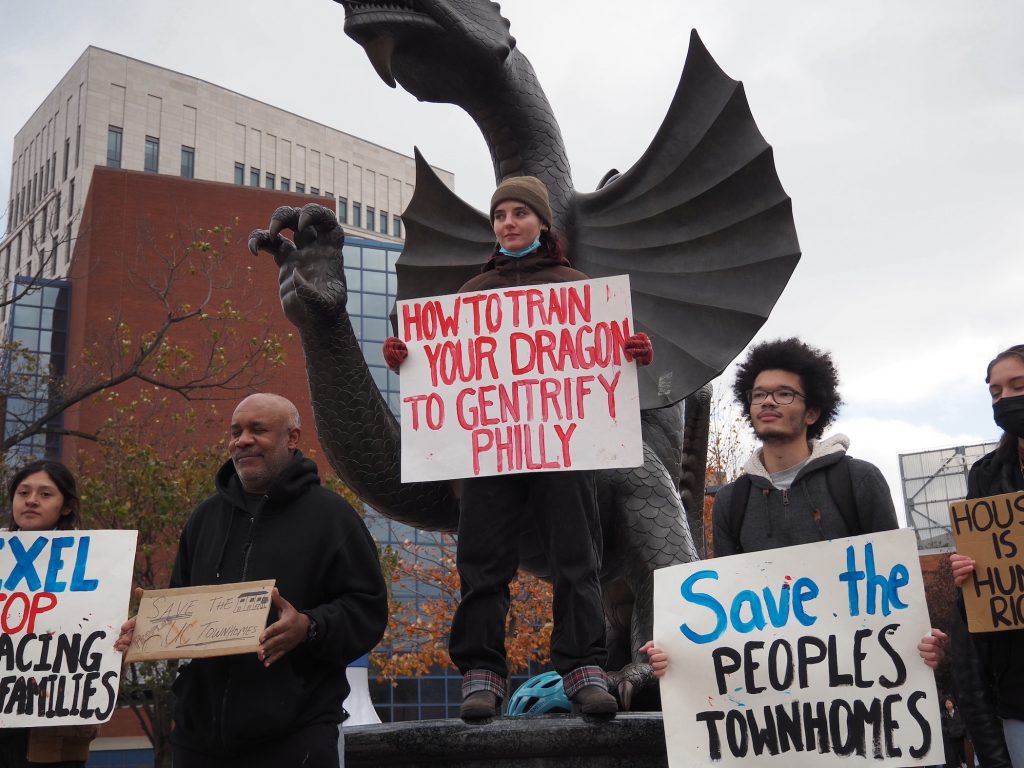 Written by: Drexel Community for Justice and Drexel for PILOTs
Since July 2021, residents of the People's (UC) Townhomes have been fighting for their homes, families and livelihoods. With a new eviction deadline of Feb. 21, they urgently call on students and Philadelphia community members to stand with them in this fight.
The People's Townhomes is a 70-unit affordable housing development owned by real estate developer and corporate landlord Brett Altman and IBID associates. In July 2021, in order to demolish the development and construct new housing on its site, Altman did not renew the contract with the Department of Housing and Urban Development (HUD). The Townhomes' residents were given a year to vacate with the promise of housing vouchers to assist in rehousing. However, many residents remained voucherless even after the original eviction deadline. Following the announcement of the demolition of the townhomes, long-time residents formed the Save The UC Townhomes Coalition, which grew to include college students and long-term Philadelphia residents.
Building on a legacy of Black displacement
The People's Townhomes' neighborhood – the Black Bottom –has been home to Black and working-class Philadelphians for generations. This historically Black, working-class neighborhood was established in the early 1900s during the Great Migration;the historical tide of African Americans moving to escape racial violence in the South and pursue better economic opportunities in the North. In the 1940s, the University of Pennsylvania and Drexel University were made "redevelopment authorities" during Philadelphia's urban renewal. They were given carte blanche to declare eminent domain. They used this structural advantage to displace thousands of families, demolishing their homes in the name of expanding campuses, "modernizing" the city and making it accessible to big business. Established in the 1980s, the Townhomes are one of the last surviving pockets of affordable housing in the neighborhood -– a last bastion against the aggressive expansion of University City and this pattern of displacement.
Today, Drexel continues to expand into Mantua and Belmont, and UPenn buys up properties around and along the historically Black business corridor on 52nd St.. Melvin Harris, a Philadelphia native, resident of the Townhomes for over 28 years, and organizer with the Save the UC Townhomes Coalition, says, "When I see this 'University City,' all I see are towers of destruction that are leeching the communities dry to the bone… when I was a kid 90% of this stuff didn't even exist. This area was housing… thriving neighborhoods, people coming together, communities coming together – now it's all gone, and for what?" The Black population of University City has nearly halved in the last twenty years alone.
The real price of gentrification
Gentrification is not inevitable, it is a choice that people who profit from real estate development in Philadelphia make daily. A process where impoverished urban neighborhoods are transformed around the interests of elite groups and interests; gentrification mirrors patterns of racial segregation and redlining in U.S. cities. While Drexel touts its "civic engagement" in the neighborhood, the university also drives gentrification by not using its resources to protect affordable housing. According to Harris, "Gentrification is a nice word for thievery of land. All it is is the destruction of communities […] What they want us to see as growth, development and expansion…we see gentrification as community genocide." The decision to demolish the Townhomes maintains this practice of gentrification, or the outpricing, policing and uprooting of Black and working-class people. As Harris says, "As long as gentrification continues, this is our destruction; it is a destruction of our livelihoods, of our people, of our communities, of our children."
"This is our stand to take our community back."
As the eviction deadline of Feb. 21, looms closer, the need for action becomes more urgent. Townhomes residents' demands are to stop the demolition, or an extension of two years if they are indeed forced to leave the Townhomes. They also demand that much-needed repairs and maintenance be immediately addressed by management, a meeting be scheduled to discuss outstanding issues and a $500,000 financial compensation per family be distributed. Protests and teach-ins led by student organizers have been taking place across UPenn and Drexel's campuses, but whether Drexel will recognize and respond to its role in Black displacement and gentrification remains to be seen.
Standing up against the destruction of the People's Townhomes is protecting real safety for all working-class people.
"At the townhomes we take care of each other. It is one of the few places left in Philadelphia where there's safety in the number of the residents that live there," Harris stated.
If you want John Fry and Drexel to support Townhomes residents' fight to stay in their homes, please sign and share this petition today!