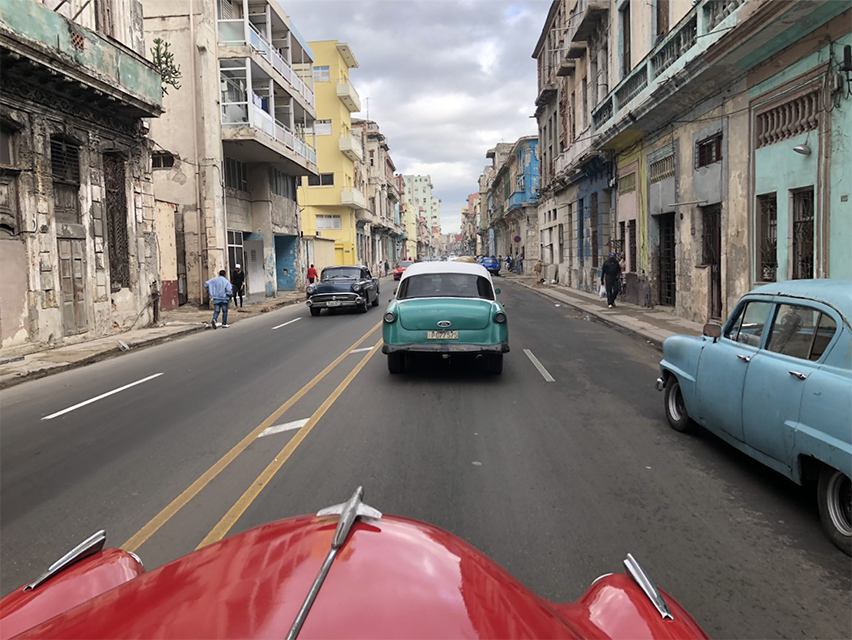 I was greeted with a "Welcome to Free Cuba" when I landed at Guantanamo (GTMO) back in 2006. GTMO is a 47-square mile U.S. military base on the southeast tip of Cuba. In relation to my research on international terrorism, I was invited by the Pentagon as a distinguished visitor. I toured the detention facilities located inside the wire and was allowed to "interrogate the interrogators." GTMO, one of most controversial and secret military bases in the world, has a 17-mile fortified "fence line" with Cuba that encapsulates the base. As I looked past the barbed wire fence, beyond the watchtowers and armed guards, I remember promising myself that one day I would return — on the other side. I wanted to judge if Cuba is actually free for myself.
In 2006, I flew to GTMO on a U.S. military jet departing from Andrews Air Force Base in Maryland. In 2018, it was commercial with American Airlines from Miami to Havana's Jose Marti International Airport. There were no lines for the 45-minute flight; Cuba is not exactly a U.S. tourist destination. Referred to as the Cuban Embargo, the U.S. government currently restricts travel to Cuba and visas are hard to come by.
I signed up to be part of a music-diplomacy trip, an educational, people-to-people delegation organized by the Classical Guitar Magazine, aimed at building bridges between Americans and Cubans, learning about Cuban culture and furthering an understanding of the complicated relationship between the U.S. and Cuba. As a board member of the Philadelphia Classical Guitar Society I assist in producing guitar concerts, and it is through this network that I learned about this trip. In spring 2018, I am teaching The Psychology of Music with Drexel's Pennoni Honors College and I am looking forward to learning more about the soul of Cuba through the medium of music.
One has to examine the extremely complicated history of the two countries to understand the present. The checkered past includes the explosion of the USS Maine, in Havana's harbor in 1889, the Fidel Castro revolution in 1959, the Bay of Pigs invasion in 1961, the Cuban Missile Crisis in 1962 and human rights violations performed by the U.S. on detainees incarcerated at GTMO between 2002 and 2005. While communist regimes like Vietnam are having a renaissance with the U.S., bilateral relations with Cuba are at an all-time low, reversing the progress that President Barack Obama had made encouraging tourism and business ties.
Cuba is an island full of paradoxes. It is Mediterranean Europe in the middle of the Caribbean. Walking the streets of Havana, I listened to what the city had to tell me. I heard music and I saw people who enjoyed life outside, on the streets, balconies and many squares. The street scenes in Havana are intoxicating and the city's eclectic architecture is astonishing. Havana is undeniably charming. It is a time capsule — a form of Jurassic Urban Park. Because of Havana's unique harbor topography and its location as a gateway to the rest of the Americas, 80 percent of the city was built in less than 60 years and as a result, the city is aging at the same time. Havana reminds me of Venice without the canals. The communist system does not seem to provide a useful system for upkeep. In fact, three houses collapse every day in Havana. Yet, it may be the most beautiful city in the world.
And then there are the classic cars. I rented a 1949 red convertible Chevy. The body was intact but the engine must have been a Russian diesel judging by the sound of it. Gilberto, my driver, asked me where I wanted to go. "A trip to nowhere," I said, which Gilberto said is the best destination. He tried to convince me that the communist regime has its advantages. There is no homelessness; there are ration stores where the population receives food; medical coverage, including abortion, is free; violence is unheard of; and tourism is coveted. And the government, Gilberto added with a grin, has officially abolished racism. As Gilberto lit his Cohiba cigarette and we cruised down the Malecon along Old Havana's seawall, I felt like I was in a movie. He asked, "Did you like your ride?" as he dropped me off at the 1950s pre-revolution mafia-build Hotel Capri. "Of course, it was fantastic," I answered. "Good … that is important to me." I already miss him as I join my delegation for lunch.
Cuba is a poor country and there is great economic distress. There are no ATMs or credit cards, Wi-Fi is slow or non-existent, and U.S. dollars are illegal. But I knew Cuba didn't need my criticism; it needed my help. I brought guitar strings, flash drives and Phillies baseball caps, (the latter is courtesy of my friend David Montgomery, President emeritus of the Philadelphia Phillies) all of which became instant treasures. I have never experienced a culture like this. It was like East Germany meets the Caribbean — but with a twist: the people of Cuba completely go out of their way to welcome you.
My favorite time in Cuba was when I was with the people talking about everyday life, politics, sports and of course music. I fell in love with the Cuban music culture. It is authentic, passionate, creative and fun. We had several private concerts a day, from rap to classical, performed in the most amazing spaces one can imagine. Cuba turns you on to music.
Any discussion about GTMO was, however, off limits. Fidel Castro's book entitled "Guantanamo: Why the Illegal US Base Should Be Returned to Cuba," was prominently displayed at roadside rest stops. For me personally, GTMO and Cuba are difficult to reconcile. The U.S. came to lease GTMO legally in 1903, but our continued military presence there seems unsustainable to me. There is little middle ground regarding GTMO. It has become one of the polarizing issues surrounding the Global War on Terrorism and is an enigma that reflects the greater global complexities that the U.S. and Cuba now find themselves coexisting in.
It's complicated, as the Cubans said during my weeklong visit when we reached a political cul-de-sac in our chats. Indeed it is, but that is also why Cuba is so interesting. Where else would I rather be, I asked myself when strolling down the streets of Havana? I shall return one day…to the Free Cuba.