Dining options on Drexel's campus will expand to make room for Zavino, a pizzeria and wine bar that will open in Chestnut Square. Zavino is one of several restaurants that will be located in the new University-affiliated housing and retail space and begin operations this fall.
Zavino, currently situated in Midtown Village on 13th and Samson streets, celebrated its three-year anniversary two weeks ago. This restaurant was opened in search of "a space with lots of energy," Jason Brooke, the general manager, said. "We've always wanted to expand, but we also wanted to stay in the city. University City will give us the vibe we want from not only Drexel University but also the other college campuses in the area. We also get to be right next to Shake Shack and coZara, which are both great restaurants and will give us the excitement and vibe we want."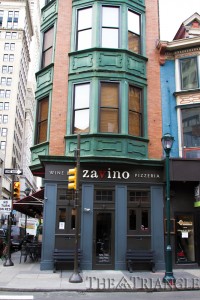 "The restaurant is … for the University City community as much as it is for the students," Jason Wills, senior vice president of on-campus development at American Campus Communities, the organization partnered in creating Chestnut Square, said. "We want it for students of neighboring campuses and definitely residents of the Powelton Village."
"I was really excited for the diversity of the restaurants and that they were really obscure names. There aren't any chains. I feel like we lack that on Drexel's campus that [the University of Pennsylvania] has," Emily Ballantyne, a sophomore biomedical engineering major who will live in Chestnut Square in the fall, said.
One of Zavino's pizza specialties is polpettini pizza, which is ricotta stuffed veal meatballs and crushed tomatoes covered in mozzarella, basil and shaved provolone. Their pizzas are made to order, allowing the customer more options.
"Pizza is our staple, but we also make handmade pasta and veggies. … Many people come in for our daily specials," Brooke said.
Zavino offers Italian food, such as small-plate appetizers including sheep's milk ricotta and foccacia, pasta options such as fettuccine, and meats and cheeses such as prosciutto de parma. Prices for the platters are around $8, and pizzas are no more than $16.
"It doesn't do it justice to just call it a pizza place. It offers amazing appetizers and a fantastic winery that the customers within University City, students and the Drexel faculty will enjoy," Wills continued. Wine options include whites such as chardonnay and Torrontes and reds such as Tempranillo and Malbec. Zavino will also serve cocktails, draft beers and bottled beers.
"I'm very excited," Ballantyne said. "Although, personally, I won't be 21 until the last month of my lease in Chestnut, but just having that on campus is really great, and of course it's not just about the wine but also the pizza. I don't think that just because it's called a wine bar it will detract from underclassmen or underage students from using the restaurants."
"[The new dining options will bring] excitement and variety to the Drexel dining options," Francis Pantano, a freshman undecided engineering major, said.
Zavino, along with the other restaurants added into Chestnut Square, will accept Dragon Dollars.
"I'm not a fan of the Dragon Dollars," Pantano said. "It might as well be cash, but I guess for some people it would benefit them if they had Dragon Dollars."
"I feel like it would be more geared toward upperclassmen because freshmen are required to be on meal plans. Dragon Dollars are essentially money, so I'd much rather spend dining dollars if possible," Ballantyne said. "But next year I'll definitely be more apt to go to these restaurants because I'm not planning on having as large of a meal plan."
Brooke responded to the idea of competition with the other Drexel dining options with open arms. "Think about it — it's the same thing as 13th Street. There are a whole bunch of restaurants all around us, and there are new ones coming in all the time," he said. "We'd love them to bring in other restaurants. We embrace it. It gives us the vibe and the energy that we want."
"From our food to our service, we do it with passion. I want to create a great happy hour, and I think the students of Drexel will do that," Brooke concluded.