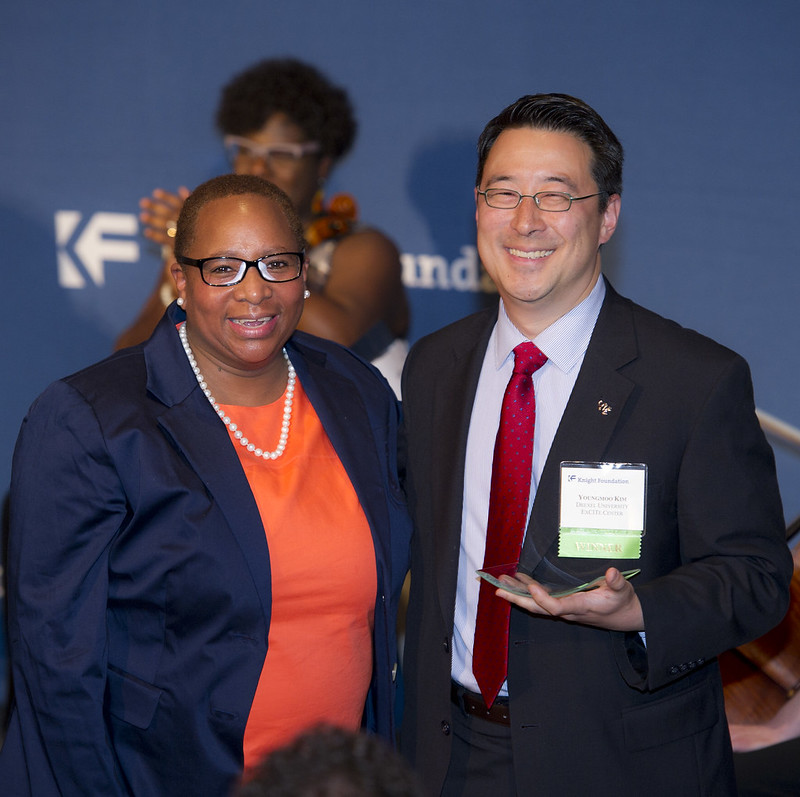 On Monday, April 3, Youngmoo Kim began his first day of work as Drexel University's new Vice Provost of University and Community Partnerships. In this position, he is working to connect Drexel's students, faculty and facilities with the surrounding neighborhoods.
Kim has been part of Drexel's Electrical and Computer Engineering departments since 2005. He also founded the ExCITE Center, which focuses on combining the arts and technology to innovate and educate. Kim, who holds degrees in both engineering and in music, is passionate about blending art and science. Through the ExCITE Center, Kim has already been working with Drexel's neighbors. The Center has held several projects with West Philadelphia youth, including the 2019 launch of the Informal Learning Linking Engineering Science and Technology (ILLEST) Lab, a center dedicated to giving West Philly citizens access to science, technology and the arts.
The Office of University and Community Partnerships is a new one. Kim is only the second individual to hold his title, succeeding Dr. Lucy Kerman, who held the position for twelve years. Of Dr. Kerman, Kim says, "I'm not just humbled by her legacy. I'm in awe." The office oversees several community-oriented Drexel projects including the Lindy Center for Community Engagement and the Dornsife Center for Neighborhood Partnerships. These branches, among others, lead a variety of outreach programs linking residents of West Philly, Powelton, and Mantua with services such as medical care, digital literacy and arts workshops. 
Kim enters the Vice Provost role at a critical period. After a thirty-five day sit-in protesting the inaction of Drexel's administration in protecting affordable housing in University City, many students feel the university is failing to adequately support its neighbors. Kim appreciates the passion of the protesting student, but emphasizes the difficulty in the school's situation. He cites the university's 2018 purchase of the West Philadelphia Community Center to preserve its services for the community as an example of the school's successes, and he insists that Drexel is committed to exploring ways of expanding the university while minimizing the damage to surrounding neighborhoods: "We're trying to do something as a university that hasn't been done. I'm not saying it's impossible, because we're going to try."
Kim sees partnering with the surrounding community as a significant piece in the future of the college experience at Drexel. He hopes that the continued efforts to strengthen the relationship between Drexel and its surrounding communities will serve not only as an important part of Drexel students' education, but also as a draw for prospective Dragons. 
"I think that civic engagement is the most distinctive and most impactful thing that we do at Drexel," Kim says. He encourages students who are passionate about community partnerships to get involved with the many centers and programs dedicated to this work on and around campus.