Yogorino, an Italian frozen yogurt franchise, announced April 9 that it will be joining the medley of new food options opening this fall in Drexel's Chestnut Square. Yogorino offers both frozen yogurt and a selection of gelato flavors.
Vincent Bauman, a freshman biology major, said that even though he enjoys frozen yogurt, he still probably won't go very much "because I'm not living in Chestnut Square next year, … so I probably won't spend too much time there. I guess if I'm at the [Handschumacher Dining Center] or something, like, 'Oh yeah, let's just get some dessert, go to a frozen yogurt place,' or something like that."
Lyssia Katan, a freshman business major, said, "Personally [Yogorino] would make it very convenient [be]cause I do love frozen yogurt, and I find myself having to walk either to Kiwi or to Sweet Green located on [the University of Pennsylvania's] campus. However, I'm not sure how it's going to compare as yogurt quality to Kiwi or Sweet Green."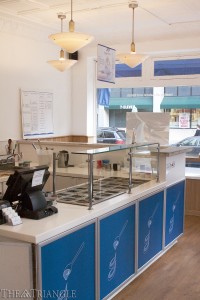 Another issue that arises will be how Yogorino will affect other frozen yogurt shops, such as Kiwi, which is only a few blocks away on Chestnut Street. Bauman said, "It's about personal choice, what you think is better [or] which one you like better. If you say you're going to Wawa or something, then, 'Oh yeah, let's get some frozen yogurt right next door at Kiwi.' I think maybe Kiwi might have a little bit of a dent in profits, but I think they will make it through."
Katan said, "It depends on the quality, but Kiwi will probably see a loss of Drexel customers [be]cause every time I go there I see a few people I recognize from Drexel, so people are definitely making the walk all the way to Kiwi, but I'm not sure they'll do it when we have frozen yogurt here on our campus. … Sometimes, when it's 9:00 at night and you're in the mood for frozen yogurt, it's not really convenient to go all the way to Kiwi to get it, and often it's nice to just hang out and have froyo with friends."
Unlike Kiwi, which has multiple flavors of yogurt, Yogorino only offers a plain base yogurt but complements it with a wider range of toppings. Yogorino already has two other locations in the Philadelphia area, one in Rittenhouse Square and another at 12th and Walnut streets.