World Press Photo, the largest and most prestigious annual international press photography contest, made its debut in the United States April 30 at the Leonard Pearlstein Gallery. The exhibition showcased 143 prize-winning press photos that capture the most critical issues around the world.
Despite the inclement weather, the debut ceremony still went on with the presence of the University's faculty and students, World Press Photo representatives, and other attendees in the area.
The exhibition project manager, Anne Schaepman from the Netherlands, spoke at the ceremony. "World Press Photo is [a] foundation that assists to inspire understanding of the world through top-quality photojournalism," she said.
Schaepman continued, "We are the biggest international contest for photojournalism, and this year we got about 100,000 pictures being sent in for the contest. I think it was almost about 6,000 photographers from over 120 countries."
Categories in the contest included general news, sports action, sports feature, contemporary issues, daily life, observed portraits, staged portraits, and nature. Subcategories in each classification included singles and stories. Awards went to the top three entries in each subcategory. American photographer John Stanmeyer won the contest's highest award, World Press Photo of the Year, for his photo of African migrants attempting to pick up a cell phone signal under a moonlit sky on the shore of Djibouti.
Gary Knight, a professional photographer who served as chair of the 2014 World Press Photo jury, said, "This show isn't only the most international because you have a large number of photographers from over 120 countries entering; it's truly international because of the make-up of the jury. And to understand the choices that we made, … I think you need to understand how the jury was made up and why."
Knight said that the jury was fairly gender equal, as it was comprised of people who represent every continent and many genres of photography. One role of this diverse jury was to reflect what the press does in photojournalism besides the hard news. The jury's responsibility is not to set hierarchy of issues around the world nor to editorialize what the most important message to send out is.
"What we wanted to do is to allow photographers to do that. We wanted to determine which photographers had represented the issues or the stories that they have tackled in the most intelligent, thoughtful, sometimes provocative and useful way," Knight said.
He continued, "We really sought to reward photography that challenges these stereotypes and demanded from us, the audience, that we engage with the people who have photographed these issues."
The exhibition idea was first initiated by Karen Curry, the executive director of the Kal and Lucille Rudman Institute for Entertainment Industry Studies.
Chang Qu, a senior finance major, said, "I think [the exhibition] is very impressive. I also think it's shocking to me."
Qu emphasized that the photographs help remind the audience of a lot of issues that they are not always aware of such as wars or domestic abuse. "That makes people haunted and want to know what is behind the pictures," Ou said.
Curry said, "I know a lot of photojournalists who are very interested in photojournalism and in journalism. And I've known Gary Knight for many years. So when I discovered that he was the chairman of the jury this year, I thought 'Well, that's great.'"
One photograph that drew much attention throughout the debut was the second-prize singles winner in spot news, an image of the Boston Marathon bombing by American photographer John Tlumacki.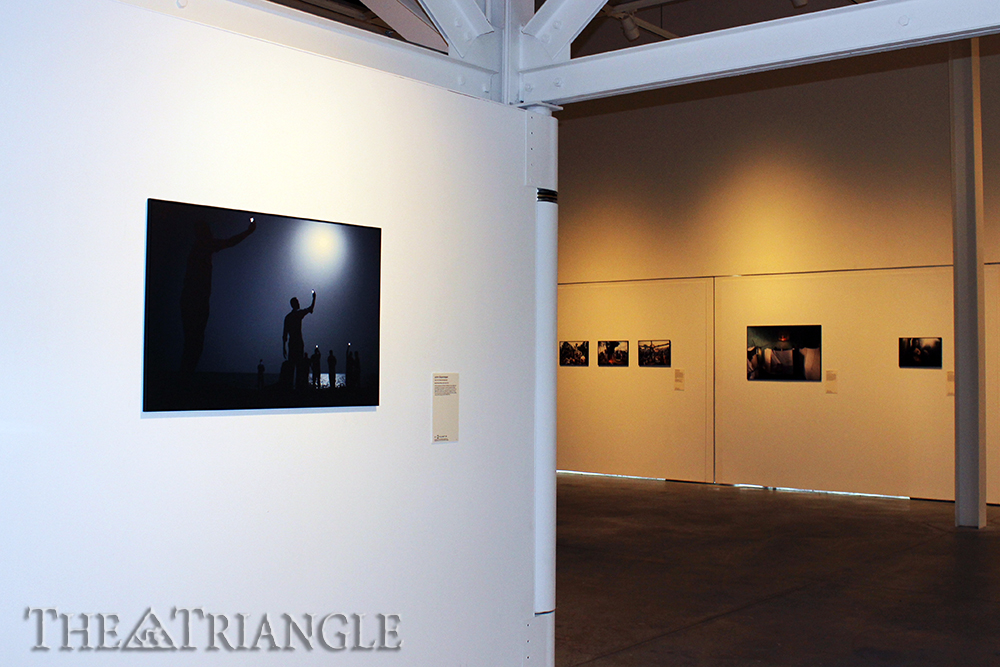 The haunting photo captured the helpers and injured victims seconds after the first of two bombs exploded near the finish line. There was chaos, confusion, blood, people crawling, fences collapsing and glass breaking. At the moment, Tlumacki was only 35 feet away from where the bomb detonated.
"It's an emotional moment for me in my life to look at that photograph and to realize that I wasn't injured, but I think of the victims, I think of the survivors when I look at that photograph. This award is not for me; it's for all the people who were affected by the bomb," he said.
He continued, "The memory of what they went through will be realized when people look, years from now, at the photograph and they can think of the horror that they went through in Boston."
The incident, however, symbolizes the strength of the Boston Marathon's survivors, according to Tlumacki.
"Not one person who was injured in the marathon died at that scene. It's just an amazing story that keeps continuing to be told, and hopefully the photographs that I took, people can look back and say what an incredible recovery these people have," he said. "It was probably the darkest moment in Boston's history, but it also held Boston together."
Tatiana Millou, a sophomore photography major, expressed excitement after talking with Tlumacki, "[As students,] you're trying to find your basis, and here we are with a bunch of people who have already found it, and they really know their identities and where they put themselves in photography."
She continued, "And then we get to meet people like [Tlumacki]. This is like a huge deal."
Tlumacki gave some pieces of advice to the following generation of photographers. Knowing the equipment and getting a camera that one can feel comfortable with are of utmost importance. He also encouraged students to look at the work of other photographers whom they admire, not to copy but mainly to pick up the style that represents them.
"Keep shooting, don't be afraid, and have other people look at your photos too," he said.
Having compassion is another quality. "Be human beings first before the photographers. They should be emotional. When you do something, you just be the friend to the person you want to photograph. Have them know you as well as you're [going to] be able to know them," he said.
"I love that it's [in the United States], especially at Drexel, so that students get to be involved and see how amazing this worldwide work is It's like an honor," Molly O'Neill, a sophomore photography major, said.
Another sophomore photography major, Colleen Reasoner, shared similar sentiments.
"What I like about this event is the ability to see other photographers around the world at our school," she said. "It's also eye-opening to meet other photographers and teachers and professors. That's what makes it personal and exciting."
The 2014 World Press Photo Contest held its first exhibition in Amsterdam and will visit many countries until December of this year.
The event was part of the 2014 Great Works Symposium, co-hosted by the Kal and Lucille Rudman Institute and The Good Idea Fund. The 2014 World Press Photo exhibition at Drexel University will be on display from April 30 to May 21. The gallery is free and open to the public Tuesdays through Sundays from 11 a.m. to 6 p.m.