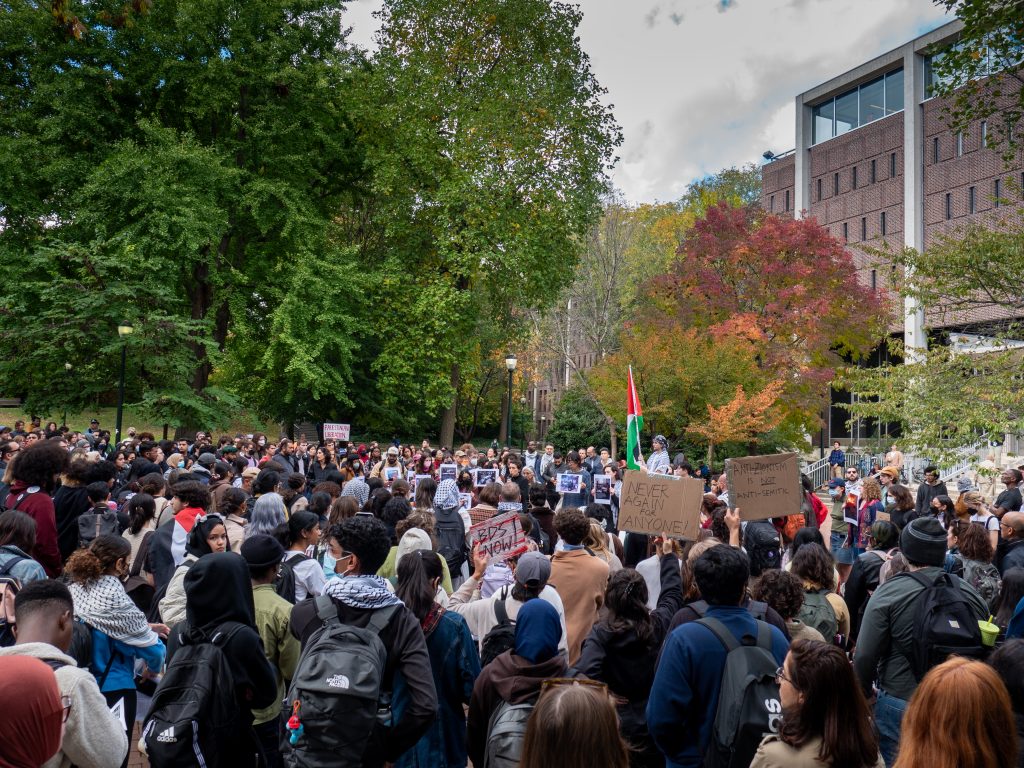 Members of the University of Pennsylvania, Drexel University and neighboring communities gathered in front of the Van Pelt Library on Wednesday, Oct. 18, at 12 p.m. at a vigil for the victims of the al-Ahli Baptist hospital bombing in Gaza.
The vigil was broadly organized by the Philly Palestine Coalition, an alliance of several community organizations with the stated goal of "working to support & uplift Palestinian leadership & liberation." It was supported by various groups such as Drexel's Students for Justice in Palestine, Penn Against the Occupation and Police Free Penn. Most of the speakers were faculty from UPenn and nearby universities, but a UPenn student and a Drexel student also spoke.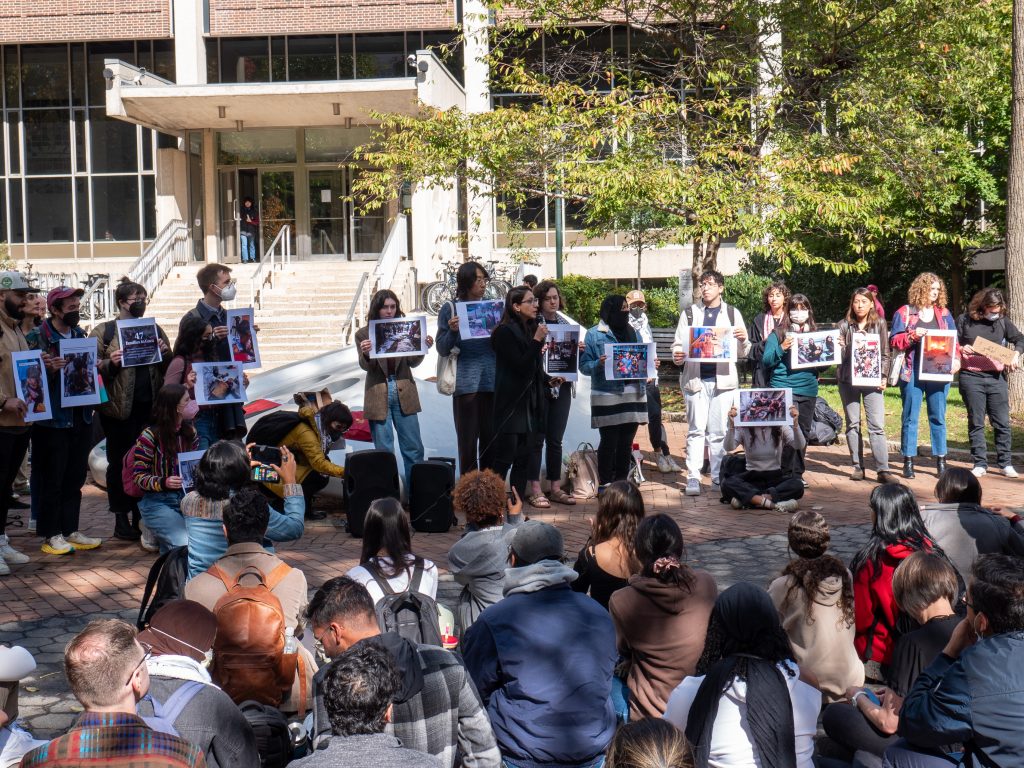 In the center of the vigil, students held up graphic pictures, including those of children at al-Ahli Baptist hospital after the bombing and of Wadea Al Fayoume, the Palestinian American boy that was murdered last Sunday in Illinois. Throughout the event, the introductory speaker announced that the purpose of the gathering was not only to "mourn the immense loss of life" but that they were also "calling for action and demanding justice."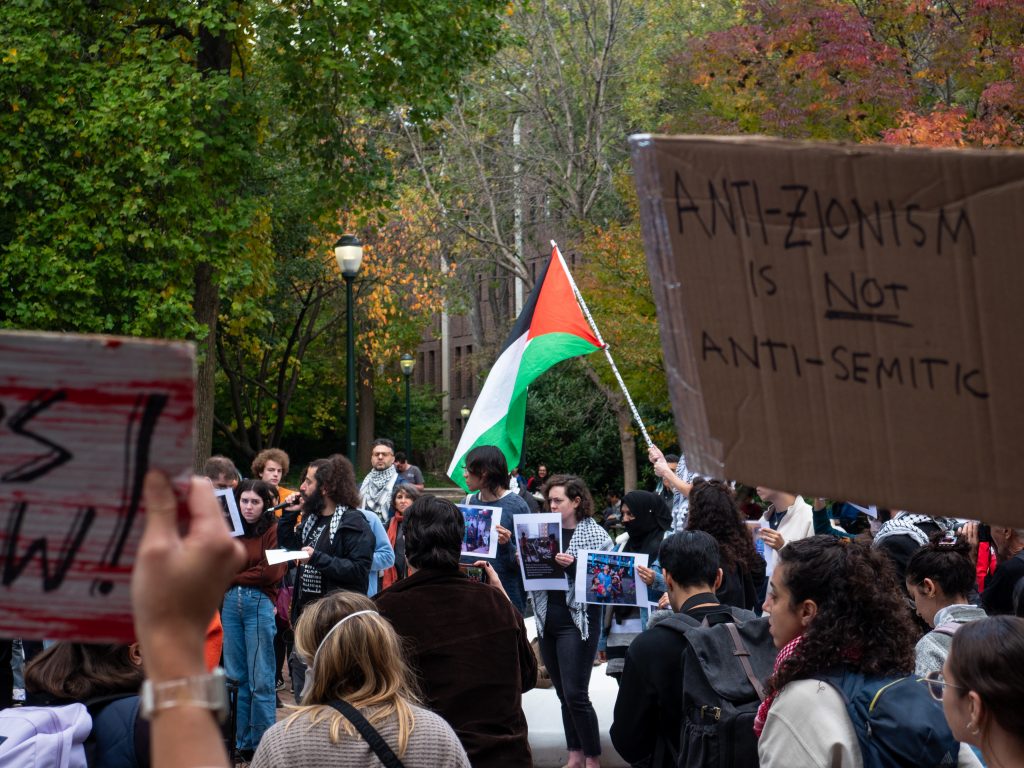 Raz Segal, director of the Holocaust and Genocide graduate program at Stockton University and an expert historian on the Holocaust, spoke out against the misuse of Holocaust history to support the Israeli cause, stating that "many scholars in my field, [including] Jewish scholars, are now standing with you [Palestine]."
Segal claimed that "Israel, supported by the west…. has been using Holocaust history in order to justify, to rationalize, to deny and to distort Israeli mass violence against Palestinians."
As a scholar and expert on genocide and oppression, Segal said, "there is nothing that hurts me" more than the "dehumanizing… [and] demonizing discourse" surrounding Palestinians in Gaza.
Suvir Kaul, Professor of English at UPenn, read a public statement signed by 800 "scholars and practitioners of international law, conflict studies and genocide studies," as labeled by said statement. The four page statement, previously brought up by Segal, was released on Oct. 15, through Third World Approaches To International Law. 
It intends to "sound the alarm about the possibility of the crime of genocide being perpetrated by Israeli forces against Palestinians in the Gaza Strip" by utilizing the academic community's vast research into such events.
Nada Abuasi, a graduate student at Drexel studying communication, culture, and media, and member of Drexel's Students for Justice in Palestine, expressed her own grief and determination, stating "we're here to mourn the eternal souls of our martyrs, but our mourning should never be mistaken for defeat."
She highlighted the role of the United States in the region, citing the United Nations Security Council resolution that was supported by 12 of 15 member countries, which would have allowed it to pass, but was vetoed by the United States. The resolution was drafted by Brazillian diplomats and would have called for "humanitarian pauses" in Gaza.
A group of around 20 silent counter-protestors gathered opposite the vigil holding Israeli flags and signs condemning Hamas and anti-semitism. According to a member of the counter-protest, a second group gathered at a different location around 12:30 p.m.. At around 1:10 p.m., they moved towards the vigil, approximately doubling the counter-protest group, and started chanting.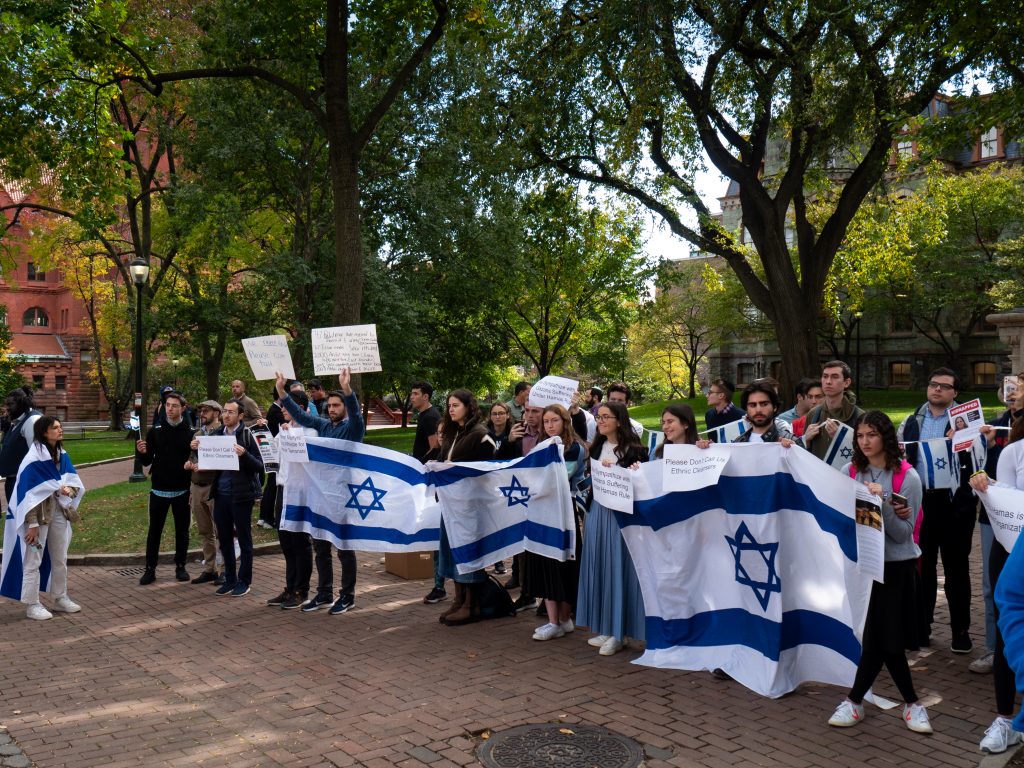 They responded to the pro-Palestine chants such as "there is only one solution: Intifada revolution," with counter-chants such as "Hamas is ISIS."
The gathering was concluded with several prayers and poems in many different languages. Segal recited a Hebrew prayer, Fatemeh Shams, Associate Professor of Persian Literature at UPenn, recited a Persian poem, and a South African student sang the anti‐apartheid Xhosa song "Senzeni Na?" along with others. Then, the group marched in silence towards Walnut Street.