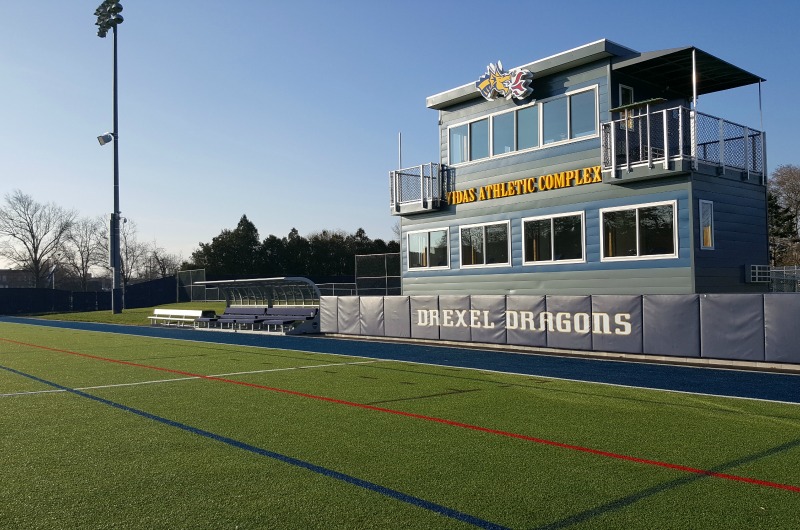 Drexel University Athletics will be undergoing a transformative $3.5 million renovation project to revamp the Vidas Athletic Complex, and a generous alumnus has stepped up to bolster the campaign through a $1 million challenge.
Through the challenge, Drexel trustee — and former lacrosse player — Jim Bean and his wife will match any donation of more than $25,000 up to one million dollars total to double the impact of each contribution. While this particular campaign is aimed to garner support from upper-level donors, all levels of donations will be accepted to completely revitalize university athletics.
"Every great university deserves a great athletics program," Dr. Eric Zillmer, director of athletics at Drexel, said. "It has been 125 years since A.J. built his small gymnasium in the Institute's Main Building. Since then, Drexel Athletics has grown to become a vibrant and dynamic part of the campus that touches upon the pulse of our University's heartbeat."
According to Zillmer, today at the university, over 450 Drexel student athletes compete in 18 varsity sports; 1,200 students compete with other colleges in 33 Club Sports; and two out of three students participate in intramural competitions. While athletics at Drexel has been continuously developing and improving over the years, this latest project — which will be predominately backed through the challenge that Bean has proposed — will ensure future growth.
"This will take us to the next level for our student athletes," Kerry DiBlasio, assistant vice president of development at Drexel, said.
The funds will be utilized to transform the current complex on 43rd Street and Powelton Avenue, which houses some of Drexel's Division I men's and women's lacrosse and soccer teams, into a space that encompasses the look and feel of a true stadium.
In addition to constructing a modernized scoreboard that captures in-game replays, highlights and statistics, new stands will be redone to accommodate 1,600 spectators. Bathrooms, concession stands and ticket offices will be erected beneath the stands to further encapsulate a traditional stadium-feel. Two team rooms will be added to unify the student athletes, DiBlasio explained. Additional features may also be considered, based on the total funds received.
"The goal is to make our facility state of the art, to give our student athletes the best experience that they can have and to energize our alumni," DiBlasio said. "It's so good on so many levels."
"For me, the most important changes are cultural, that is a commitment of our athletics department to excel on the field and in the classroom, and to play a major role in the shaping of our institution's identity and pride," Zillmer said.
DiBlasio explained that pride has indeed been a major factor in the overall culmination of the project.
"When something like this gets announced, it's just energizing for everybody — staff, students, our alumni base and our donors in general," DiBlasio said.
He said that investments into the program like this take the conversation with donors to another level.
"It's a huge statement that he is making this type of investment into the project. It's a stimulus for us to get out and get our alumni base excited about it," he said. "This leadership gift opens the door for conversations that we can have with others to get them excited about the project."
DiBlasio said Bean's generosity in this challenge will surely inspire benevolence from other donors, thus gaining further momentum for future endeavors aimed at improving university sports and athletics.
Yet, the scope of these forthcoming enhancements extends beyond just the athletic undertakings of the university.
"Athletics is a gateway for the University, so if we can have success on the field then it impacts a lot of things," DiBlasio said.
He explained how established athletic programs produce winning teams, which ultimately elevates universities. In addition to maintaining the current student-athlete population, it also attracts new athletes and students to the university. The number of student applications rises, total enrollment rates increase and overall student liveliness skyrockets.
While the project is focused on what's on the field, both DiBlasio and Zillmer agree that its influence will extend across all parts of the university.
"Drexel Athletics plays an important role in shaping students' lifestyle as it relates to health and wellness, both physical and mental. It creates a can-do attitude on campus that has become a metaphor for our institution's aspirations," Zillmer said. "I am proud to be a Dragon!"