Vice President Joe Biden visited 30th Street Station Feb. 6 to debut Amtrak's latest type of locomotive. While helping to unveil the new Cities Sprinters service, Biden stressed the importance of passenger rail in the infrastructure of the United States.
30th Street Station, which stands adjacent to a large tract of Drexel-owned property, and specifically the Amtrak services that use the station, have been touted as a key asset of Drexel's University City campus.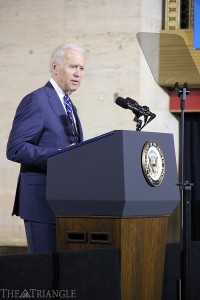 "This asset, particularly our urban rail stations and their surrounding neighborhoods, has potential that extends well beyond expanded transportation infrastructure," Drexel President John A. Fry wrote in a June 2013 post on the Drexel News Blog. "It can significantly affect long-term economic growth through commercial, residential and retail development."
The Cities Sprinter trains, which will operate on the Northeast Corridor line, are bringing a number of technological updates to Amtrak's train system. With 70 units planned, one of the widely praised changes is the use of energy efficient regenerative braking technology. Siemens, the international technology company building the new locomotives, projected that adaptive braking will save 3 billion kilowatt hours of energy, for savings of approximately $3 million. The new locomotives also incorporate a crash-energy management system designed to enhance safety, in accordance with the latest federal safety regulations.
Joseph Boardman, president and CEO of Amtrak, explained the need to replace the old fleet of trains: "We're replacing stuff that's had over four million miles on it and things that have been around for over 35 years," he said.
In order to fund the new fleet, the U.S. Department of Transportation granted Amtrak a loan of over $560 million, the largest loan in the history of the Railroad Rehabilitation and Improvement Financing Program.
Additionally, the congressionally mandated Buy America program required that the assembly of the trains be carried out by U.S. workers.
"There are manufacturing towns and cities all across America where a family has food on the table and a roof over their heads because a mother or father worked to put these trains together," Anthony Foxx, U.S. Secretary of Transportation, said.
Biden praised this investment in U.S. citizens, but also called for further improvements to transportation systems in the country. In a controversial moment of his speech, he stated that the quality of infrastructure in the U.S. has plummeted. "If I took you blindfolded and took you into LaGuardia Airport in New York, you'd think 'I must be in some Third World country,'" he said.
Biden did, however, express high hopes for the future of rail. "Amtrak and passenger rail provide an extremely vital service to the transportation net, and most Americans don't know it," he said.
Shravan Savant, a senior Bachelor of Science-Doctor of Medicine student, said, "We all stand to gain from [Obama's] mission to upgrade our transportation infrastructure, which will put us on par with the advanced transit systems found around the globe."
Biden went on to say that building more highways and airports is no longer the solution to the transportation problem. As an example, Biden cited the fact that 50 percent of the worst highway bottlenecks occur in the Northeast corridor and that New York and Philadelphia are responsible for over half of airlines' flight delays.
In contrast, Amtrak has demonstrated that it can absorb the extra ridership, if more commuters were to switch to rail travel. He added that investing in railways would not only provide jobs, but also provide energy-efficient travel. "That's all good for Amtrak, it's all good for passengers, but it's also good for America," Biden said.
The event concluded after Biden left the podium. Although none of the speakers addressed Drexel specifically, some Drexel students were in attendance. Kevin Garvey, a sophomore engineering major, was impressed by Biden's speech, saying, "I have never seen someone speak so passionately about something."
The Drexel Office of Government and Community Relations encouraged students to attend the event in an email that was sent to students, faculty and staff Feb. 4. A limited number of tickets were available to students on a first-come, first-serve basis.