Drexel University recently opened the Parkway Health & Wellness clinic at its Center City campus. The opening of the 23,000-square-foot facility was celebrated Nov. 5 with a two-hour open house and a ribbon-cutting ceremony.
At the ceremony, President John A. Fry introduced the establishment with opening remarks on the importance of practice and research to clinical education programs. Other speakers were the Dean of College of Nursing and Health Professions Gloria Donnelly, Associate Dean Susan Smith and Trey Brindle, a rehabilitation sciences doctoral candidate. Stanley Silverman, chairman of Drexel University's College of Medicine Board of Trustees, current member Robert Kline and President of Drexel University Online Susan Aldridge were also in attendance.
The leadership of the College of Nursing and Health Professions implemented this project to enhance clinical education for its students and research environments for its faculty by opening and supporting a series of healthcare practices. Donnelly viewed this as part of the college's five-year strategy, "[Our plan is] to closely integrate clinical education and research with practice so that faculty and students are working from real world scenarios with real patients and families on real health problems and health potential." This is also part of the college's "we practice what we teach" philosophy, which they have been enforcing since 2013.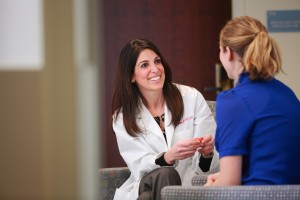 "This is very unique project," Sheila Plungis, director of clinical services for the College of Nursing and Health Professions, said. "When you have a medical school, you need students to get experience."
Another factor that contributes to the distinctiveness of the clinic is the research aspect of the facility. The research center is part of the strategy to increase the clinical learning of students through serving the community with health-enhancing programs. The clinic also offers a variety of services. "We treat physical, mental, and behavioral health; and [the] other half focuses on research," Plungis continued. "Thankfully, we have an extraordinary faculty dedicated to improving wellness of people."
Parkway Health & Wellness includes physical therapy services, assessment for runners and primary care in women's health. Nutritional assessment, counseling and behavioral health, couple and family therapy, music, art and dance-movement therapy are also available services. On the research side of the facility, there is sophisticated space for rehabilitation, nutrition and mental health researchers.
Since the program is barely two years old, it is still seeking improvements — mainly from its staff size. "We are still in the process of recruiting faculty so we can build some volume — that's our current task," Plungis said. "Nonetheless, we are a continuous evolving machine, so we will most definitely have some [inevitable] setbacks along the way."
For those that are interested in visiting or seeking service, Parkway Health & Wellness located on the second floor of the Three Parkway Building at 1601 Cherry St. (adjacent to the Benjamin Franklin Parkway and Love Park). Its hours run from 8 a.m.to 5 p.m., and it is open on weekends for appointments only. For more information, call 215-553-7012.