Drexel University launched a new design for its website, www.drexel.edu, May 16. The project, which took place over the course of three months, was a collaborative effort between the Office of Information Resources and Technology, the Office of University Communications and the Office of Enrollment Management.
"While Enrollment Management produced a great look, [the Office of] University Communications refocused the site on topics of key interest to visitors to the Drexel website," Ken Blackney, associate vice president for core technology infrastructure in IRT, wrote in an email. "IRT developed the behind-the-scenes programming needed to bring the vision to life on the web."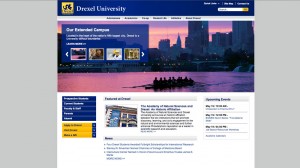 Lori Doyle, senior vice president for the Office of University Communications, took on the project within a week of arriving at Drexel in February. Doyle intended to use the redesign as a way to accurately reflect the improvements currently taking place at Drexel.
"I felt that the old site reflected the Drexel of five or 10 years ago but did not reflect Drexel's current branding as an urban, comprehensive national research university," Doyle wrote in an email.
During the planning phase of the redesign, Doyle met with senior administrators at Drexel, who agreed that the site redesign was necessary "to reflect the Drexel of today."
Along with sleeker design elements and a more streamlined navigation menu, the new homepage also features a large sliding panel at the top of the site, boasting important University-related stories and photographs. In addition, the design and written content of approximately 50 to 70 interior pages were updated, including the co-op and athletics sections.
According to Blackney, the three departments combined their skills to create a functional and attractive site redesign. IRT brought Enrollment Management into the project as a resource for "creativity and design skills," Blackney explained.
Craig Kampes, director of strategic communications for Enrollment Management, elaborated on the design team's approach to the new website and how it portrays Drexel's learning environment.
"We wanted to ensure the new website evoked an emotional response that spoke to Drexel's rich heritage, but also to the dynamic university that it is today … We felt that the large dramatic imagery, which creates a sense of movement and excitement, speaks to the current identity of Drexel as an innovative university in constant motion and progress," Kampes wrote in an email.
Blackney emphasized that improved content variety and contemporary design were the main priorities of the project and added that reaction to the new site has been "phenomenal," with both students and Drexel professionals providing positive feedback on the new look.
"Students and prospective students have sent us kudos recognizing the attractive design and the improved writing. Faculty and professional staff are telling us how happy they are with a new site that proclaims Drexel as an innovator and leader in higher education," Blackney wrote.
The development of the website is an ongoing process, and the team is continuing to brainstorm for future modifications.