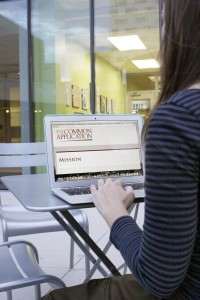 The University has elected to begin charging a $50 application fee to prospective freshmen, transfer, and international students. The change was discussed earlier this year and a final decision was reached by the Division of Enrollment Management and Student Success over the summer with the support of the Office of President John A. Fry.
Unlike most universities, Drexel has not charged a fee in the recent past for admissions applications. Anthony J. Drexel, the founder and an important financier of the 19th century, intended for Drexel to be a university for working-class men and women to improve their station in life. It offered unparalleled features such as low tuition, night classes and free public lectures. Most importantly, it had a unique applied curriculum that would help students find better jobs — in fields like bookkeeping, chemistry, art and library science.
When Drexel first started, it had a limited curriculum and relatively small goals and at its core, it was meant to be a university to help the middle class. However, since its founding in 1891, Drexel has vastly expanded its curriculum, mission, size and most notably, its tuition rates. Drexel went from being a low-tuition college to the 16th–most expensive university in the U.S., according to Business Insider.
Drexel isn't alone in this steep inflation of college tuition rates, of course. Tuition has been rising across the U.S. due to the increased demand for a college education and the fact that a college degree offers increased job prospects in an economy that demands a highly skilled labor force. However, since Drexel still markets itself as a university for middle class Americans, one would think that adding an additional fee, however small, would be against Drexel's best interest and values, and merely an extra financial burden on an economic class that is already being squeezed in a weak economy.
The decision to charge an admissions application fee was reached to remedy several issues, one of which being that a university needs to be able to make the claim that its students have a high graduation rate, are successful after graduation and are contributing members of their respective communities. Like any university, Drexel wants to enroll students who are a good fit for Drexel and for whom Drexel is a good fit, since these are the students most likely to benefit from a Drexel education.
"We are not just trying to make a freshman class, we want to enroll students who will be successful, graduate and become our alumni," Randall Deike, senior vice president of the Division of Enrollment Management and Student Success, wrote. "I believe requiring an application fee will cause applicants to take a moment and think carefully about whether Drexel is the right fit for them."
Another issue that the application fee is attempting to address is students applying without being informed. While one might think that applying to one of the top 20-most expensive colleges is already enough evidence that a prospective student understands the value of a Drexel education, Deike believes that students in the past may have applied without conducting any research simply because it was free to do so. Some students, although opposed to the fee, agree with the reasoning.
"The fee will definitely make students do research before applying," Jane Maurer, a chemical engineering major, said. "But I personally feel that [Drexel] was my first choice the whole time so the application fee being free was a great help to me. I don't think there should be a fee; it is not justified because Drexel is one of the top 20 most expensive colleges in the country."
Other students agree with putting in the fee and thinks it will achieve its goal.
"I think less people will apply," Christian Hamm, a biomedical engineering major who applied in 2013, said. "I myself only put out a last minute application because it was free. I had not given the university much thought until after I was accepted. I think it's justified. It weeds out many of the applications that are applying just because it's free. They have no business applying in the first place."
There is a cost associated with reviewing each application and in the past, the cost was absorbed by the University. However, because of rising operating costs, the application fee will help offset the investment in application evaluation and fund the operating budget for Enrollment Management and Student Success, which will in turn be used to help share the Drexel story to prospective students through the outreach program.
It is worth noting that the $50 fee is above the national average application fee of $37.88 and is also subject to the fee waiver option in the Common Application if the applicant meets one of the criteria. It aims to compel prospective students to do some research before applying to Drexel.
"I am certainly sensitive to [the] concerns regarding middle class families but the $50 is actually on the low side compared to other institutions," Deike wrote. "We should very carefully consider every fee we require and I believe this [fee] is important. We don't want the fee to be a financial burden for families or deter applicants from applying if they are really interested in becoming a member of the Drexel community, so there is a fee waiver option through the Common Application."
The fee is in effect today and will continue to be in effect for the foreseeable future. It is part of the University's Strategic Plan and Student Lifecycle Management policy, which aims to enroll students who have an understanding of the value of a Drexel education, a Drexel experience, and the value of being in the community.