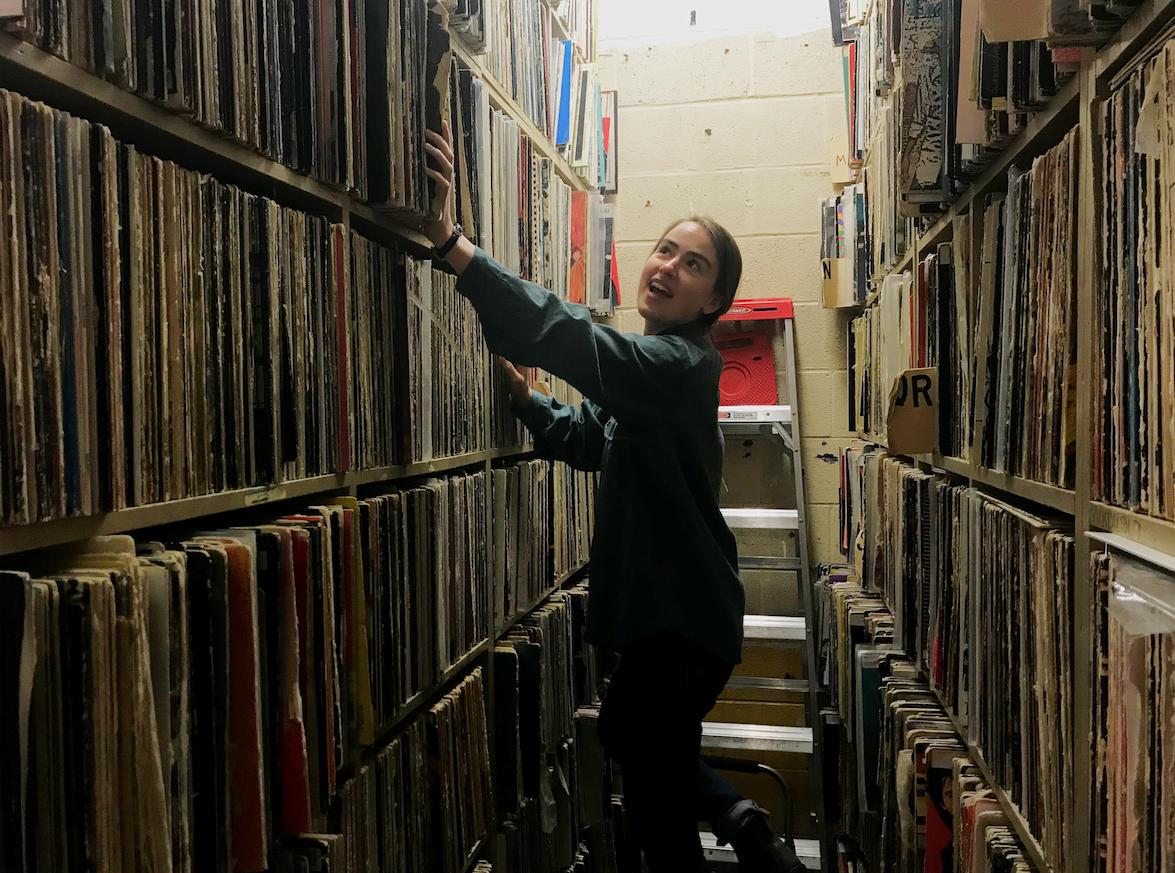 Allison Durham is a senior majoring in communication with a concentration in journalism. She has been involved with the WKDU Philadelphia 91.7FM radio station since she was a freshman, and recently took on the role as general manager of the student-run station. This interview has been edited for clarity and length.
The Triangle: What does your role as general manager entail?
Allison Durham: I'm sort of like the Editor-in-Chief — the main support role. I try to be as present as possible, so everyone can feed their questions and concerns to me. Beyond that, I lead the general body meetings where we introduce new people, plans for the term and other long-term objectives, and discuss how we can progress. I make sure the ship is sailing.
I'm also the booking director, who is in charge of organizing the in-studios. So, when a DJ wants to bring a band to the studio to record live, it's my role to try to set it up.  
TT: What is the purpose of bringing an artist to a radio station?
AD: You support the artist. I remember one time we brought in a band from Niger who played a great in-studio set. They were playing that same night and put me on their guest list and I went for free. The best part is that, at the show, there were people who said they went because they listened to WKDU and discovered them. People showed up that night because they heard them on the radio and thought they ruled! That's what's important — you support the artist.
TT: What is it like when you discover new music organically just by tuning in on the radio?
AD: That's literally the best feeling ever. It's like when you're driving around and listening to the radio but not really tuned in to the music. Then all of the sudden a song comes on that you just love — a song you had no influence over the selection, which makes it awesome. It wasn't some Spotify algorithm that picked the song for you, it was another person doing that, so it's almost like you have a relationship with the DJ.
TT: Do you think that happens with the DJs at WKDU?
 AD: Sure! We get emails and phone calls from listeners asking us, "what song do you just play? That was awesome!"
One time a listener emailed me asking for a song name, and I replied to them the following morning. They called me afterwards telling me it was the first time they had tuned in to WKDU. The person told me, "It was so amazing I had to pull over!" Then they asked where they could donate.
TT: Where can people donate?
AD: Anyone can donate at www.wkdu.org/donate if they're interested.
TT: What are some of the on-air rules a WKDU radio show host must follow?
AD: Well, we're a non-commercial radio station which means no prices, no addresses and no sales pitches. We don't play ads and we don't do underwriting — which is like when WRTI or WHYY says "this is hour of music is presented by…" Generally, the way we teach it to members is that if it sounds like an advertisement, then it is advertisement; you can't even say the word "free" because that's technically a price. We also don't air calls-to-action or make demands in any way. This is all the Federal Communications Commission stuff.
Then we have our own rules that we enforce. For instance, all hosts must play three newly released tracks per hour. Our biggest one, however, is that we don't play any Top 40 music, past or present. The purpose of our station is for playing music that is just not going to be heard on any other radio station. That's what our listeners know us for.
TT: When you say "Top 40 music," do you mean artists or songs? For example, would I be allowed to play a Madonna song as long as the song didn't ever reach the Top 40?
AD: The way it's been described in the past is like: if the artist you're playing on the radio was to come to Philadelphia, where would they play? Wells Fargo Center? The Fillmore? Someone's basement? We tend to stay away from the Wells Fargo artists. We think about this policy less as a restriction and more as a way to push people to learn about music that's new to them.
TT: Where do the show hosts pick their music?
AD: They can hook up their laptops to play their Spotify playlists if they want. We also get new music sent to us by local artists every week who are hoping to get their music on the radio. And we have a vinyl and CD library here with thousands of selections ranging from the early '70s onward — which is what we encourage hosts to utilize. The interesting part is that all of our records are the original records because people would send them to us when they came out.
TT: Does that mean your record collection is worth a lot?
AD: It's worth millions. And lot of our records are chewed up, which is a good thing because I think it says a lot about the record's history — you know, like how popular it was and how many times it was used to play songs from the album. Interestingly, a lot of our records actually have marks on them; back in the day, members used to mark songs to tell us to be careful with certain songs because it may contain crass language.
TT: Do you host a show?
AD: This term, my show airs every Tuesday from 4 to 6 p.m.!
TT: Can members host radio talk shows?
AD: We're generally a music-centric station, but if you wanted to have a show where you played music and talked about movies for a half-hour, that's fine. A more structured talk show that lasts from 30 minutes to an hour might count as a public affairs program, which we're required by the FCC to air every day of the week. A public affairs show would be educational or a benefit to the community — something like "Good Morning Neighbors." We typically air those kinds of shows around 9 a.m. every morning.
TT: What can you say about WKDU? How does it stand out from all the other student organizations?
AD: It's a place for learning about music that is new to you, that pushes the boundaries, that is under-represented, and so on. And even though we're not a community radio station, we're really based in the community.
In fact, this place is what keeps many alumni — who have graduated from Drexel years ago and have almost nothing to do with Drexel as an entity — around and involved. A lot of them have been hosting shows at the same time every week for years. They have their set audience who look forward to it. For example, our reggae DJs live in the West Philly community and know what the people who live there enjoy; they are representing that community like no one else.
TT: Some people think alumni usually don't want anything to do with their alma maters. Can you comment on that?
AD: The idea that our alumni are not important — to our station, at least— is totally absurd because there's no way that this revolving door of students could make radio the same way. We also need our alumni because we learn from them.
TT: The curriculum for communication majors doesn't really have a class that teaches students how to host or produce a radio show, does it? How did you become so proficient at it?
AD: Well, a huge reason why I chose Drexel is because I knew they had a well-established college radio station. I mean, WKDU is heard all around Philly and beyond! So, my interest in radio broadcasting was already there. But, as with anything really, it's all about getting the experience you get here that makes you better. There's so much I have learned at WKDU.
I gained confidence in my ability to manage a group of people; I learned how to communicate professionally with musicians; problem-solving is huge also. I mean, I'm no audio engineer, but I know how the soundboards work and what needs to be done to make sure things sound good. Beyond that there's also so much research involved. You're constantly learning more about music, labels and your audience. I feel like there's so much more I've learned, but I can say my time at Drexel would not be the same without WKDU.
TT: How can people join WKDU?
AD: To join, people should email Derek at [email protected] for more information on our training process to learn how to use the board and get in the know about WKDU community.