Marie Whitehead is a junior culinary arts major at Drexel. She currently works at Barclay Prime, a Steven Starr restaurant, and is completing her co-op at the Academic Bistro on campus.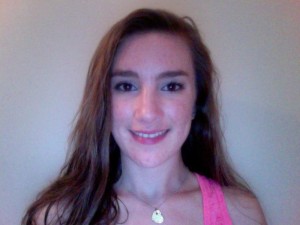 The Triangle: What's your story and how did you end up at Drexel?
Marie Whitehead: When I was a senior in high school, I had a totally different plan for myself. I wanted to go to a suburban school in Virginia and play [Division III] field hockey. I spent a majority of my senior year going to showcases, which are field hockey tournaments meant for college coaches to scout out future players that come from all over the U.S., and visiting schools that had really great teams. I was recruited by three of the schools I looked at, but each one had something I didn't really like. So that's when I decided I wasn't going to play field hockey. I had applied to eight different schools, and I was accepted to all but one of them. Honestly, I picked what I thought was the prettiest out of the seven, Christopher Newport University, because I had no idea what I wanted to major in, but I definitely knew I wanted to be on a pretty campus. Really dumb idea. It wasn't until the summer after my senior year that I heard about Drexel's four-year culinary program. After a long talk with my parents, I revoked my attendance to Christopher Newport and applied to the community college in my area. It was too late to apply to Drexel for fall term, so I spent one year at Northern Virginia Community College taking basic classes that I knew would transfer over. I got my acceptance letter in the spring and started planning my move to Philly in the fall.
TT: What are the best and worst parts about working for a Steven Starr Restaurant?
MW: The best part would have to be getting the opportunity to work with and learn from extremely talented chefs. The second-best part would be the discount we get when we eat at any Starr restaurant. Everyone really helps each other out, and I've noticed that everyone pretty much knows everyone who works for Starr. Every time I've gone to eat at a Starr restaurant, a manager comes over to make sure my meal is going smoothly, and they always ask how my managers are doing. It's kind of like a big family. I don't know if there is a bad part about working for Starr Restaurants. I'm really just taking each day working with them as an amazing learning experience.
TT: If a tourist asked you where to go to eat in the city, where would you recommend?
MW: I would have to recommend a couple Starr restaurants, of course. I'd have to say everyone has to eat at Barclay Prime, a little because I work there, but mostly because we have the best steak you will ever taste in your life. We have outstanding service and the most beautiful, decadent desserts. I'd also recommend saving up before coming to Barclay because we are a little on the pricey side, but I promise the food is all worth it! Jones is great for when you are craving comfort food. They have an incredible Thanksgiving dinner, which you can get year-round; meatloaf; chicken and waffles; and freshly baked chicken pot pie. If you're looking for something a little different than comfort food, the Dandelion is the place to go. They are open for brunch, lunch and dinner, and they really make you feel like you have stepped into a pub in England. They have your classic bangers and mash, beer-battered fish and chips, as well as a delicious macaroni and cheese.
TT: Do you like cooking or baking better? Why?
MW: I like cooking, but I love baking! Baking is such chemistry. I love how everything is so exact and how if you don't whip your butter enough before adding your sugar, it can affect the whole outcome of the cake. I love the fact that at the end of the night, the last thing a person will taste is sweet and chocolaty souffle that melts as it touches their tongue. I love the expression on people's faces the moment they see that beautiful cake that you spent hours decorating.
TT: What's a typical day of co-op at the Academic Bistro like?
MW: It really depends on the day. This summer we only have four classes going on, so there aren't as many bins to put together during the week. For each class, we get an order sheet of the produce, dairy products, proteins and other ingredients that are needed for class that week. We put together a list of what we don't have in our walk-in refrigerator and freezer, and then we send in an order to our suppliers. It's really important for us to make sure we have all the ingredients the classes ask for because if we don't, then that means a student won't get to fully recipe-test the food they are told to make that day. Besides bins, Christine, the other co-op, and I are there to make sure everything runs smoothly. Christine and I also run Dragon Cakes, which is a specialty cake business we started this year. So when I said it depends on the day, that means if we need cakes baked for an order, that's one of the first things I will do that day. That way the cake will have time to cool down before Christine decorates it, because the butter cream will melt off a warm cake. On a day where there may not be an order, that's when we see what needs to be done around the bistro. If there is a conference or event going on, we set up everything for that. We make freshly baked cookies and brownies as well as lemon pound cakes and assorted muffins, depending on what time the meeting or event is.
TT: Who's your culinary idol?
MW: My culinary idols would have to be my parents. They aren't in the industry at all; they actually used to be professional actors, which is where my passion comes from. They really show me that I can follow this crazy dream of mine if I work hard and really dedicate myself to it. I grew up with them being in the kitchen each night. Mostly [I'm inspired by] my mom because she's the kind of cook whom you can give any and every ingredient to, and she makes the most delicious meals. My dad also makes extremely delicious meals, but when he cooks it's normally with a protein, such as ribs, which take a long time to infuse the amazing flavors we eat when he is done with them. My dad is also the pie guy. For every holiday he makes at least 12 or 13 pies that everyone literally begs for. It may be cliche to say that nothing compares to my mom and dad's cooking, but honestly, it's the truth. They really are my culinary idols.
TT: What do you do when you're not at work or co-op?
MW: I'm a little obsessed with working out, so a lot of the time you'll find me at the gym. I have a perfect gap between working my co-op job in the morning and going to Barclay in the afternoon to go run a couple miles at the gym. I also love having a good time, so I go out with my friends a lot. I also find a new show to watch pretty much every other week and fly right through each season, when I probably should be sleeping or cleaning my room.
TT: What are your future plans?
MW: I thought my plan was to graduate and work in bakeries around the city until I gained enough experience and money to open up my own family bakery. But ever since I started working pastry in a fine-dining restaurant, I can see myself going in that direction, too.
Triangle Talks is a weekly column that highlights members of the Drexel community.