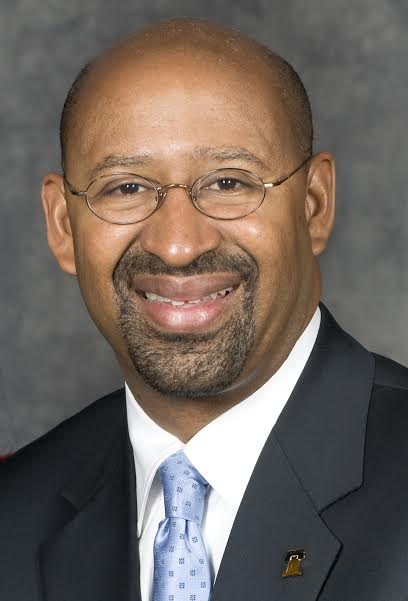 Michael Nutter served as the 98th mayor of Philadelphia from 2007 to 2015. He is involved with the Leading for Change Fellowship at Drexel University and is currently an Executive Fellow for Lebow's Institute for Strategic Leadership.
Triangle Talks: So about six months ago, you were the mayor of Philadelphia. What's the transition out of office been like? What are you doing now?
Michael Nutter: Well, it has definitely been a transition. I'd been Mayor for eight years, a city councilperson for 14 1/2 [years] and a candidate in between — government and public service has taken up a good portion of my life. But, I knew I had to go. It wasn't a surprise.
I thought what would be best for me would be to take a bit of a break. Most of January I was away with my wife and family. In February, I started getting busy and became a contributor to CNN. In late March, I started a professorship at Columbia University. I've since taken on a senior fellowship with Bloomberg Philanthropies with this program called "What Works Cities" and I became a member of the Homeland Security Advisory Council. And now, I'm here at Drexel as an Executive Fellow for LeBow's Institute for Strategic Leadership.
TT: You've only been an Executive Fellow here for about a month, but what have you done so far?
MN: What I'll primarily be doing is working with Dean Linnehan and Allison Young to decide what the next cohort of Leader for Change fellows will look like and start fundraising for that program. I've mostly been working with Allison on what the future plans are with regard to my service here at Drexel. We'll be going through most of these planning processes over the course of the summer to get them ready for the fall. I would say for now, it's been mostly internal planning process getting ready for more forward-facing public engagement.
TT: When you were mayor, you set the goal of making Philadelphia a safer city, a smarter city and a more sustainable city; will you take strides to push these initiatives through Drexel's leadership programs?
MN: I expect to. Public safety is one of the reasons I became involved with the Homeland Security Advisory Council. The reality is that [Department of Homeland Security] is involved in day-to-day public safety activities in Philadelphia and cities all across the country. I get to stay involved in much of their work from a public safety standpoint and that's something I care a great deal about.
I'm also involved with President Obama's My Brother's Keeper alliance, which deals with issues about education — the futures of young men and boys of color across the country. Again, this is very, very important to me and I expect to be talking about these kinds of issues on campus with students.
When I was in office, I focused a lot of time and effort on increasing funding for public education here in the city and we saw some gains in high school graduation rates. It's important to make sure young people are staying in school, graduating and then going on to some form of higher learning. Those issues and those passions are within me. Whatever I'm doing, those are the kinds of things I'm going to be involved in and talking about.
TT: What's something interesting you've learned from working with college students so far?
MN: That college students really do care about what's going on — they care about their work and their engagement in school. They know what's going on. They're inquisitive. Very smart. They ask a lot of great questions, but they're still trying to figure out some things. On the one hand they know that they need to be doing something going forward, but they may not know exactly what their next steps are.
A part of what I'll be doing here on campus is having office hours to talk with young people about their careers and their futures. It's always hard to figure out what any one person should be doing, but I think what I can share is some of my own experience. I think it's important to help young people understand that sometimes you're not going to have it all figured out. You know it was not my life goal to be Mayor of Philadelphia. It's not something I thought about when I was seven years old, jumping on some particular path. Literally fell into it. I think what's really important is that your eyes are open. Be open to new and different things so that when opportunity knocks we can answer if it seems right, if it feels right, or if it's really not like work and more like a passion. Sometimes our passions find us. We just have to be open and aware.
TT: Let's talk a little bit about leadership. What traits do you notice in young leaders?
MN: That you're interested in doing something. You want to create change. You want to be actively engaged. What I like to see early on is a young person who wants to do something — whatever that something is. Maybe you want to be a nuclear physicist, fantastic. I don't really know much about that but that's your thing. I think what's important is that you're growing, you're learning, you're actively getting engaged, you're talking to different people, and you're trying to understand the world around you.
TT: It had to be a lot of pressure leading the fifth largest city in America. How did you handle the stress that came with the position?
MN: To take on one of these jobs or positions you obviously have to have a pretty fair amount of confidence in yourself and your own abilities, but that alone is not enough — you have to have a team. What made it less burdensome, less challenging and less stressful was that I had a fantastic team. We helped and supported each other through highs and lows of public service. Our basic motto was work hard, play hard. We had a lot of fun, but we got the job done. I think we made a difference in people's lives. That's what I love about public service and what I love about people in public service. They're there for the right reasons. They're doing the work, but it's not a job. It really is a calling and a vocation.
TT: Who was your role model growing up? Why? How did they influence you?
MN: I certainly had more than a few. Some that I knew directly and some that I knew of and admired from afar. My parents, my grandmother, my sister, my family were very, very important to my growth and development.
I was talking with a guy last night and we realized we both worked at the same grocery store and drugstore in our neighborhood. The folks I worked with there were role models and mentors and allowed me to see what a small business was about as a very young person.
As a kid growing up in the '60s it was great to know about, and then later learn more about people like John Kennedy and Robert Kennedy and Martin Luther King and Malcolm X. I read the life stories of people like Sojourner Truth and Paul Robeson and Maya Angelou. I always love reading biographies and histories to learn about people and their struggles. Everybody has a story. Every life is important. You can learn something from every person that you meet. Just listen and pay attention. Hear them. Sometimes I say to folks, 'I know you were listening, but did you hear me?' Because there's a difference between the two. I've had incredible opportunities to learn from other people, to listen to other people, and to hear what they were saying and to read about their life stories and their challenges and their struggles.
TT: Is there a quote or motto you try to live by?
MN: More than a few, but one that I do really try to live by, said by Dr. Martin Luther King, is that "The ultimate measure of a man is not where he stands in moments of comfort and convenience; but where he stands at times of challenge and controversy."
TT: What do you like to do in your free time? Do you have any hobbies?
MN: As unexciting as it may sound, I think some wonderful moments for me, given what I've been doing for the last 20 years, sometimes are really just being at home with my family. I'm limited in my cooking skills, but I make great pancakes and breakfast foods. You know, a great Sunday would be sleep in a little late, get up making breakfast for the family, going to a Phillies game and just hanging out. Then, coming back home, having a meal, watching a show or something like that.
TT: If you could make up a slogan for Drexel what would it be?
MN: "On the cutting edge, moving forward."