Ian Farmer is a junior music industry major at Drexel who plays bass for his band, Modern Baseball, which recently released an album and has gone on a national tour.
The Triangle: What's your story? What brought you to Drexel?
Ian Farmer: I came to Drexel mostly because the music industry program seemed pretty cool and Philadelphia was a cool city that was pretty close to home. I'm from central New Jersey, just an hour and a half away. So it just seemed like the right fit for me.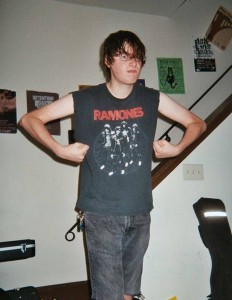 TT: Tell me about your band. How did that start?
IF: So our two guitarists and singers went to high school together, and once we all went to [Drexel] and everything, I became very good friends with Jake [Ewald], who is one of the guitarists and singers. He asked me to join the band, and we also had a friend, Sean [Huber], who was two years older in the film program, and he became one of our very good friends. He had a van that we use to tour. So for the most part we met at Drexel. There's one member of the band, Brendan [Lukens], who doesn't go to Drexel, but he's a high school friend of Jake's.
TT: How did you get the name Modern Baseball?
IF: That came about [when] Jake and Brendan were hanging out in Jake's basement. Jake's dad used to be a physical education teacher, and so he had this book called "Modern Baseball Techniques," and they were just brainstorming names for the band and came up with Modern Baseball.
TT: I see you came out with a record, "Sports," last year. How was that as an accomplishment?
IF: That was really cool. It's a very big deal for us. Jake and I actually recorded the record ourselves. We did all of the recording work back in May in Drexel's studios. Starting at 11 p.m., we would go into the studio and keep banging things out until like 8:30 in the morning, and then we'd have class at 10, so we got no sleep for a month and we watched the sun rise probably three or four nights a week. It was quite hard on our bodies, but it was a really big accomplishment for us.
TT: You guys are also going on tour! How does that work with your school schedule and living at school?
IF: Pretty much whenever there's any sort of break with school, we're on tour. We basically go out whenever we possibly can, which is hectic and difficult but totally worth it. We have so much fun. We've been all over the country at this point. We had a full U.S. tour recently, and that was a lot of fun. I think it was 43 days and we played 40 shows.
TT: What's the biggest crowd you've played for?
IF: We recently played a festival in Gainesville, Fla., called "The Fest." There were probably about 500 kids there. That was a big one.
TT: What goals does the band have for the coming year?
IF: We have some really cool shows coming up. We have some shows with another Philadelphia band that [has] made it pretty big, called The Menzingers, at the end of this month: one in New York and one in West Chester [Pa.]. Those shows will be a lot of fun. And then also over winter break we have shows with a band called Bayside, and that's a really big deal for us. And we're also playing the [Theatre of Living Arts] in Philly with Man Overboard for their holiday show. So we've got some big things for our band coming up.
TT: Who or what is your biggest musical influence?
IF: It's really different for all of us; we're all into pretty different things. I'm into, for the most part, punk rock, so my favorite bands are bands like Weezer or like Super Nerdy and stuff. But I think the big ones for our band would probably be Motion City Soundtrack and Gaslight Anthem.
TT: Do you write your own music, or do you mostly do covers?
IF: We do mostly originals. I don't actually write the songs; Jake and Brendan do. I write my own songs, but not in this band and nothing that's been put out or anything.
TT: What has been your biggest hit so far?
IF: Our big song is probably "The Weekend." Over the summer we put a music video out for it that we took a weekend to do last spring, and that's gotten quite a bit of plays on the Internet, and people always seem to know it when we play shows.
TT: What instruments do you play, and when did you start with them?
IF: I started with music playing piano when I was 5 or 6, when I started taking lessons. Then I took up guitar and bass around the same time, but I can play a lot. I can fumble my way through a lot of weird instruments. I have a baby sitar at home. I have a ukulele, some other weird stuff that most people don't really play. The only thing I can't really do is play drums. My parents never let me have a drum set, so I was never able to learn.
TT: Besides the band, what are your other interests?
IF: A lot of what I do is music, but I also love film and movies, and I watch a lot of movies. Recently I had gotten the guts to watch horror films because I was never able to before, and I've actually grown to love them. Probably three or four nights a week I'll sit down, whether I have the time or not, and watch a horror film, just some random horror film that's on Netflix or Hulu or something. That's been a recent hobby for me.
TT: Do you have any five-year goals?
IF: It would be really cool to be able to tour full time and be able to support myself with that. That would be a pretty crazy thing. We are already so lucky, but nobody is able to support themselves playing music, and for us to be able to do that would be incredible.
Triangle Talks is a weekly column that highlights members of the Drexel community.