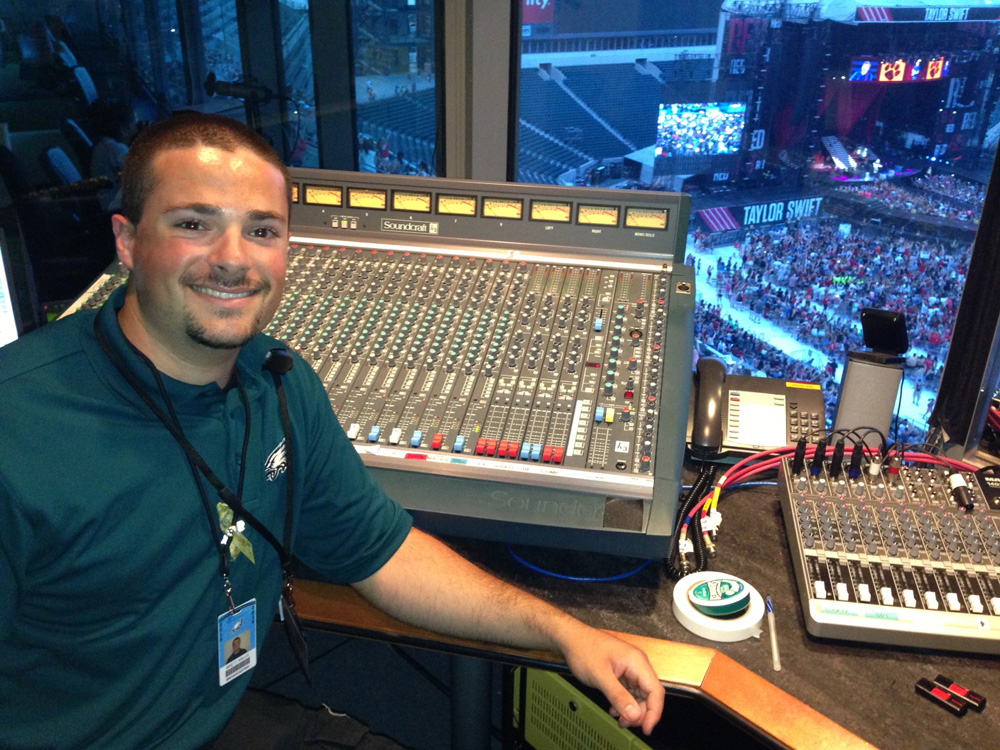 Brett Axler is junior entertainment and arts management student who has worked lights and sound at many high-profile events around Philadelphia and is currently employed by XFINITY! Live.
The Triangle: What's your story? What brought you to Drexel?
Brett Axler: I started looking into colleges as a sophomore at Rancocas Valley Regional High School. Drexel was the first school I visited, and the thing that struck me by surprise was seeing the extensive list of companies that students had co-oped with over the recent years. At the time, I was interested in going to school for theatrical lighting and sound production, which Drexel did not have, so I got in touch with Brian Moore and Larry Epstein from the entertainment and arts management [department] and soon realized it was the perfect major for me. I started attending classes at Drexel in September of 2011.
TT: How did you get started working on high-performance shows?
BA: I've been working in the entertainment industry in one facet or another since I was very young. I started off onstage as a performer in a production of "The Music Man," but I quickly moved into audio production when I realized I was more interested in finding out how the microphone attached to me worked than I was in receiving applause from the audience. Besides working on dozens of productions at my high school, I worked as an audio visual technician at Six Flags Great Adventure as a [high school] freshman, where I learned to mix live, large-scale concerts. By my junior year, I had worked at most of the major South Jersey theaters and performance venues and started making my way into Philadelphia. Freshman year of college, I started working with the Philadelphia Fringe Arts Festival as their assistant production manager and soon began work at Lincoln Financial Field in the audio visual broadcasting department where to this day I work on every Eagles game, Temple game, National Collegiate Athletic Association tournament and concert that goes on in the venue. Once I started work at the [Lincoln Financial Field], my workload boomed, and I have since worked in every arena and stadium in the Philadelphia region, as well as all the major Philadelphia theaters on Broad Street.
TT: What's the coolest show you've worked on?
BA: In the past few years, I've worked on about 45 large-scale events (over 5,000 in attendance) and well over 130 productions with audiences and crowds of various sizes. Out of all those shows, the recent Taylor Swift concert at the Linc this past summer was by far the coolest show, not for any reason that most people would expect, though. I was standing by with one of my producers as the in-house audio-video control engineers for the concert when a massive lightning storm rolled in. With very little notice, we had to evacuate the stadium of 50,000 guests onto the concourse and work with the tour's production crew to wait out the storm and get the concert back on about two hours after it was supposed to start. However, there were only two of us working and between the two of us we had to run the equivalent of 8-12 control positions to get the messages out to the fans to stay safe and wait out the storm. This was the coolest production solely because I love organized chaos.
TT: Do you get to meet the performers? If yes, do you ever feel starstruck?
BA: Yes, I get to meet the performers at concerts and players at sporting events. Luckily, I don't like sports much so having a casual conversation with Nick Foles or Claude Giroux happens here and there without making a [big] deal of it. Overall though, even with performers and VIPs, to me they're just people with a lot of money and a decent amount of power. So, I respect them like I respect any executive in my company. Really can't say I've ever been star-struck though. I will admit — I was quite excited to meet Ed Snider for the first time though; he is a huge role model to me. 
TT: Do you have any suggestions for students hoping to break into the entertainment industry?
BA: Put your time in, no one's going to start on top or even remotely close to the middle. Figure out what it is you want to do in the long run and start to make a plan of how you would like to get there. Internships and co-ops are amazing opportunities; more people I work with everyday started as interns and were hired after than people who just randomly put in an application after college. You may have to grab coffee, hand flyers out or work the overnight shifts, but if you show you're dedicated and you earn the respect of those around you, just wait, because your phone's going to start ringing.
TT: What are you involved with at Drexel, and how do you balance your professional life with your student life?
BA: Mostly, I am just involved in the Drexel Athletics and Drexel Student Affairs events here at Drexel. Balancing between activities, school work and my professional work around Philly takes a lot of detailed scheduling and does not leave much time for a social life. It's a big joke with a lot of my friends that they know if they really need to get in touch with me their best bet is to stop by where I work and find me in person. I'm less stressed when I am busy though, so I tend to work 40-50-hour weeks on top of my 18 credits.
TT: A genie grants you three wishes, what are they?
BA: 1. More time everyday to spend with my family and friends
2. Not to have to worry about the amount of money I make in my job but just to do it because I love it
3. Find a way to share my passion for my work with those around me
TT: Favorite Drexel moment and biggest Drexel regret?
BA: Favorite Drexel moment: Hosting the Drexel Sports Professionals Networking Dinner this past January
Biggest Drexel regret: Waiting until nearly the end of my sophomore year to get involved in more activities
TT: What are your plans for after graduation?
BA: I still have one year left of Drexel, but it's my plan to stay with my current employer, XFINITY Live! Philadelphia then work my way up through different jobs to eventually be a producer of the International Olympics Opening Ceremonies. As for a full-time job, I would like to be an executive director of entertainment and operations management for a major event and venue management company such as Global Spectrum, SMG, The Madison Square Garden Company or Live Nation.
TT: What's something that most people don't know about you?
BA: I have a very unique taste in music; I love to listen to Broadway, movie soundtracks and a cappella renditions of current music. Also, the number one goal in my personal life is to one day, years from now, raise a beautiful, happy family along with the future love of my life.
Triangle Talks is a weekly column that highlights members of the Drexel community.