Drexel's chapter of Tau Kappa Epsilon fraternity was placed on interim suspension Feb. 1.
The decision was made by both the University and TKE's alumni board "as a result of growing concerns related to violations of fraternity standards and the University Code of Conduct," Associate Dean of Fraternity and Sorority Life Katie Zamulinsky explained in an email.
An email announcing the suspension was sent Feb. 4 to all members of the chapter. In it, Interfraternity Council President Ryan Pratt explained that the suspension is intended to "put the chapter in the best position to succeed moving forward."
Though the chapter is not being shut down, it will not be allowed to participate in any IFC events at least until the end of winter term. These include all-Greek events, socials, athletic contests, recruitment and meetings. Zamulinsky described the fraternity as "being on 'pause' so that the appropriate steps may be taken to ensure a revitalization of the chapter on campus."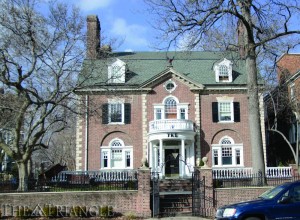 "Since being placed on interim suspension, the TKE Board of Alumni in cooperation with the International Fraternity have taken steps to review the undergraduate membership and replace the chapter leadership," Zamulinsky wrote.
Those affected by the suspension are confident they can make the necessary improvements to be reinstated.
"We are all very upset. But we are also doing things to change and better ourselves," a sophomore member of TKE said.
He said he believes lack of participation in Greek events played a major role in making the final decision and that event attendance is the first major improvement the chapter will make.
"Basically, the alumni and Drexel don't feel TKE is headed in the right direction right now. And maybe there are some things we need to change," another sophomore member added. "We are fully prepared to do so, and hopefully the suspension will be lifted by summer quarter."
JP Connolly, a freshman uninvolved with Greek life, said, "You hear rumors about TKE's wild parties, and I know a few people who dislike TKE, but this is true of many associations and organizations on campus. Everyone is entitled to their opinion."
The suspension is intended to reverse this increasingly negative stigma. Ultimately, Zamulinsky hopes it results in "redefining Drexel TKE as a chapter of undergraduate men who maintain a high academic standing, participate with enthusiasm in public and community service projects, and exhibit values-based leadership."