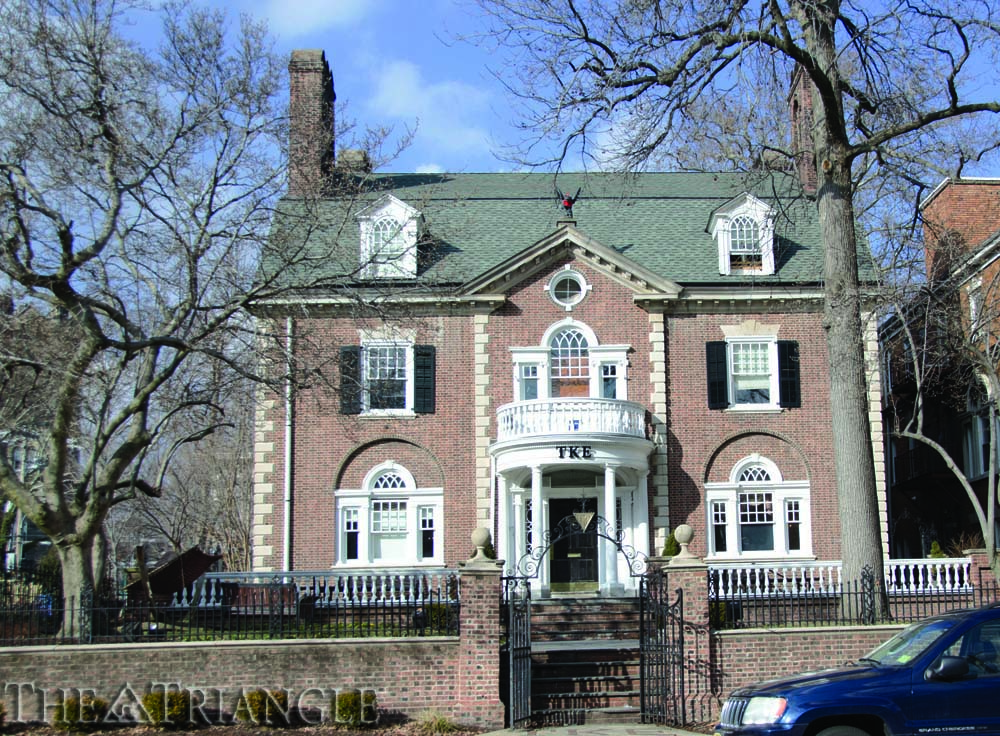 The Tau Kappa Epsilon, Alpha Tau fraternity chapter was put on interim suspension by its local board of advisers as of May 23. The decision has been supported by the national TKE headquarters and the University, which also put the fraternity on interim suspension May 30.
According to Stephen Rupprecht, assistant dean of students in the Office of Student Conduct and Community Standards, "At this point, the chapter has not violated any policies in the Student Code of Conduct, nor have they been charged. An investigation is being conducted at this time."
While neither the chapter as a whole nor any students have been charged with a violation of the Student Code of Conduct, TKE Alpha Tau's local board of advisers has reviewed membership of the fraternity and decided to remove a large percentage of its membership as a result of this investigation, along with the decision to place the chapter on interim suspension, according to an email from Katie Zamulinsky, assistant dean of students in the Office of Fraternity and Sorority Life.
When asked for insight on the suspension, senior business major and TKE member Greg Goldberg wrote in an email, "No comment."
He continued to explain that no members would be referred to comment and suggested that for the time being, members of the fraternity have agreed to refrain from discussing details with the public.
"The facts are that it is not your concern. The issue is being handled internally for us, by us," he wrote.
According to Article XVI of the TKE constitution, which outlines the Alpha Tau Chapter code of conduct, "At initiation, every member of our fraternity pledges to become a responsible Frater in our bond for life." As such, all members agree to "conduct themselves as gentlemen at all times in all places" because fraternity men "should consider [themselves] to be held to higher degree of moral behavior than the general college population."
Among other things, the TKE Code of Conduct states that members of the fraternity also agree not to haze; reveal secrets or private affairs; or possess, distribute or use illegal substances. They must maintain a certain GPA, meet financial and community service commitments when they are due, and attend a certain number of fraternal events.
Article XVI explains that "any violation of this code shall be reported to members of the Member Quality Board immediately." The MQB is made up of the alumni association president, board of advisers president, chapter adviser, chapter president and chapter vice president.
According to Article XVI, "the board has the authority to choose the type, magnitude, as well as the duration of the punishment as they see fit." Punishments can include probation on the social and athletic level, assigned community or chapter service, fines and/or expulsion from the fraternity.
Junior architectural and civil engineering bachelor's-master's student and Interfraternity Council President Matthew Morimoto explained that roles of fraternal alumni boards and reasons for suspension can vary.
"Most chapters get shut down for the big three — sexual assault, hazing and drugs — but it could be anything," he said. Morimoto went on to explain that alumni boards and the University also can suspend chapters for situations such as poor academic performance or throwing socials without a permit.
Rupprecht wrote in an email, "The decision to suspend a fraternity's recognition can come from multiple origins. The international fraternity can choose to take this action or the alumni board of advisers. Drexel can suspend a student organization if they are found to be in violation of the Code of Conduct or if they take responsibility for being in violation of the Code of Conduct. All of these decisions are made carefully and with consideration of all stakeholders."
Rupprecht explained that the University's decision to place the fraternity on interim suspension was made by the Dean of Students based on Rupprecht's recommendation.
The TKE Alpha Tau chapter and the University notified Morimoto of the suspension. Upon learning of the suspension, Morimoto informed other fraternities on campus of the conditions of TKE's suspension. Per the email that Morimoto wrote, the fraternity is not permitted to host or sponsor events of any kind or participate in any Greek events, sporting events, new member education, recruitment, community service or philanthropic events.
According to Rupprecht, "An ideal situation for a suspension would include the support of as many stakeholders as possible. The goal is for everyone to be on the same page regarding why an organization should cease to operate, while at the same time working together to plan for a successful return, if appropriate. It is possible that a national organization would not support the suspension of its chapter. However, Drexel is fortunate to host organizations who work cooperatively with us, and we have not seen this situation occur here."
Zamulinsky wrote in an email, "The University will work with the board of advisers and Tau Kappa Epsilon fraternity staff to determine next steps for the chapter at Drexel."
According to Zamulinsky, it is unclear at this time whether or not the chapter will undergo significant structural changes.
Earlier this year, Morimoto and the IFC organized a two-week membership education program that touched on topics such as social media use, sexual assault, hazing prevention and interfraternal bonding. Morimoto is now planning to work with the TKE Alpha Tau chapter for a strong recovery once the suspension is lifted.
"We want to try to get them back on their feet after this incident. We want to try to make sure they are better than they are right now, and I think it's possible. I've seen a lot of the younger members stepping up and a lot of the younger members interested in proving themselves as well as their chapter, so that's really exciting," Morimoto said.
TKE Alpha Tau was previously suspended in February of 2013 for rules violations.
Regarding TKE Alpha Tau's recovery after this suspension, Morimoto continued, "In the future I think it's going to be integrating the chapter more in education and trying to make sure they are more visible on campus in a positive light. … It's going to be working together as a Greek community to try to elevate them, and I think that's something that we haven't done in the past."
Morimoto mentioned that a greater presence on the IFC board as one method to do this, but he is still working on other strategies.
The Alpha Tau chapter is one of over 250 TKE chapters worldwide. Established in 1939, TKE Alpha Tau is the oldest standing fraternity at the University and has close to 2,000 members. According to their profile on DragonLink, TKE Alpha Tau is considered "one of the elite TKE chapters in the nation" and has received at least 18 awards for its accomplishments.