Jan. 7 marked the last day of work for Jersey, the therapy dog employed at the Daskalakis Athletic Center, who had announced his leave from Drexel University two days prior on his Facebook page.
"Well friends [sic] I write to you today with some bittersweet news. Mom has accepted another position and is leaving Drexel. Since she is my legal guardian I must go with her," Jersey's Facebook page read. His legal guardian, Kathryn Formica, is currently the assistant director of recreation, health, fitness and wellness for the Department of Athletics. She recently accepted a position at a corporate wellness company.
"There I will have the opportunity to work with many other wellness professionals and oversee multiple offices. When this opportunity presented itself, I knew it was the right move for me and I am excited to see what it brings," Formica wrote in an email. She had been employed at Drexel since June 2013, and she brought Jersey to the University in September the following year.
Jersey's post continued, "While I am sad to leave all of my friends I am hopeful that there is another pup out there that can fill my shoes! The road is paved and awaiting a brave pup with high ambition!"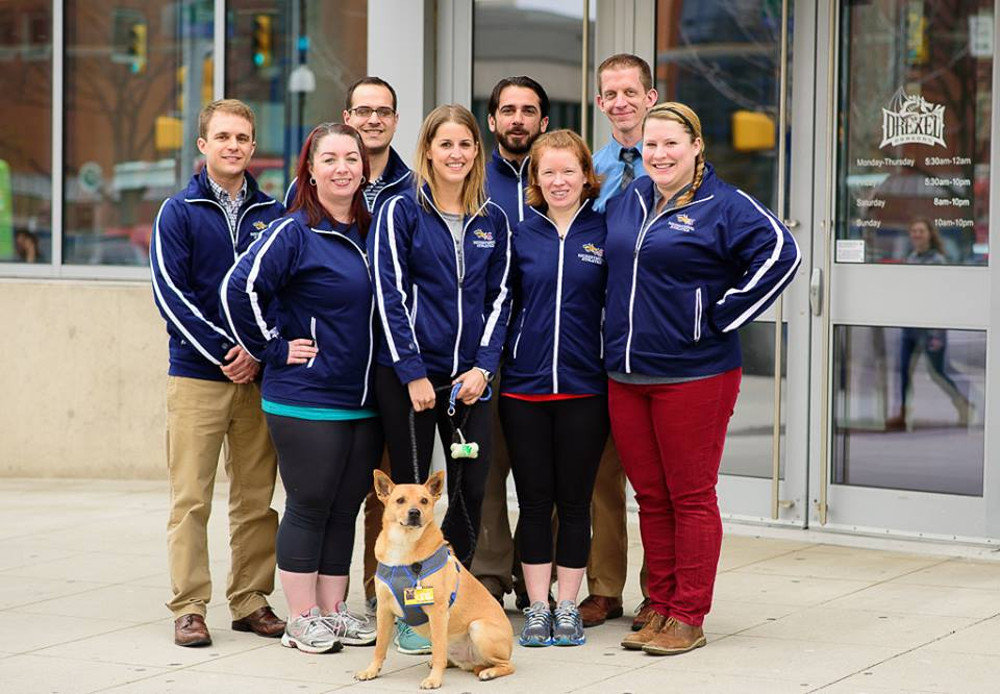 On their time at the University, Formica had many things to say. "I was given a lot of freedom to create programming that I saw as beneficial to the University and I enjoyed doing so.  In my time at Drexel, I created a Wellness on Wheels program, which delivered programming to residence halls, fraternities/sororities and classrooms. I also worked with colleagues to form some larger events on campus such as the Gauntlet and Stress relief days," Formica said.
Jersey was an opportunity for the department to show the importance of mental and physical health to students. "Often times students get caught up with physical health and forget that taking care of their mind is just as important. Jersey was able to reach a great deal of students and help them make strides in being more aware of their mental health," she continued.
Formica hopes to see the program continue after she and Jersey leave. "The hard work is already done so I would be sad to see Drexel not continue the therapy dog program. I think that the impact Jersey has been able to reach a wide variety of students," she said. "From the regulars who would visit him each day to the students we would encounter just walking around campus. What I will take away from this is Jersey's ability to lift students spirits and make this campus feel more like a home."
Many schools have also had therapy dogs come in during finals week and times of high stress, but Drexel was the first to have a permanent in-house therapy dog. Formica said that schools have already reached out to her for information to establish similar programs.
"Jersey is going to miss all of his friends but he is optimistic about his retirement. He is looking forward to days filled with puppy play dates and naps," Formica said. "Jersey hopes that students continue to find creative ways to manage stress and a reason to come to the rec center to visit his former colleagues!" she continued.
"Thank you to everyone who helped bring me from an orphaned boy into a life full of love and bellyrubs! I couldn't [have] asked for anything more. As I head into retirement I am proud to say I was and will always be the very first four-legged [sic] dragon." Jersey concluded in his Facebook farewell, bidding adieu to his loyal student following.