Drexel University announced Oct. 24 that it will lead a collaborative effort with nine other schools for the next 15 months in a global competition funded by the United States' Defense Advanced Research Projects Agency. They will work to develop a robot that will be able to respond to humanitarian and disaster relief.
Drexel is in competition with six other companies ranging from from the military to private and academic sectors. Competitors include two teams from NASA, a team from Raytheon Co. Integrated Defense Systems, Virginia Polytechnic Institute and State University, Carnegie Mellon University, and a company spun out of the University of Tokyo, SCHAFT Inc.
The 2011 nuclear disaster in Fukushima, Japan, prompted DARPA to create the challenge. "[In Fukushima] there was no absence of vehicles or tools, but because the radiation was so strong, they couldn't get enough first responders. … If one could simply plug a valve or a hose, a catastrophe could be stopped," Paul Oh, a Drexel professor and leader of the research team, said.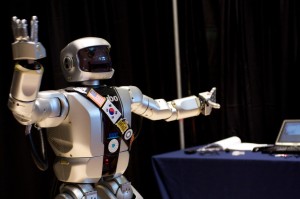 "We're talking about an industrial site; in a nuclear power plant there might be ladders, leaking valves, doors that might be blocked, … so these are real, life-motivated examples," Oh said.
The robot will be able to mount, drive and dismount a vehicle; climb a ladder; open a door; maintain stability and balance while navigating through debris and rubble; move wreckage; and use tools to locate and secure a valve or replace a pump.
First responders are granted a certain amount of autonomy and have to be able to make decisions on their own, but they always have two-way communication with the control center and their instant commander. They try to maintain a balance between autonomy of the first responder while keeping the command center up to date about what's happening. These robots will have dexterity and perception and would be capable of doing things like elder care and crop care.
The challenge will put Drexel in the global spotlight as it develops its robot.
"I'm really hoping that this robotics challenge is something that gets the entire University to be excited about their school. It will have the world's attention, and it will definitely help Drexel with worldwide recognition. We want to get Drexel students excited … and [to] participate," Oh said.
"It's great to see Drexel to be selected, to be a part of this. We beat out quite a few of the top engineering schools in the country, let alone companies. … This is a way of really showing the world about how Drexel is not scared to go up against the best. We know we are very good as a university, so now it's the time to show them," Oh added.
Drexel is partnered with Columbia University, the University of Delaware, the Georgia Institute of Technology, Indiana University, the Korea Advanced Institute of Science and Technology, The Ohio State University, Purdue University, Swarthmore College and Worcester Polytechnic Institute. The first competition will be in December 2013.
Oh encouraged students to visit http://dasl.mem.drexel.edu/DRC/ for more information.