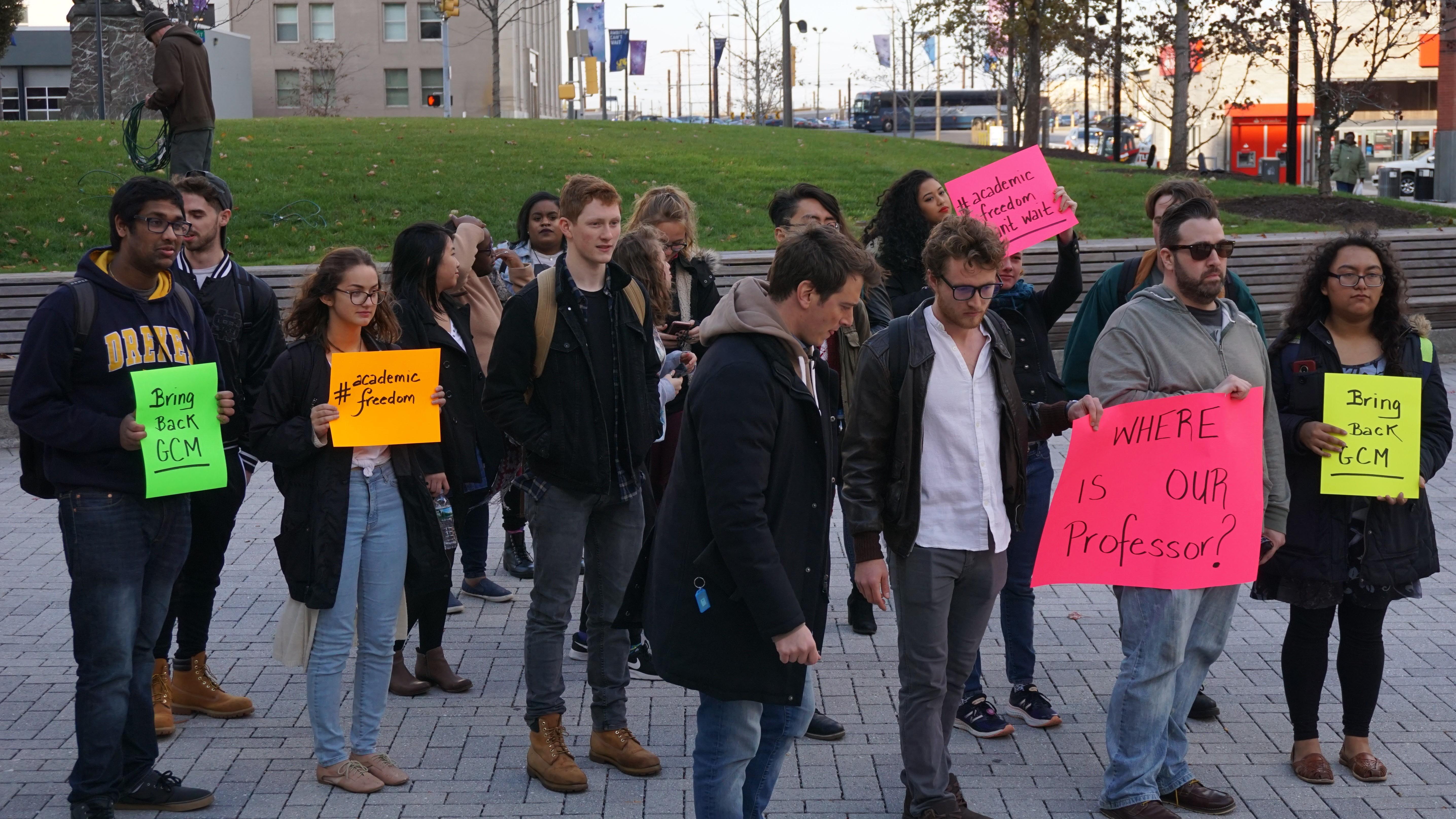 Students in George Ciccariello-Maher's class, Race and Politics, are once again lobbying for his return to campus.
Ciccariello-Maher is an associate professor of political science and has been on administrative leave for the past month, following an Oct. 2 tweet in which he suggested a causal link between James Paddock — the Las Vegas man who killed over 100 people during a concert on Oct. 1 — and structures of white privilege. The university cited safety concerns in its decision to place Ciccariello-Maher on leave.
The students staged a sit-in at provost M. Brian Blake's office suite in Main Building Nov. 15 to protest Drexel's decision to place Ciccariello-Maher on leave. The sit-in started at noon and went on until well past 5 p.m.
"We're here demanding that he be reinstated and that Drexel begin to treat this as something that is important for other universities and set a precedent for how universities around the country are going to deal with alt-right threats and smear campaigns against professors," Dakota Peterson, a student in Ciccariello-Maher's class studying political science, said.
Ciccariello-Maher's absence from campus has resulted in remote class sessions, where he is projected onto the whiteboard with a live video feed. Classroom discussions now take place with students speaking into two microphones.
The following day, Nov. 16, the students were at Blake's office again.Attendees said Blake exited his office indicating that he would shortly return, but that in fact he left the building. Some of the group from that protest then relocated to stand outside a town hall meeting in Behrakis Grand Hall.
"We went to talk to the provost about the whole situation with GCM, and getting him back on campus, and, you know, we're having a conversation, and then he [Blake] kinda just dipped out. Like, he said I'll be right back, and then one of our friends who were outside was like, 'hey, he just left.' So, we kinda came here [outside the town hall meeting]," a student in Ciccariello-Maher's Race and Politics class, who chose not to give his full name, said.
Drexel student Robin Kearney said that they were instructed not to enter the town hall meeting.
"There was probably 10, 15 of us that walked over here. And then they placed these police officers in front of the door, saying that if we try to enter … we'll be kind of, thrown through the student conduct policy, they'll take our ID, and then direct us towards next steps," Kearney said.
Kearney indicated that those in favor of Ciccariello-Maher's reinstatement have been in communication with the administration.
"It's been an ongoing conversation, over weeks. Some other students talked to him [Blake] a couple weeks ago, one student has been communicating through emails. Last night, we met with him in his office in like a very formal setting. We met for about like an hour, maybe an hour and fifteen minutes, and then today we went back to his office with more students, students who weren't available to come the night before, had a similar conversation, about why Professor Maher isn't allowed back and he can't come back," Kearney said.
"He [Blake], in the night before, said that he would get back to us on Tuesday, about when he would be able to reinstate the professor, but I don't think he's [Ciccariello-Maher] gonna be back in the next three weeks. In my opinion there wasn't much progress made," Kearney continued.
Some of Ciccariello-Maher's supporters expressed their frustration with the lack of progress towards their goal to get the professor back on campus.
"It looks the Drexel administrators we confronted are cowards," Diana Solano-Oropeza, a student in Ciccariello-Maher's Race and Politics class, said.
"Every time we try to get an answer, it gets lost in the bureaucratic circle of Drexel, and it either goes to not their department, or not them specifically as a person. And blame just keeps getting shifted from person to person that it's hard to even talk to someone at this point." Josh Anker, a former student of Ciccariello-Maher's, said.
"It just seems like they talk to us, and they're like 'yeah, we hear you, we hear what you have to say," and then … nothing happens," the anonymous student said.
For some students, Ciccariello-Maher's removal represents larger ideological problems within the university.
"It's wrong to me to have our university just capitulate to people on the internet, especially the alt-right specifically … and then they give us this whole big deal about safety, but we're still in the same classroom … it's just like nothing really changed except now, we have Skype class. And I didn't up for a Skype class, we're not paying for a Skype class … we just want this changed," the anonymous student added.
"I also just think that academic freedom needs to be recognized by all universities regardless of if they're private, not-for-profit, or public." Anker said.
"I think, if this can happen to Professor Maher, it can happen to any other professor here. That's a concern I have," Kearney explained.
Subir Sahu, Dean of Student Life, also stood outside the town hall meeting.
"As the person who oversees student life, our office gets called when students gather for any sort of reason, so that's how I got involved. Ultimately, students have their right to voice their opinion, in a respectful manner, which they've done," Sahu said.
Sahu offered an explanation as to Blake "dipping out" on the protesters before some of them relocated to the town hall.
"The challenge was is that this town hall was going on at the same time [as the protest at Blake's office]. So, as senior leadership, we all need to be at the town hall in case questions came up. So, my role in coming to the office was literally to say, 'Provost Blake, if you need to go I can stay here.' … Provost Blake did stay and talk to them for quite an amount of time. My intention was to say, I'm here to answer any questions that we have. The students chose to come here [outside the town hall] which is totally fine. Some students stayed back as well," Sahu said.
When asked about when there might be an update on Ciccariello-Maher's status at the university, Sahu indicated he was not the right person to ask.
"I really can't comment on that, because that's outside of my scope of responsibility. What I can comment on is that the Provost, and the entire Provost's office … I can assure you that this is a topic of conversation," Sahu said.
"Kudos to students for voicing their opinion. And again, as long as things are done in a respectful manner, this is good. This is what a college campus should be," Sahu added.
Nov. 16, after 5 p.m., protesters were forced by police to leave Blake's office, with the reason given being that the office was closing. The evening prior the protesters had not told to leave after 5 p.m.