Celebrity chef Carla Hall has chosen to partner up with a team of Drexel students under the tutelage of chef instructor James Feustel to open Carla Hall's Southern Kitchen. The project started with a request from Hall's business partner for Feustel to help design her new kitchen and restaurant. Instead of accepting the offer, though, Feustel decided to bring this project to the students to give them "some of the experience that … sets the Drexel education apart."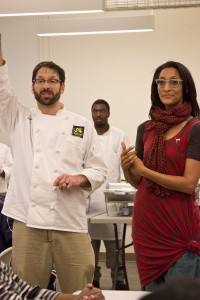 Most culinary schools or plans of study consist of two main paths: becoming a chef or becoming a restaurant manager. These options are, Feustel believes, too narrow. "[This project offers a] holistic opportunity to see every aspect of the industry," Feustel said. Students will be working in diverse aspects of the culinary world through this project. They will be developing, testing and commercializing recipes of Hall's with a hands-on cooking approach.
However, they will also be designing the layout of the restaurant's kitchen, evaluating different kitchen appliances, writing training manuals for future restaurant employees and working as partners with Hall, discovering first-hand what it takes to open a restaurant.
Currently, the project consists of 14 students, only three of them receiving credit for taking the class. Other participants are volunteers enchanted by the opportunity to work so closely and in such a unique situation with a prominent woman in the cooking industry. The second class to meet this term began with Feustel telling the students they would be preparing five of Hall's signature dishes in batches large enough to feed 150-200 guests at a community dinner at the Dornsife Center.
As Feustel began explaining to the students the work they had ahead of them to prepare for the dinner, the task did not sound like something two freshmen, three sophomores, four juniors and one senior could handle in a three-hour class. The kitchen was filled with bustle, starting with the traditional "mise en place" French-style preparations in which students calculated and gathered all the ingredients they would need before cooking.
Temporary partnerships and small teams were formed to tackle different tasks, with some of the more experienced students handling the exploratory recipes and experiments. Food photographer and guest photo-documenter Brian Kinney danced around the room catching shots of students weighing and grating blocks of cheese, cracking countless eggs into large bowls, reducing a large pot of smoked turkey necks for a broth, trussing and dissembling full chickens, and making homemade buttermilk ranch dressing.
Peter Schoemer, known for his work with Drexel's Food Lab and a volunteer for the project, has a four-year culinary arts and one-year business education plan. In the kitchen, he was working along with one other student and Feustel on modifying Hall's famous hot chicken recipe to feed 200 without using the traditional frying method.
Raghav Mahendru, new to the culinary arts program after a gap year working in a hotel kitchen (where he discovered how much he loves cooking), said, "Food is my passion; food is what I love." Previously a business entrepreneurship major, Mahendru seemed perfectly comfortable making and stuffing a combination of herbs into a whole chicken prepared to roast.
Other students, who were new to the culinary arts program, seemed a little less comfortable in the kitchen. Freshman Isabella Mauro was busy chopping huge blocks of cheddar for the macaroni and cheese dish, while another freshman, Megan Olivo, was spending her volunteer time cracking eggs. "It's a great opportunity; why pass it up?" Olivo said.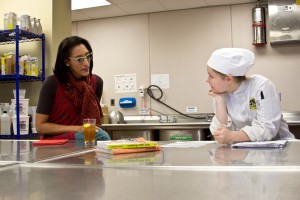 The students got to meet Hall for the first time at a meet and greet the day of the community dinner. Hall tried the hot chicken that the students had prepared for her to see if the commercialized large batch dish still sang true to her favorite namesake recipe. She approved of the chicken and talked about the other food on deck for that night.
"Oh my God, I can't wait! I'm so hungry," Hall exclaimed to everybody present. Besides food, the team discussed some of the logistics of moving forward: how the kitchen would look, what kinds of appliances they would be testing and the newly produced logo for the restaurant: a chicken with bright pink hair wearing an apron. There was also talk about a partnership between Hall and Groupon this coming Thanksgiving season; Carla will be selling food boxes through Groupon that will be distributed in three cities with the goal of feeding about 12,000 people who wouldn't otherwise have meals this holiday season, which was something they claimed to have never been done before.
The community dinner was held on the night of Oct. 7. A gathering of about 180 community members and Drexel students met at the Dornsife Center, where the project team served dinner while Hall floated around the room meeting fans, taking pictures, talking to the community and encouraging people to pose for "hot chicken face" photos. Hot chicken is Hall's featured specialty and gets the name from the spice it packs in with habanero and Cayenne peppers. Hall has a tag on Twitter devoted to peoples' reactions to the dish: #hotchickenface. Hall's own hot chicken face was featured; She admitted, "I am a hot chicken wuss."
Other than hot chicken, the menu at the dinner consisted of macaroni and cheese, braised collard greens, corn pudding, a Southern chopped salad, some chow-chow and Hall's famous pickles. The line to get to the food wrapped all the way around the outside of the dining room and down the stairs.
Lucy Kerman, vice provost for University and Community Partnerships at the Dornsife Center, shared that tonight was one of the most successful community dinners held thus far. "When communities come together … soon they become familiar, and instead of meeting as strangers, they meet as acquaintances and friends," Kerman said.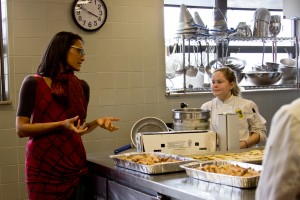 "I think you have to get the community involved … I believe in sharing" Hall said. The team talked extensively about where to source their food from at the meet and greet and the belief in local farmers and food suppliers was unanimous.
"All the chefs trusted us to do the right thing … It was amazing to see that confidence," Mahendru added. The students, along with Feustel had expressed that they had no doubt that the project would lead to success.