At 2:30 p.m., Nov. 12, approximately 100 students gathered from Drexel University and the University of Pennsylvania for a Million Student March, sparked by the recent protests at the University of Missouri and Yale universities.
The original purpose of this wave of protests was to fight for free tuition to public colleges and  universities, but has spread to encompass related systemic oppression against women and people of color.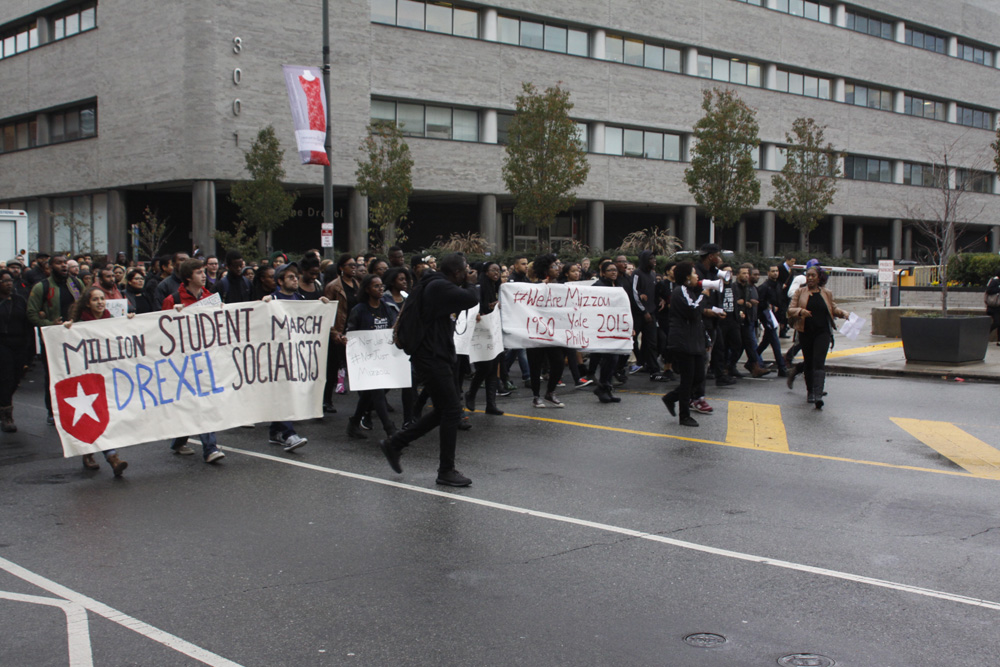 "We just want to get out there. There's using your voice and then there's action, and marching is kind of like doing both," said one protester. "We're not here to keep people from going to work and waste gas, we're here to make people aware of what's going on," she continued.
The students, predominantly women of color, met at the intersection between Market and 33rd streets.  They marched toward Center City with a police escort at 3:00 p.m., chanting slogans including "Whose streets? Our streets! Whose schools? Our schools!" and "Show me what democracy looks like! This is what democracy looks like!"
At each intersection, the crowd stopped for a few minutes and one or two individuals stepped forward to share their experiences with oppression.
"We're representing all the minorities who go through this every day. We are very tired," a student said. "It really annoys me when you hear people complaining about stuff like these marches. There's a reason people are yelling: people are angry, people are mad and we want to get our voices out there, because being polite isn't going to really do anything," she finished.
The march stopped at the intersection between Market Street and Schuylkill Ave., where the participants sat in a massive circle that covered the entire intersection for 19 minutes and 50 seconds in representation of the year African American student were first admitted to the University of Missouri. During that time, they continued speaking and chanting, despite various drivers honking their horns. Then they stood up and walked back to the intersection between 33rd and Market streets, from which point they dispersed.