On the evening of April 23, 11 police officers from seven units of Drexel Police responded to a call from a security officer at the W.W. Hagerty Library regarding a male student wearing a handgun and verbally abusing other students in the basement.
No injuries were incurred, as police officers arrived within minutes of the call and the student was arrested and charged with disorderly conduct, according to Vice President of Public Safety Domenic Ceccanecchio. The student's name, year and major have not yet been released due to the ongoing investigation.
According to Director of Library Administration Services Ann Yurcaba, the library staff had begun the procedure to evacuate students, but did not follow completely through because of how quickly the student was arrested. The security guard continued her role and stayed at her post in the front until Drexel Police arrived.
According to Ceccanecchio, at no point did the student brandish the gun he was wearing. There were no wide panics before or after the incident.
The student had a permit for the handgun he was wearing from the Commonwealth of Pennsylvania. However, because being in possession of a firearm also goes against University policy, he will be going through the disciplinary process along with court.
"I was just working on something on my computer. What caused me to get my head out of my books was — I didn't see the cops, but I saw this flashing going on and I turn around and there was [a lot] of cops," Alyssa Lipcsey, a sophomore biology major, said. "We saw the cops came down first and they were clearly looking forward for someone."
Lipcsey went on to describe the student as Caucasian with a t-shirt and jeans. "He did seem under the influence of some kind. There was some struggle, but he cooperated to an extent," she said.
Ceccanecchio said that the student had beer in his backpack and some of it was consumed, but the student was not considered intoxicated.
"I know my boyfriend [sitting across from me] saw that when the cops were looking, he saw the guy try to walk and get away, trying to be unnoticed and get up the stairs as fast as possible," Lipcsey said. "The cops saw him and arrested him. They lifted his shirt up and you could see the gun he was wearing."
Lipcsey described the library as packed with students. There was no panic or response from the students until after the arrest. The male student was coming from the inner study rooms while he was trying to sneak away. She also reported that she didn't hear any of the verbal disputes that the male student was having.
Due to the speed of the response, Ceccanecchio said that the DrexelAlert that was in the process of being sent out was not sent. He also said that due to that same quick response, there would be no changes to the library security at this time.
"[The police response] was really quick. I think they handled it swiftly. We didn't get a DrexelALERT after, which is kind of weird. There wasn't really danger after they caught him. They caught him within two seconds of me realizing there were cops there," Lipcsey continued.
"I kind of wished they did [put out a DrexelAlert], because they caught him so quickly but they should let people know that 'Hey, this happened. Don't come to the library, so the cops can sort it out,'" she said.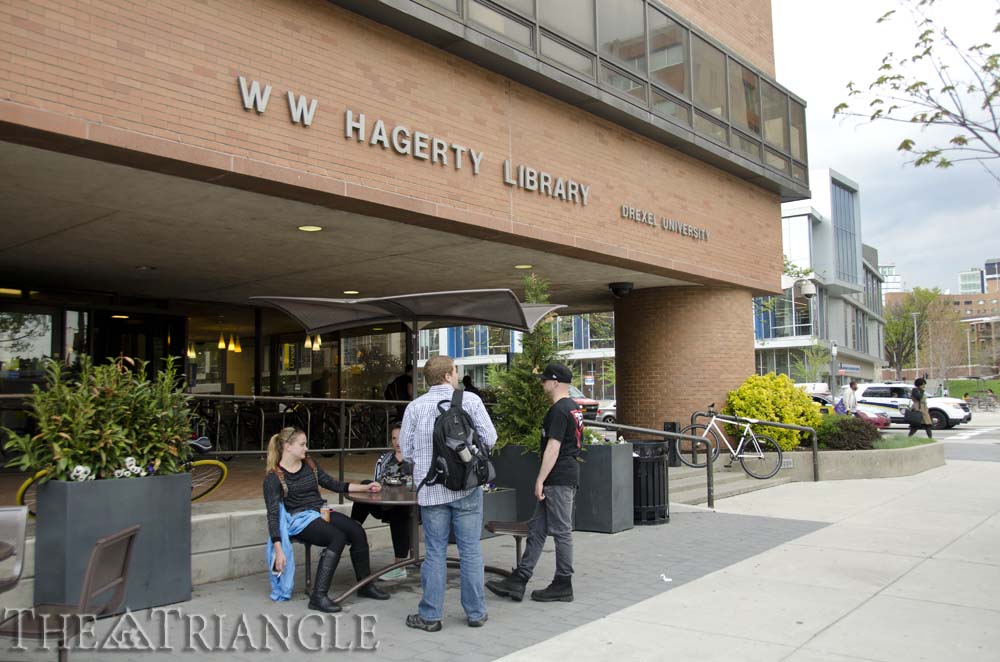 Ceccanecchio went on to describe what students should do when faced with dangerous situations. "Whenever or wherever someone finds themselves in this type of situation they should immediately contact police and follow police instructions without hesitation. Kudos to the students who alerted the security officer in this case. Their quick action to report the male ensured a timely response and positive outcome," Ceccanecchio wrote in an email.
"Key library staff members, along with many other individuals on campus, attend regular training sessions hosted by the University on how to handle emergency situations," Yurcaba said. "Largely, the library's role is to support the efforts of our emergency teams, such as the Drexel Police."