After much delay, the Campus Activities Board officially announced via social media April 30 that OK Go will headline Spring Jam 2013.
The band, which is perhaps most well known for its song "Here It Goes Again" and the music video's accompanying treadmill choreography, will play in Lot X next to the Main Building Saturday, May 18. This will be the third Spring Jam concert that has been outdoors.
The concert will also feature three openers: a YouTube-famous cover artist, an alternative rap duo and an electronic disc jockey. Because the openers cost more than $10,000, names will not be released until contracts are signed. This was also the reason for the delay in announcing the headliner.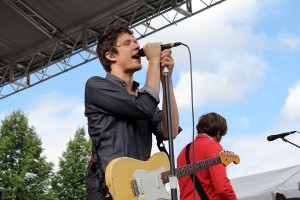 CAB explored many options before deciding on OK Go. Spring Jam organizer and junior graphic design major Elanor Williams said, "We looked into Imagine Dragons because we thought it'd be relevant since we are the Dragons as well, but they ended up blowing up out of our price range. We also talked about MAD3, Group Love, those types of bands."
Amanda Moorhead, a junior in the B.S.-M.B.A. music industry program and a CAB member, added, "We heard a lot of feedback from last year, both good and bad. … The main thing we wanted to focus on was having a rock band that had a name people would know. I think we achieved that with OK Go."
Williams explained that OK Go was the first band that the committee agreed upon. Junior digital media major Hannah Deters said in response to the headline announcement, "I think it'll be a good change of pace. [OK Go] has a great energy, so it should be an awesome show. They also have a different sort of artistry than previous headliners, and I'm pretty pumped about that. I can definitely say that I'm more excited about this Spring Jam than I have been in the past."
Other students are not as excited as Deters. Ally Dorval, a junior in the physician assistant program, said, "This is my third Spring Jam and the third one I'm not excited about."
Senior education major Chelsea Morgan said, "I think it's pretty cool, but I haven't heard any new music from them since ["Here It Goes Again"], so I wonder how it's going to be or how many people will go."
Williams and Moorhead have been planning the event since last June, when they received their budget from the Student Activity Fee Allocation Committee. "It sounds like a lot of time to do things, but once you throw in the planning of Comedy Show and Crystal Ball, time starts to get away from you," Moorhead said.
Williams explained that the venue has the capacity to hold 7,000 people, and she is hoping for 4,000 to attend. Moorhead explained that they are going further than years past in terms of marketing and promotion in order to get as many people to attend as possible.
"We are really excited to be working with some fantastic groups like the [Daskalakis Athletic Center] and the DAC Pack. The Rec Center is planning a huge day of events with their three-vs.-three soccer tournament on the same day and will be promoting Spring Jam throughout the day. We even have a contest going on involving Spotify that will be rolled out within the next few days, which is something we've never done before," Moorhead said.
Spring Jam will also feature winners of student talent competitions, including Battle of the Bands, a DJ competition, the DreX Factor, video competitions and Drexel's Best Dance Crew.
Gates will open at 3 p.m., and music will start at 4 p.m. There will be an activity fair prior to the headliner, which will feature carnival-like activities and serve as an opportunity for student organizations to promote themselves. The event is free for all Drexel students and $10 for guests.