Rina Patel, a Drexel sophomore, started her nonprofit Aahana to inspire impoverished young women in India and provide opportunities to ensure a brighter future.
Aahana's mission statement is to provide educational initiatives to young women and children in rural villages in Gujarat, India. Opportunities, hope and love are Aahana's overall goals across the country. Aahana helps women and children who aren't provided with equal opportunities; 99 percent of those the nonprofit helps have disabilities.
By supporting a school for deaf and disabled children, Aahana provides room, board and vocational training to help them succeed, according to Patel. She said there are currently 35 children attending the school, and they travel up to three hours from rural villages.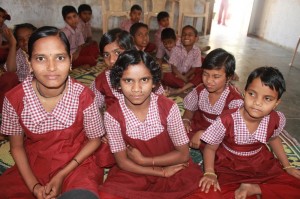 "These children do not have access to clean water and often arrive to our school malnourished. … We wish to support the young girls who are not provided with equal opportunity to an education as the boys are. Our next project is to start educational programs in villages such as the one [in which] my parents were raised," Patel wrote in an email.
Although Patel grew up in the U.S., she does her best to understand the issues that people in India face. The idea for Aahana started when Patel visited India for the first time and felt the grief of suffering children and young women of the country where her parents were raised.
By talking to villagers and conducting additional research, Patel has striven to gain trust from those she is trying to help. She wants to ensure that they know she cares about helping them get a better life rather than a handout.
Factors that make it hard for this nonprofit are societal pressure, economic issues, social class issues and gender equality. Patel had a hard time convincing parents in India to send their children to school because of societal influences and gender inequality. Many parents would ask why their daughters needed schooling when they are to be married at a young age.
Her plan to overcome these obstacles is to go to India each year and to do as much research as possible to help determine what will have the most beneficial impact on their daily lives.
"When I go to India, I try to go to as many villages as I can and understand what each person is going through. I try to understand their economic situation, why they do the things they do, and most importantly, I try to gain their trust as much as I can," Patel wrote.
Patel has set a goal to raise $40,000 by the end of the year to purchase land for Aahana's new school. The organization is run by volunteers, so all donations go directly to the cause.
For additional information and to make donations, please visit www.aahanaindia.org.