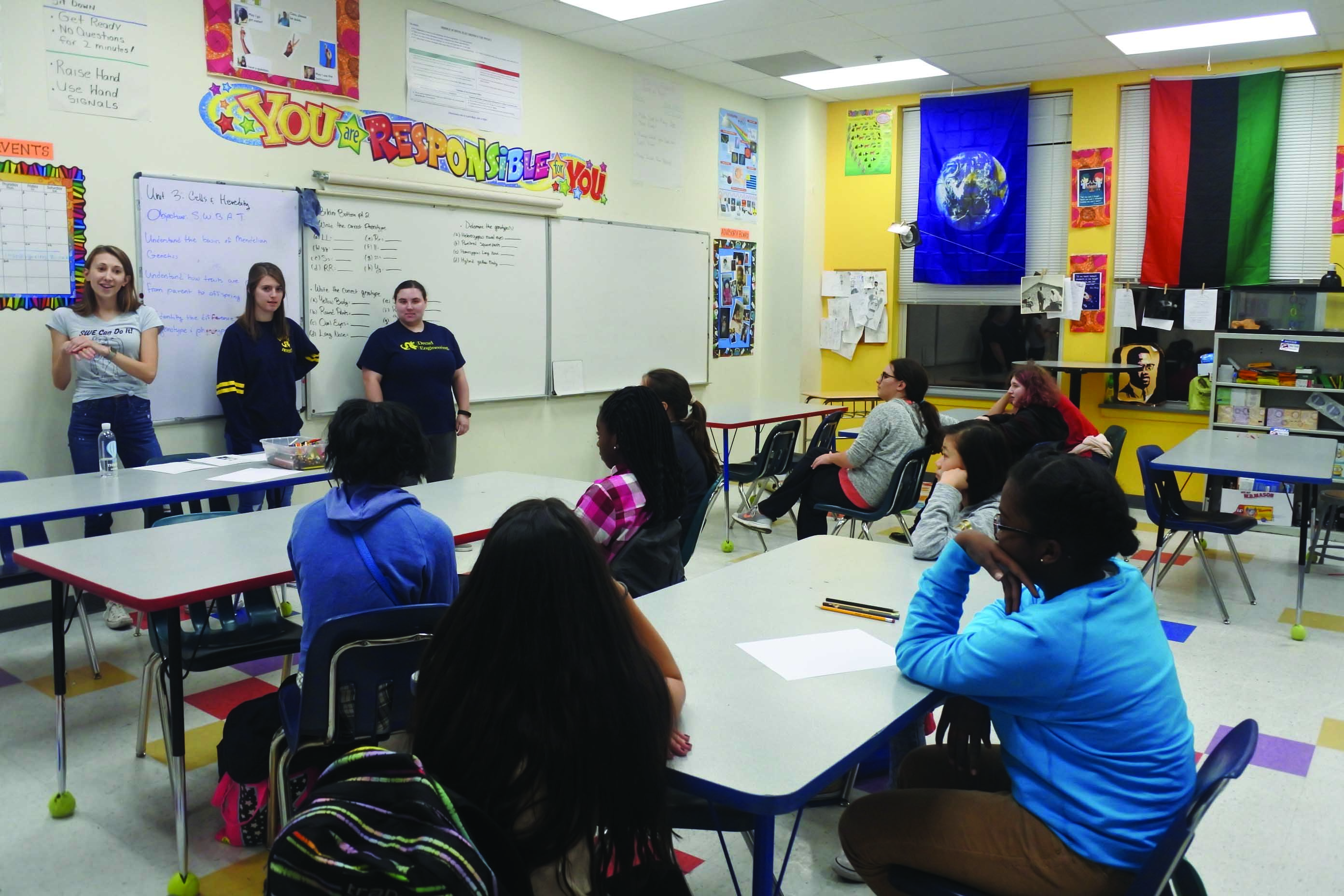 The Society of Women Engineers held an Introduction to Engineering Workshop at Independence Charter School in Center City Nov. 17 with the goal of encouraging middle school girls to pursue careers in science, technology, engineering or mathematics.
"[To] stimulate women to achieve full potential in careers as engineers and leaders, expand the image of the engineering profession as a positive force in improving the quality of life and demonstrate the value of diversity," Kristine Loh, the outreach director for SWE, said while  explaining the SWE mission.
During Friday's workshop, volunteers from SWE utilized hands-on activities to promote the STEM field as an option for the young girls. These activities included chemical, civil, electrical and mechanical engineering tasks, using chromatography, structural shapes, circuitry and Rube Goldberg projects.
The workshop began at 4:30 p.m. and started with introductions by the group members, then participants were split into four rotations lasting 30 minutes each, each led by the SWE volunteers.
The workshop ended at 7 p.m. with closing statements from the group members and a question and answer session. Volunteers from SWE answered questions from the students about college, engineering majors, co-op opportunities and careers available for engineers.
"[It was] a fun chance to explore the different types of engineering available to them," Loh said. "Our main message to the students was that they can become engineers too, just like our volunteers. These workshops give students the chance to learn about the different options they have in a memorable way," she continued.
The inspiration for this event was SWE's first annual Engineering Night for Girls event, which was held in February this past year. The workshop was taught in a similar manner, but held at North Penn High School. Because the event was a success, Independence Charter School reached out to SWE about holding a similar workshop at their school.
"I personally love doing these events," Loh cheerfully shared. Loh has been hosting and volunteering at these hands-on events for almost two years.
"It gets better every time … I love hearing the students' feedback when they say 'I want to be an engineer now' or 'I remember how to make a simple circuit, you taught me last time!' Their awe and enthusiasm when we explain seemingly complex scientific concepts is invaluable," she said.
To foster questioning and investigation, sometimes the members of SWE allow the younger students to figure out the seemingly complex puzzle for themselves. Loh's favorite is the Body Light activity, which involves placing both hands on two metallic knobs to complete a circuit, in turn causing an LED light to turn on.
"Instead of telling the students how to operate the activity, I placed it in front of them and said 'I need help turning this light on. Could you all brainstorm different ways to turn the light on?' I let them just play around with the board and once they finally figured it out, they screamed because they both didn't expect what they did to work and were surprised that it did," Loh explained.
SWE holds workshops and other educational outreach programs throughout the year to people of all ages in the Philadelphia area.
In the past, the student-run organization has volunteered at the Franklin Institute's Science After Hours event series, Philly Science Carnival and Materials Science and Engineering Day. Within these events, SWE encourages everyone to participate and share their passion for engineering, expanding their mission to be inclusive to those not in the young female population.
At the Franklin Institute's Science After Hours event, SWE introduced adults to the organization and used hands-on demonstrations at the larger Philadelphia science events to invite involvement for all. Recently, the society has created a HeForSWE initiative, in which they invite men in the STEM field to support SWE's mission.
Loh is already looking forward to the next workshop — their final event for the calendar year will be a soldering workshop in collaboration with IEEE, where middle school students will learn how to solder Christmas tree kits in the Innovation Studio.
In 2018, SWE is planning their second annual Engineering Night for Girls at North Penn, TechGirlz coding and designing workshops, a Become a Volunteer Workshop for new SWE members, and collaborative, co-sponsored events with other engineering organizations at Drexel.
Those interested in joining SWE can join the organization on DragonLink — which gives access to weekly newsletters and all events for each quarter — or email Kristine Loh at [email protected].